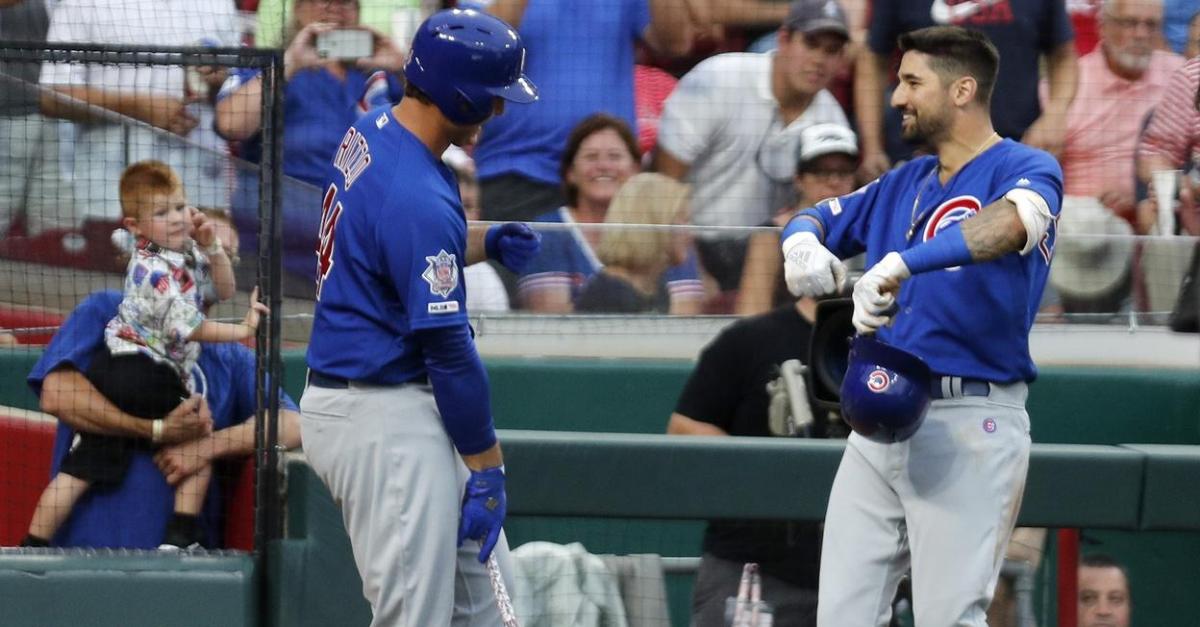 | | |
| --- | --- |
| Cubs News and Notes: Fly the W, Happ raking, Maddon on road woes, Wrigley lights up, more | |
---
| | | |
| --- | --- | --- |
| Friday, August 9, 2019, 8:12 AM | | |
Next Game: Today: RHP Yu Darvish (4-5, 4.36 ERA) vs RHP Trevor Bauer (9-8, 3.85 ERA). Game time 6:10 PM CDT; NBC Sports Chicago.
Thursday night's Game Recap:
The Reds on the road… well, that seems to sound like a recipe for disaster with the way this season has gone. Last night it was Cole Hamels (being caught by Jonathan Lucroy) vs. Alex Wood. Lucroy may have been a great choice for Hamels, as Lucroy had caught 111 total innings for Hamels when the two were teammates in Texas.
There must be some good reason why the Cubs haven't won a road series since May-17 through May 19, yet, the team can't even come up with a bad reason why this is occurring. Kyle Schwarber admitted yesterday that he didn't even think about the issue, while Joe Maddon swears winning at home has to do with wearing their white jerseys. Problem solved; maybe… I mean, they can't wear them in Cincinnati…
The Cubs have their home white jerseys hanging in their lockers at Great American Ballpark. Not wearing them tonight, just there for good luck as they begin a 10 game road trip. Cubs 21-33 on the road this season

— Jesse Rogers (@ESPNChiCubs) August 8, 2019
The Cubs would get to it in the top of the first when Nick Castellanos smacked a one-out single to right-center, but the Reds would gun him down as he tried to stretch it into a double. Oh well, good hustle. Kris Bryant's walk would, however, be cashed in, when Anthony Rizzo smoked a groundball down the first-base line, scoring KB. Cubs lead 1-0.
The birthday boy delivers in the 1st! #EverybodyIn pic.twitter.com/VfYnrVLPTz

— Chicago Cubs (@Cubs) August 8, 2019
Ouch- short-lived lead, as the Reds countered with one of their own in the first. Game tied 1-1.
The Cubs would retake the lead in the third, beginning with a homerun by Castellanos (man, I like this guy). After KB reached by error, Rizzo and Javier Baez would deliver hits (RBI for Javy), then Ian Happ would knock in another pair with a two-out, two-strike, single to left-center. (and no, I haven't bought a Happ jersey, but I will say that I'm happy and thoroughly impressed). Cubs lead 5-3.
Nicholas Castellanos does not exclusively hit doubles.#EverybodyIn pic.twitter.com/kzHC6fY31C

— Chicago Cubs (@Cubs) August 8, 2019
No one gave the Reds the cease and desist order, as Aquino promptly smoked a two-run blast to left, making it 5-3, then they added another, and then another on a catcher's interference call. Hamels finally got out of the inning with the game tied at five and a pitch count at 77. Yikes.
(Maddon did have Tyler Chatwood warming in the pen, which is a lot more than he did for Jon Lester the other night).
Into the fourth and another dinger from Castellanos puts the Cubs up 6-5.
Blastellanos. #EverybodyIn pic.twitter.com/7EAQzdPF3w

— Chicago Cubs (@Cubs) August 9, 2019
Chatty would assume the mound in the bottom of the fourth and hold the Reds in check.
In the fifth inning, Jonathan Lucroy would tally his first RBI as a Cub, with a two-out single to the left, making it 7-5. This was his second hit in three at-bats- a HUGE upgrade over Maldonado if you ask me.
.@JLucroy20 knows the quickest route to your heart.#EverybodyIn pic.twitter.com/OsdVukINT0

— Chicago Cubs (@Cubs) August 9, 2019
Chatwood would hold down the fort for the fifth and sixth, and the Cubs' offense would do their part.
3 IP, 1 H, 0 R, 1 BB, 6 K.

Brilliant relief work tonight from Tyler Chatwood! #EverybodyIn pic.twitter.com/bV8oKj8One

— Chicago Cubs (@Cubs) August 9, 2019
In the seventh, Chicago would tack on another four runs. The first two coming from a broken-bat home run from Ian Happ, the second two coming from KB's broken-bat groundball that eluded Peraza at short.
Ian Hott. ?????? pic.twitter.com/jr8t3xdKzm

— Chicago Cubs (@Cubs) August 9, 2019
In the eighth, Lucroy would collect his third hit of the night- an RBI single which put the Cubs up 12-5. (This is suddenly looking like another good signing.)
This has been quite the week for the Cubs. First, it was Taylor Davis pitching, while Kyle Schwarber caught, and last night it was Javy batting left-handed in the ninth. Excellent swing, as he hit a high pop-up to center to end the inning (off Farmer who was sent in from second to pitch)- now I've seen it all.
.@javy23baez bats left-handed against a position player pitching.

Enjoy. pic.twitter.com/FmI01cih1L

— Chicago Cubs (@Cubs) August 9, 2019
Not a great night for Cole Hamels, but this one was all Cubs. Final score 12-5.

CUBS NEWS AND NOTES
Cubs/Reds Probable Pitchers: Saturday: RHP Kyle Hendricks (8-8, 3.06 ERA) vs RHP Sonny Gray (6-6, 3.25 ERA). Game time 6:10 PM CDT; WGN. Sunday: LHP Jon Lester (9-8, 4.46 ERA) vs RHP Luis Castillo (11-4, 2.63 ERA) Game time 1:20 PM CDT; NBC Sports Chicago.
Theo Epstein: "We've needed these great home stands to make up for our poor performance on the road. We played really well, but we have to go prove it on the road if we want to get where we want to be."
Epstein's quotes came from an interview (670 The Score) conducted by Bernstein and McKnight yesterday morning.
Lucroy has a head start: There's been a lot of grunts and groans about the Cubs signing catcher, Jonathan Lucroy- but not so fast. Yes, he's aging, and no, he's probably not the catcher that he once was, but unlike the short-lived tenure of Martin Maldonado, Lucroy has a little experience (indirectly) with the Cubs' rotation. Lucroy used to be a member of the Texas Rangers- which means he's already caught for Yu Darvish and Cole Hamels, and during his season with the Rockies, Lucroy acted as a backstop for Tyler Chatwood.
"He really knows how to run a game, to handle a pitching staff. He brings a lot of stablizing things to the table that will serve us well. We were very fortunate he was available." -Theo Epstein on new Cubs catcher Jonathan Lucroy

— Bernstein & McKnight (@Bernstein_McK) August 8, 2019
Furthermore, the Cubs are only on the hook for a salary of $158k (prorated) of Lucroy's 2019 salary, with the Angels on the hook for the remaining portion (about $797k). Lucroy will be a free agent at the end of the season.
Here's Jonathan Lucroy, on joining a Cubs team he is very familiar with either from catching the pitchers or facing them... pic.twitter.com/502kHF6p62

— Jordan Bastian (@MLBastian) August 8, 2019
This was bad. Jake Marisnick vs Jonathan Lucroy pic.twitter.com/DmE7uHC16r

— Brian Perroni (@Perroni247) July 7, 2019
Lucroy did miss playing for a good portion of July, as a collision with Jake Marisnick caused Lucroy to suffer a bad concussion.
Lucroy on his three concussions. Says he feels OK. pic.twitter.com/7tM05XbNqW

— Paul Sullivan (@PWSullivan) August 8, 2019
Nice job, Ian: I'm not always easy to impress, and when you make it to my "not to be trusted" list, it takes forever to get off of there (ask Tyler Chatwood and Yu Darvish). While the sample size is still relatively small, I have to say that Ian Happ is far exceeding my expectations since returning to Chicago's roster. I'd have been willing to admit that he'd improved if he's just managed a hit or so in each appearance, and minimized the strikeouts and weak contact, but good lord, he's really starting to kill it at the plate, and his fielding has also been impressive. Let's hope he keeps it up.
Maddon on road woes: "To be two different teams, completely, is very awkward. I don't have any solid answers. The process has been the same. The work has been the same. Their attitude has been good."
Jon Greenberg on Maddon's future: Jon Greenberg (The Athletic) wrote an interesting article on Maddon's future yesterday (subscription based only), citing that road losses and a "do less" attitude may be the cause of Maddon's demise.
In the piece, Jon says, "For much of this season, I've been espousing the return of Maddon next year and beyond. I thought a two-year deal with a mutual option made sense to line up with the Cubs' possible "the world is ending in 2021" deadline. I don't know who is out there to replace him. But if the Cubs don't start winning road games, I'm not sure how you can justify it." … "Maddon's chilled-out vibes are great when your team is winning regularly [on the road], but when it's not, you can expect something along the lines of 'We just needed a new voice.'"
Theo Epstein: "We're not thinking about the long-term right now. We're in the stretch run. The division could very well go down to one game, one run, 90 feet. All of our focus is on the short term." -Theo Epstein
Illuminating Wrigley: On this day in 1988, the Cubs played their first game under the lights at Wrigley Field. The stadium was lit up for action on 8/8/88, but Mother Nature (and maybe the ghosts of some former Cubs) had something to say about it, as the game was rained out. Hard to believe that it's already been 31 years.
Winning season: The Cubs' win over the A's on Wednesday marked 41 home wins this season- enough to ensure another winning record at home for 2019. This makes the sixth consecutive year that the Cubbies have done so.
Nick Castellanos: Plain and simple- Castellanos is the best move the Cubs have made since signing Hamels.
Nicholas Castellanos has hit safely in all eight games since joining the #Cubs.

He's 14-for-32 (.438) with six doubles and three home runs. #EverybodyIn pic.twitter.com/uMDL38YPYm

— Chicago Cubs (@Cubs) August 9, 2019
Brad Brach: Former Cubs' reliever, Brad Brach, has already found a new home- with the New York Mets. Brach was designated for assignment by the Cubs last week and subsequently chose free agency.
Baseball Quotes: "Life is about timing. So is baseball." - Joe Maddon
A baseball swing is a very finely tuned instrument. It is repetition, and more repetition, then a little more after that. -Reggie Jackson pic.twitter.com/stAUvxDWA7

— Baseball Quotes (@BaseballQuotes1) August 8, 2019
Cubs Birthdays: Celebrating yesterday, were ex-Cubs Chad Meyers (44), Dave Meier (60), Ray Fontenot (62), Vicente Amor (87), and posthumously, Vern Morgan (91), Ken Raffensberger (102), Forest "Tot" Pressnell (113), Walter "Chick" Keating (128), and Clarence "Cupid" Childs (152).
And, of course, Happy birthday to the Greatest Leadoff Man ever, Anthony Rizzo (30).
Celebrate @ARizzo44's birthday today with dinger after dinger after dinger ???? pic.twitter.com/xpqW0IYA9Q

— Cubs Talk (@NBCSCubs) August 8, 2019
THIS WEEK'S NL CENTRAL SCHEDULE:
(Wins in green, losses in red)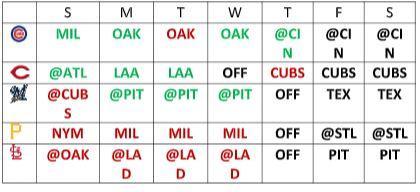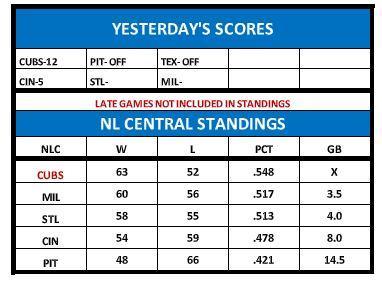 Tags: Cubs Baseball
,
Yu Darvish
,
Cole Hamels
,
Kyle Schwarber
,
,
Anthony Rizzo
,
,
,
Tyler Chatwood
,
,
Taylor Davis
,
Kyle Hendricks
,
Joe Maddon
,
Theo Epstein