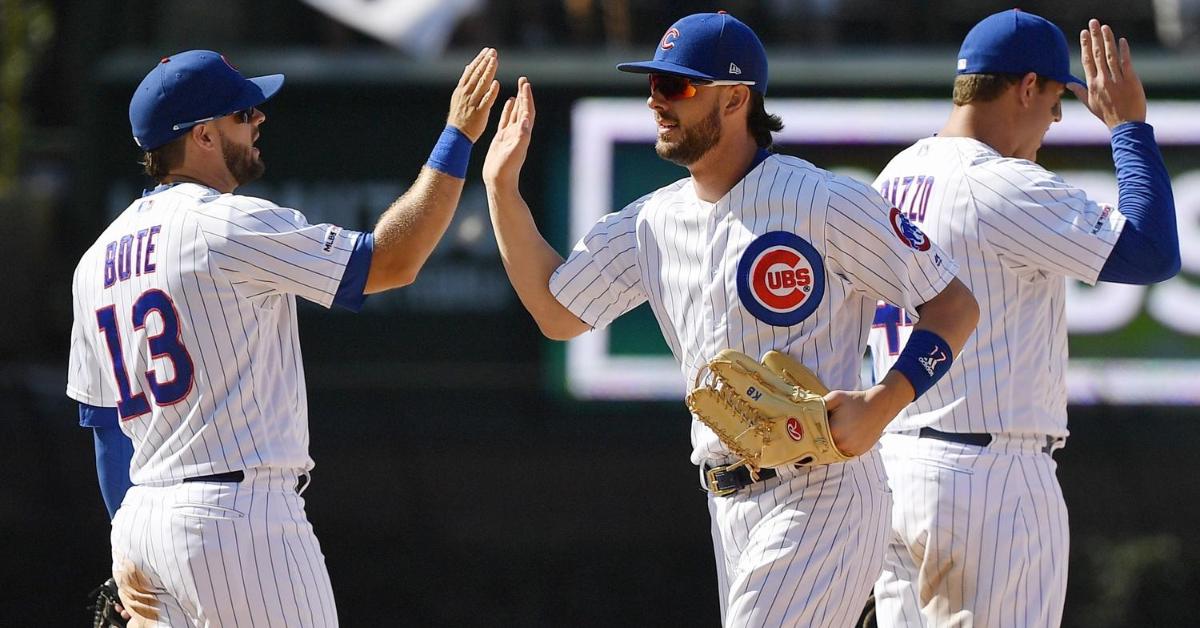 | | |
| --- | --- |
| Cubs News and Notes: Fly the W, Kris Bryant on Maddon, Cubs release veteran, more | |
---
Next Game: Today, 1:20 PM CDT: Pirates at Cubs. LHP Jon Lester (8-6, 3.72 ERA) vs RHP Jordan Lyles (5-5, 4.36 ERA).
Friday's Game Recap:
This was it. The (unofficial) start of the second half. The Cubs took the field behind Yu Darvish who was still seeking a win at Wrigley, while the Pirates rallied around a struggling Chris Archer.
I can't remember ever seeing Yu Darvish this good, but unfortunately, Archer was equally as superb, resulting in yet another no-decision for Darvish. I don't care what Yu threw- four-seam, two-seam, cutter, slider, curve or changeup, he had the ball dancing like I've never seen. The only issue he had with control, was his cutter missing the zone on left-handed hitters, but beyond that, he was nearly flawless for his 6.0 innings.
Kyle Ryan and Steve Cishek would lock down the seventh, leaving the game tied 0-0.
The Cubs' offense came through in their half of the seventh, setting the stage for the 1-2 punch of Pedro Strop and Craig Kimbrel for the eighth and ninth. A solo-homer by Kris Bryant broke the 0-0 tie, and then the Cubs would add another pair on a sac-fly by Robel Garcia and a bases-loaded walk.
Kris Bryant was launching baseballs into the river yesterday, today he's launching them into the bleachers! @Cubs lead 1-0 in the 7th! Stream the rest here: https://t.co/aiDwBnq9wk pic.twitter.com/3BSmDahbKX

— Cubs Talk (@NBCSCubs) July 12, 2019
Into the eighth, and it was Strop's turn. A walk and a double spelled potential trouble, but when he let one hang over the plate for Marte, it was all over. Marte blasted a 454-foot moon shot into the left-field stands, tying the game at 3-3. Strop was removed for Randy Rosario, who promptly got the third out on a pair of pitches.
In the bottom of the eighth, the Cubs' offense would come through again, when KB scored from second on Heyward's bloop single to right. They'd only get one, but it left them leading 4-3.
Jason Heyward takes back the lead! #EverybodyIn pic.twitter.com/p5CZAFxJFI

— Chicago Cubs (@Cubs) July 12, 2019
Cue the music ("Sweet Child O'Mine"); here comes Craig Kimbrel. (Just click play and read on)
Just Kimbrel's second Wrigley experience as the crowd erupts while Guns N' Roses blares in the background.

— Sahadev Sharma (@sahadevsharma) July 12, 2019
Dirty Craig was filthy again yesterday, as he locked down his third save. Much like his debut at Wrigley Field on July 27, Kimbrel needed a little help from Anthony Rizzo to escape potential trouble, and the big guy came through again for him. With two away, a ball was chopped down the third base line to David Bote (playing there due to substitutions). Bote charged, threw off balance and off his mark, sending Rizz stretching into foul territory, but catching the ball in the process. The play was close, and the question was whether or not Rizzo pulled his foot off the bag. With nothing to lose (but the game), Joe Maddon challenged, and won, ending the game. Final: Pirates-3; Cubs-4.
Fly the flag and cue the music ("Go Cubs, Go")
#Cubs come up clutch in close call versus Pirates: https://t.co/Em3fRNXpZu pic.twitter.com/xSmVgbQXZ5

— CubsHQ (@ChicagoCubsHQ) July 12, 2019

CUBS NEWS AND NOTES:
Cubs/Pirates Probable Pitchers Sunday, 1:20 PM: LHP Jose Quintana (6-7, 4.19 ERA) vs RHP Trevor Williams (3-2, 4.54 ERA).
J-Hey: Typical day at the office for Jason Heyward; a game winning RBI single and Gold-Glove defense.
"It's time. It's time."

Jason Heyward knows how important this stretch is for the Cubs. Watch his On the Diamond interview with @Kelly_Crull, presented by @JAndSJewelers pic.twitter.com/16eAdWqc1o

— Cubs Talk (@NBCSCubs) July 12, 2019
Take a look at me now: I don't know what they're doing to the pitchers who land back in the Iowa Cubs yard, but whatever it is, it's working. First, Carl Edwards Jr. was sent down for his sub-par performances but came back strong, and now Randy Rosario looks like a new man. In two outings, Rosario has now thrown a total of just five pitches to record three outs, both in close games that resulted in a pair of 4-3 wins by the Cubs.
Last 7 outings for @IowaCubs RHP James Norwood: 8.2 IP, 0 ER, 18 K's.

— Alex Cohen (@voiceofcohen) July 13, 2019
KB on the Pirates Series: "I think the first series after the All-Star Break sets the tone for the second half. It being against the Pirates and a division opponent, I don't want to put any more pressure on it or anything like that, but of course, it's gonna make it a little more important."
I like Kris Bryant, but that statement encapsulates a big part of the Cubs' problem this season: They don't view every game as necessary. Theo Epstein said over the winter that the Cubs needed to play each game like it was another Game-163, and they haven't done it. I've said over and over (beginning at about this time last year), that the Cubs were taking their talent for granted, and that they seemed to be expecting the trophy would just be handed to them. Not how it works, and I'd have thought they'd have learned that last year; apparently not.
Bryant on Maddon: Whether fair or not, it seems Joe Maddon remains under continuous fire about the way the Cubs have played this season. Kris Bryant doesn't blame his boss, saying, "Honestly, I don't think there's anything else he can do. I've seen a big change in him, just how he approaches each and every guy. He's way more involved. He's talkative. He's positive every day. I love him. I love the way he runs the team."
Bryant blames the team for their shortcomings, which is noble, but a manager needs to manage, and Joe's the man who's responsible for that. IF KB says Joe's doing his job; one can only wonder what changes Theo Epstein may make if he's planning on keeping Maddon.
Clearing roster space: The Cubs acquired Junichi Tazawa over the winter, used him in spring training this year, demoted him to the minors, and yesterday, released him. Tazawa was fantastic in his spring appearances, but the Cubs went another direction. This will clear a roster spot in Iowa for either someone to be promoted to Triple-A, or for someone to be demoted from Chicago, assuming the Cubs will be trading soon.
Need for Speed: If the Cubs want to pick up speed on the basepaths for the second half, former Cub, Terrance Gore, was just designated for assignment by the Royals. While the speed-demon only had a total of 19 plate appearances in his first five season in the majors, KC used him differently this year, and low and behold, he can hit. In 51 plate appearances this year, Gore has a .275 batting average. He'd be a rental, but he'd only cost the Cubs whatever the prorated portion of $650k would be. Smart move, if you ask me, as with the Cubs failing to move runners in scoring position, Gore can go from first to third in the blink of an eye.
"A winner is someone who recognizes God's given talents, develops that talent into skill, and uses that skill to reach their ultimate goal."- Terrance Gore
awesome meeting the one and only @KevinHart4real #Cubs pic.twitter.com/cADSBOKXtD

— Terrance Gore (@TGO7E) September 12, 2018
Clint Hurdle: Responding to Maddon's assertion (and subsequent wild ejection recently) that the Pirates were throwing up and in intentionally, Pirates' manager, Clint Hurdle, offered the following: "We don't encourage anybody throwing at anyone's head. Never have, never will...That's not one of our teaching techniques, to move the ball up and in toward anyone's head by any means."
Condolences: MLB and the baseball media are mourning the death of former major league pitcher, turned author, Jim Bouton.
'Pitcher, Author, Everyman, Hero: Jim Bouton (1939-2019)' by @jay_jaffe for @fangraphs: Jim Bouton first made his mark as a star right-hander for the #Yankees at the tail end of their 45-year dynasty, winning 39 games in the 1963-64 regular seasons... https://t.co/Awdw7pRKBc pic.twitter.com/tPJySqgGe5

— New York BBWAA (@NYBBWAA) July 12, 2019
Baseball Quotes: "A team is where a boy can prove his courage on his own. A gang is where a coward goes to hide." -Mickey Mantle
What's your biggest fear?

A baseball being hit in my general direction. -Moneyball pic.twitter.com/2KgFcBl3Wz

— Baseball Quotes (@BaseballQuotes1) July 12, 2019
Cub Birthdays: Celebrating yesterday, Tom Gorzelanny (37), Jack Warner (79), and posthumously, Al Glossop (105) and Hank Schreiber (128).
NL CENTRAL SCHEDULE (July 6 – July 13, 2019)
(Wins are in green, losses in red)

NL CENTRAL SCOREBOARD/STANDINGS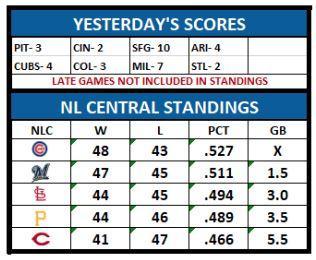 Upgrade Your Account
Unlock premium boards and exclusive features (e.g. ad-free) by upgrading your account today.
Upgrade Now

Tags: Cubs Baseball
,
,
Yu Darvish
,
Kyle Ryan
,
Steve Cishek
,
Pedro Strop
,
,
Robel Garcia
,
Randy Rosario
,
Jason Heyward
,
Anthony Rizzo
,
David Bote
,
Jose Quintana
,
Junichi Tazawa
,
Joe Maddon
,
Theo Epstein