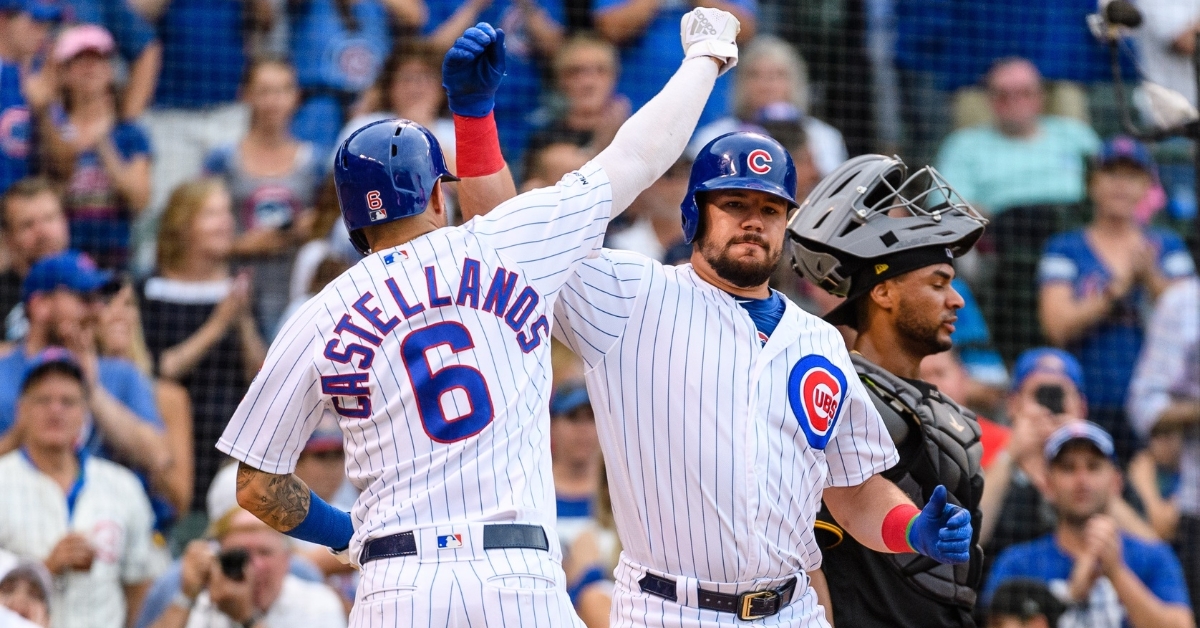 | | |
| --- | --- |
| Cubs News and Notes: Fly the W, Rizzo suffers injury, KB talks, Lester nominated, more | |
---
| | | |
| --- | --- | --- |
| Monday, September 16, 2019, 8:26 AM | | |
Next Game: Monday: LHP Cole Hamels (7-7, ERA) vs RHP Sonny Gray (10-7, 2.80 ERA). Game information: 7:05 PM CDT; Televised on NBC Sports Chicago.
Sunday's Game Recap:
The Cubs manhandled the Pirates in the first two games of this series, outscoring them 31-9, which certainly should've provided motivation as they attempted the sweep yesterday afternoon.
The Cubs sent Jose Quintana to the mound to do battle against Pirates' righty, Trevor Williams, in the series finale. All I can say is that despite the clobbering that Q got, Pittsburgh couldn't get on their plane out of Chicago fast enough.
The Cubs grabbed a 3-0 lead in the first, and they couldn't have done it any more efficiently. After Anthony Rizzo drew a leadoff walk, Nicholas Castellanos smacked his 53rd double into left. Kris Bryant would then hit a 367-foot shot into the left-field bleachers.
.@KrisBryant_23 sets a new franchise record for most home runs in the first five years of his career (137)!#KBoom #EverybodyIn pic.twitter.com/4Cok3rARIz

— Chicago Cubs (@Cubs) September 15, 2019
Quintana would get himself into a big jam in the third, allowing five earned runs. Q would be removed after just 2.1 innings and would be replaced Brad Wieck. The Cubs suffered a more significant problem when Anthony Rizzo rolled his ankle while attempting to charge a bunt. Rizzo had to be helped off the field by J-Hey and the Cubs' training staff. Ian Happ would assume the role as the Cubs' first baseman. Pirates lead 5-3.
Anthony Rizzo exited today's game with sprained right ankle.

He will have an MRI tomorrow to determine the severity. Additional X-rays did not reveal a fracture. pic.twitter.com/FJAagQy0o3

— Chicago Cubs (@Cubs) September 15, 2019
The Cubs would promptly erase the Pirates' big inning with a five-run inning of their own. KB would get it started with another bomb to the left, making it 5-4.
KB is the 3rd #Cubs 3B ever with multiple 30-homer seasons.

(Santo 4x, Ramírez 3x) pic.twitter.com/f2ZOrP3LZ8

— Chicago Cubs (@Cubs) September 15, 2019
Next, Kyle Schwarber singled, Ben Zobrist singled, then Victor Caratini's sac-fly scored Schwarbs. Tony Kemp (pinch-hitting for Wieck) ripped a triple down the right-field line, scoring both Zo and Heyward, then Kemp would score on a bizarre play. Hurdle was arguing that Heyward never touched third, and after hashing it out with the ump, instructed his pitcher (Feliz) to throw to third, hoping he'd be awarded the out. Feliz somehow launched the ball over the third baseman's head, and Kemp trotted home, making it 8-5 after three.
.@TonyKemp gets us back in front! #EverybodyIn pic.twitter.com/VHR6RrL5Bu

— Chicago Cubs (@Cubs) September 15, 2019
Pittsburgh would grab one in the fourth, but the Cubs would answer with two more in the bottom of the frame, making the score 8-6. Castellanos would hit his 54th double then score on Schwarbs single. Zo would double, then Caratini's sac-fly would score Schwarbs. 10-6 Cubs. It would be all Cubs from this point forward.
Add another pair for Chicago in the fifth, beginning with Nico Hoerner's single, then ending with Happ's home run to center. 12-6 Cubs after five.
.@ihapp_1 steps in and steps up!#EverybodyIn pic.twitter.com/UNFCEmpCRY

— Chicago Cubs (@Cubs) September 15, 2019
In the sixth, Caratini's double would be backed up by J-Hey's single, making it 13-6, and in the seventh, the Cubs would add two more. Nicholas Castellanos singled, the bam-Bam blasted one out. 15-6 Cubs.
The @Cubs have scored a billion runs this weekend. pic.twitter.com/TptJNjhbXu

— MLB (@MLB) September 15, 2019
One more for the road… Jonathan Lucroy's turn (his first as a Cub). Making the final 16-6.
.@JLucroy20 demolishes his first #Cubs home run! #EverybodyIn pic.twitter.com/Nb7fmppL3z

— Chicago Cubs (@Cubs) September 15, 2019
If the Cubs can score even half as many runs over the next 11 days, they ought to be in pretty good shape. Sing the song and Fly the W.
#Cubs offense mashes all weekend in historic sweep.

Recap: https://t.co/ci2xVyPOC8 #EverybodyIn pic.twitter.com/Wqu5t6e0be

— Chicago Cubs (@Cubs) September 15, 2019
CUBS NEWS AND NOTES
Cubs/Reds Probable Pitchers: Monday: LHP Cole Hamels (7-7, ERA) vs. Kevin Gausman. Game information: 7:05 PM CDT; Televised on NBC Sports Chicago.
Tuesday: RHP Yu Darvish (6-6, 3.97 ERA) vs. RHP Sonny Gray (10-7, 2.80 ERA). Game information: 7:05 PM CDT; Televised on ABC-7 and ESPN.
Wednesday: LHP Jon Lester (13-10, 4.59 ERA) vs RHP Tyler Mahle (2-11, 5.11 ERA). Game information: 7:05 PM CDT; Televised on WGN and SAP WGN.
Cubs/Cardinals Probable Pitchers: Thursday: RHP Kyle Hendricks (11-9, 3.26 ERA) vs RHP Jack Flaherty (10-8, 3.05 ERA). Game information: 6:15 PM CDT; Televised on FOX. Friday: LHP Jose Quintana (13-8, 4.37 ERA) vs RHP Michael Wacha (6-7, 4.76 ERA). Game information: 6:40 PM CDT; Televised on FOX. Saturday: LHP Cole Hamels (7-7, 3.89 ERA) vs RHP Dakota Hudson (15-7, 3.38 ERA). Game information: 1:20 PM CDT; Televised on WGN, SAP WGN, MLB Network (out of market only). Sunday: Pitchers TBD. Game information: 1:20 PM CDT; Televised on NBC Sports Chicago and TBS (out of market only).
NL Wild Card race: The Cubs are gaining on the Cards for the division title, but they're also gaining a ton of ground in the wildcard race. They still trail Washington by 1.5 games, but the floor is falling out from most of the teams below them.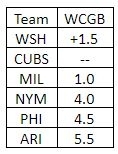 Injury update: Craig Kimbrel threw a 20-pitch bullpen on Sunday with no issues. Tommy Hottovy says that barring any setbacks, Kimbrel will pitch a sim-game this week. Addison Russell has been moved to the concussion list, retroactive to September 10th.
KB on fire: Over the last six games, Kris Bryant has slashed .524/.560/1.238 in 25 plate appearances.
More records: The Cubs 47 runs in their three-game set with the Pirates marks the most runs scored by an NL team in any three-game series since 1900. With Kris Bryant's 2 HRs yesterday (31 on the season), he surpasses Ernie Banks as the Cubs all-time leader through his first five seasons. Bryant now has 138, to Banks first five total of 136.
Note: the following Kris Bryant quotes are from Patrick Mooney's article in The Athletic (subscription only), entitled, Uninspired? Uptight? Distracted?
Kris Bryant Psychoanalyzes the 2019 Cubs
KB on the Cubs' situation: "I think [it's about] trying too hard. Any time I've tried too hard at something, I've never gotten what I wanted in the end. That goes for all of us. It's like, 'Oh, man, we got to do this, this, this' because there's only a certain amount of games left. But this is really the time where you got to take the old cliché: One game at a time. That's really where you need to buckle down and realize that's true right now."
KB on the possibility of being traded: "But personally, whatever happens for me happens. All I can do is really focus on these last (14) games and doing all I can to help the team win. And I think I've been doing that for five years here now. I'm willing toot my own horn a little bit — I think I've done a pretty good job of it."
Big Jon's big heart: Jon Lester is amazing. Period.
Jon Lester's impact reaches far beyond the diamond.

Congratulations to @JLester34, our 2019 Roberto Clemente Award nominee. #NVRQT pic.twitter.com/2ZDDurBt4H

— Chicago Cubs (@Cubs) September 15, 2019
Up and in leads to down and out: In Saturday's Cubs' game, David Bote took a fastball to the shoulder by Holmes of the Pirates. Holmes had hit Bote on July 4, but that one clocked him in the head. In yesterday's Atlanta/Washington game, Charlie Culberson went to bunt, and instead, bought a 91-mph fastball in the face.
Scary moment: Charlie Culberson just got hit in the face with a pitch after squaring up to bunt. pic.twitter.com/jYRGY0PaU4

— FOX Sports: Braves (@FOXSportsBraves) September 14, 2019
According to Braves' manager, Brian Snitker, Culberson was suffered multiple facial fractures, but was alert and oriented on his way to an Atlanta hospital.
Congratulations: Congrats to the South Bend Cubs- your 2019 Midwest League Champions!
#Cubs No. 13 prospect Riley Thompson and some of his teammates already had a taste of a title with @EugeneEmeralds last season. Now, they've won it all again with @SBCubs.

Story ?? https://t.co/dDMLBQsiaZ pic.twitter.com/6gVagauWXW

— Minor League Baseball (@MiLB) September 15, 2019
Baseball Quotes: "One thing you learned as a Cubs' fan: when you bought a ticket, you could bank on seeing the bottom of the ninth."- Joe Garagiola
Cubs Birthdays: Celebrating yesterday, were ex-Cubs Jason Hardtke (48), Thomas "Duke" Simpson (92), and posthumously, Charley Smith (82), Freddie Burdette (83), Bob Lennon (91), Jim Davis (95), Vance Page (114), and Elwood "Speed" Martin (126).
THIS WEEK'S NL CENTRAL SCHEDULE:
(Wins in green, losses in red)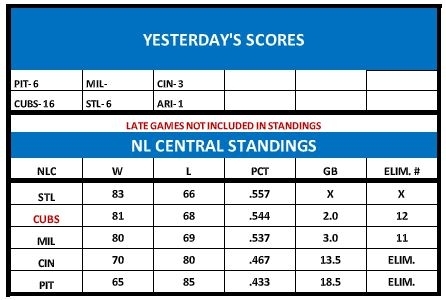 Tags: Cubs Baseball
,
Cole Hamels
,
Jose Quintana
,
Anthony Rizzo
,
,
,
Kyle Schwarber
,
Ben Zobrist
,
Victor Caratini
,
Yu Darvish
,
,
Kyle Hendricks
,
Addison Russell
,
David Bote
,
Tommy Hottovy