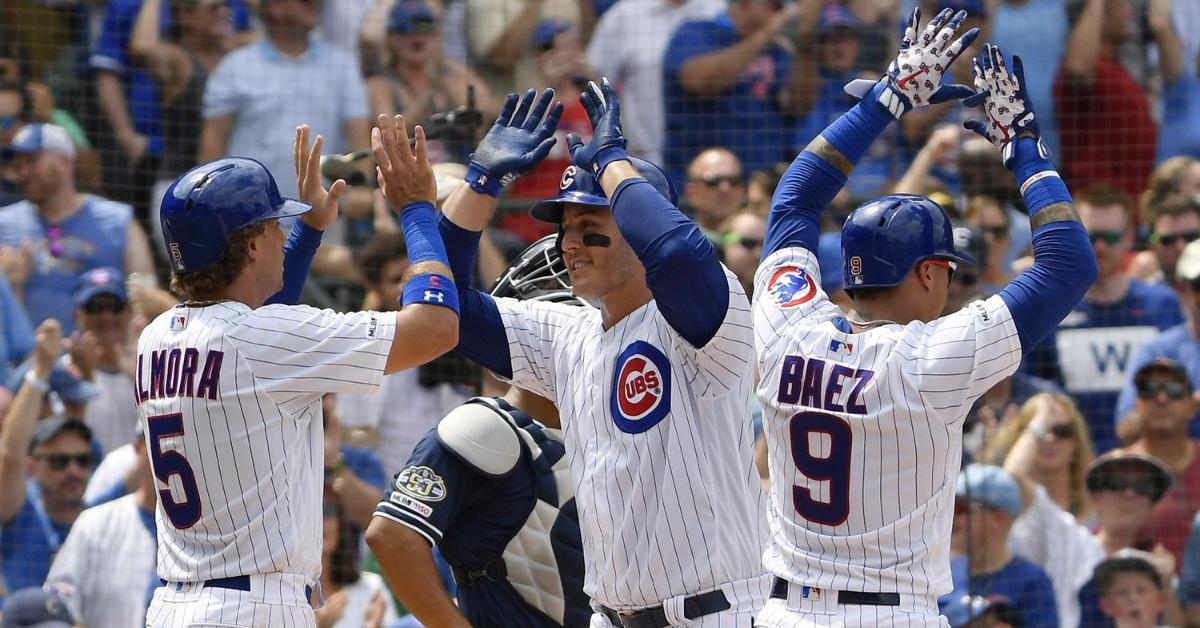 | | |
| --- | --- |
| Cubs News and Notes: Fly the W, State of the Cubs, Alzolay on IL, Epstein on Zo, more | |
---
Next Game: Today, 1:20 PM: LHP Joey Lucchesi (7-4, 3.92 ERA) vs LHP Jose Quintana (7-7, 4.21 ERA).
Friday's Game Recap: Fresh off a pair of series wins, the Cubs began hosting the San Diego Padres yesterday afternoon; their last home-set before embarking on what could be a make-it-or-break-it road trip. The Cubs' veteran anchorman, Jon Lester, took the mound for Chicago, while Eric Lauer was chosen to do the dealing for the Friars.
Big-Jon was lucky enough to escape the first inning with only one run's worth of damage and his head intact, as a line-drive off the bat of Margot nearly decapitated him. That would be the first of four-straight oddball singles in the inning, that eventually netted the Padres a run.
The Cubs would fail to score in the first two frames, and then Manny Machado would put the Friars up 3-0, with a two-run blast.
The Cubs were down, but they weren't out. After Martin Maldonado's walk was erased by Jon Lester's double-play ground ball, the top of the order got busy. Albert Almora Jr. would get an infield single after smashing Lauer in the backside with a line drive, then Javier Baez would hit an infield single, that squeaked past Machado but was too much for Tatis. Kris Bryant would walk to load the bases with two-away, then Anthony Rizzo made up for all of his missed homerun opportunities as of late, with a no-doubter, grand-slam to left. Cubs up 4-3.
The 4th career grand slam for @ARizzo44!#TeamRizzo #EverybodyIn pic.twitter.com/fSXWqd8q8M

— Chicago Cubs (@Cubs) July 19, 2019
Although ruled a wild-pitch by Lester in the fifth, what should have been scored as a passed ball on Martin Maldonado, would end up eventually yielding the Padres the tying run.
Don't be sad; Javy batted in the bottom of the fifth.
Um that wasn't even an 0-2 pitch.#EverybodyIn pic.twitter.com/827efiAcHR

— Chicago Cubs (@Cubs) July 19, 2019
With the Cubs leading 5-4 in the top of the eighth, it took Pedro Strop exactly one pitch for the Friars to tie it at five, on a solo homer to center. The Friars would threaten again on a comedy of errors by the Cubs, beginning with a fairly routine pop-up to Baez with a man on first. After cleanly catching the ball, Javy looked the baserunner back to first, but as he went to throw the ball back to Strop, he launched it over his head. Not usually a problem, as the catcher is (supposed to be) there to back up an errant-throw, but Maldonado was wandering around home plate with his back to the play, allowing the runner to take second (more on Maldonado a little later).
The Cubs would add some insurance in the eighth, when San Diego committed a couple of errors on bone-headed throwing plays, placing the Cubs up 6-5.
Enter Craig Kimbrel. Cue the music and fly the…
Cubs win!

Final: #Cubs 6, Padres 5. #EverybodyIn pic.twitter.com/BkY2jNYn2K

— Chicago Cubs (@Cubs) July 19, 2019
Rizzo, Javy power #Cubs to win vs. Padres.

Recap: https://t.co/flkt4w7bwz #EverybodyIn pic.twitter.com/swfc9ud1Ay

— Chicago Cubs (@Cubs) July 19, 2019
Cubs News, Notes and Commentary
The #Cubs are 6-1 since the All-Star break! #EverybodyIn pic.twitter.com/B4UIS1XL5m

— Chicago Cubs (@Cubs) July 19, 2019
Padres/Cubs Probable Pitchers: Saturday, 1:20 PM: LHP Joey Lucchesi (7-4, 3.92 ERA) vs LHP Jose Quintana (7-7, 4.21 ERA). Sunday, 1:20 PM: RHP Cal Quantrill (2-2, 4.21 ERA) vs RHP Kyle Hendricks (7-7, 3.46 ERA).
Cubs/Giants Probable Pitchers: Monday: RHP Alec Mills vs Giants TBD; Tuesday: RHP Yu Darvish vs Giants TBD; Wednesday: LHP Jon Lester (9-6, 3.74 ERA) vs Giants TBD.
State of the Cubs: According to Joe Maddon, yesterday: (1) The rotation will stay the same with Mills starting Monday in SF; (2) Cole Hamels was to play light catch yesterday with a bullpen session today or tomorrow; (3) Contreras is doing well and was expected to participate in some baseball activity yesterday; (4) Adbert Alzolay is dealing with biceps inflammation in Iowa; (5) Maddon also acknowledged that his team was struggling with left-handed pitchers this year and said, "We've been terrible. We have to do better."
Update from Cubs: Pitching prospect Adbert Alzolay has been placed on the Minor League injured list. Injury being described as biceps inflammation. No further info right now.

— Jordan Bastian (@MLBastian) July 19, 2019
Welcome back: After spending time on the IL, the Cubs welcomed Carl Edwards Jr. back into the bullpen yesterday. After a demotion earlier in the season, String Bean returned to the pen and was pitching unbelievably well, until injuring himself nearly a month ago. In a corresponding move, the Cubs optioned LHP Randy Rosario back to Iowa.
Carl Edwards says he feels 100 percent healthy for the first time .Said the last 10 days he is pain free.

— Bruce Levine (@MLBBruceLevine) July 19, 2019
(The following Theo Epstein quotes courtesy of Bernstein & McKnight, 670 The Score).
Theo Epstein: "It's just the nature of baseball. We tend to limp into the break a little bit, then get hot out of the break. We hope we can ride this second half hot-stretch as well as we have in the past." - Theo Epstein
Theo on the 2nd base situation: "I think it's impossible to forecast. There's a chance the roster looks a little different on August 1st. We'll see exactly how things shake out roster wise."
Theo on Ben Zobrist: "We're going to know something more in about a week. That will be the time to ultimately make a decision. We are not counting on this at all. We are not operating under the strong assumption he is going to be back." … "He knows what it takes to perform at a high level at this point in his career. If he's able, in his life, to give that to us...he'll let us know soon." … "He'll be all in, or he'll be ruled out based on mutual agreement. He's well aware of that, and we are too. We're not counting on it."
Theo on Yu Darvish: "It's encouraging. I really like to see hard work rewarded. I like to see narratives changed, and I really like to see dominant starting pitching."
Yu has been great in his last two starts, but do you trust him when it matters most?

Vote here: https://t.co/Z6gxBQYgim

Tune in to #Cubs Pregame Live at 12:30 for results! pic.twitter.com/KklLzkygmP

— Cubs Talk (@NBCSCubs) July 19, 2019
Brandon Kintzler: Speaking about how trade deadlines affect players, Cubs' reliever, Brandon Kintzler says, "It turns your world upside down. It's great for the player to go to a great team. But in the background, your wife's stressed out, your kid's life just changed, you're trying to settle. It's not fun."
When I spoke with Kintzler's agent earlier this season, he told me that Brandon's goal was to pitch like an All-Star and to win the fans over. With a 2-0 record and a 2.27 ERA over 39.2 innings of work this year, I'd say he's accomplished both. The big question is; will the Cubs re-sign him this winter, as Kintzler has no player or team options remaining.
I'm not sold on Maldonado: Other than completing the circuit for Mike Montgomery to be traded (as per Monty's request), I don't see where acquiring Maldonado has done any bit of good for Chicago, and it seems to be becoming detrimental. From an offensive standpoint, Maldonado's sub-par hitting is not something the Cubs need in the lineup (if that were the case, Daniel Descalso would be the every-day second baseman).
While Maldonado may have a good arm and excellent pitch-framing skills, he's slower than a one-legged turtle getting out of the catcher's box. I've already seen him muff a throw to second on a stolen base attempt, and yesterday, after fielding a bunt, he launched a ball about 40 feet past Rizzo. At least he fielded that one though, as in the earlier innings, he let Big-Jon field a swinging-bunt, and we all know how that usually turns out- looking like a bounce-pass to first, with runners safe all-around. Give me Willson Contreras, Victor Caratini, or Taylor Davis for that matter, but much like with Descalso, I've already had my fill.
KB: Thought you'd appreciate knowing…
Since he got a day off in Colorado on June 12, Kris Bryant is slashing .369/.458/.660 (1.119 OPS)

— Mountain Dewde (@TonyAndracki23) July 19, 2019
Nope to Strop? I never thought I'd say it, but Pedro Strop is getting harder and harder to rely on in the latter innings of tight games. Strop began the year with a blown save, and no matter what he does lately, it either seems to spell trouble, a scare, or a loss for the Cubs. Strop's ERA now sits at 4.81 for the season and 6.36 for July, the worst (by far) that it's been since joining Chicago in 2013.
Baez vs. Berrios: For those who didn't know, Javier Baez and Jose Berrios are brothers-in-law. While this video isn't quite as compelling as Rizzo competing with Kris Bryant's wife over who knows Kris better, it is pretty entertaining.
.@javy23baez & @JOLaMaKina aren't just good friends, they're brothers-in-law.

How well do they know each other though? It's another edition of....

THE NEWLYBROS GAME! pic.twitter.com/BP19pr7HpQ

— Cut4 (@Cut4) July 19, 2019
Baseball Quotes:
If my uniform doesn't get dirty, I haven't done anything in the baseball game. -Rickey Henderson pic.twitter.com/eKlv5O4lzH

— Baseball Quotes (@BaseballQuotes1) July 19, 2019
Cubs Birthdays: Celebrating yesterday, were ex-Cubs Phil Coke (37) and posthumously, Marcelino Solís (89), Phil Cavarretta (103), Mark Koenig (115), and Bob Pettit (158).
THIS WEEK'S NL CENTRAL SCEHEDULE:
(Wins are in green, losses in red)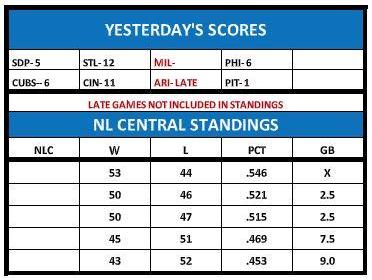 Upgrade Your Account
Unlock premium boards and exclusive features (e.g. ad-free) by upgrading your account today.
Upgrade Now

Tags: Cubs Baseball
,
,
Albert Almora Jr
,
,
,
Anthony Rizzo
,
Pedro Strop
,
Jose Quintana
,
Kyle Hendricks
,
,
Yu Darvish
,
Cole Hamels
,
Adbert Alzolay
,
Randy Rosario
,
Ben Zobrist
,
Brandon Kintzler
,
Mike Montgomery
,
Daniel Descalso
,
Willson Contreras
,
Victor Caratini
,
Taylor Davis
,
Joe Maddon
,
Theo Epstein