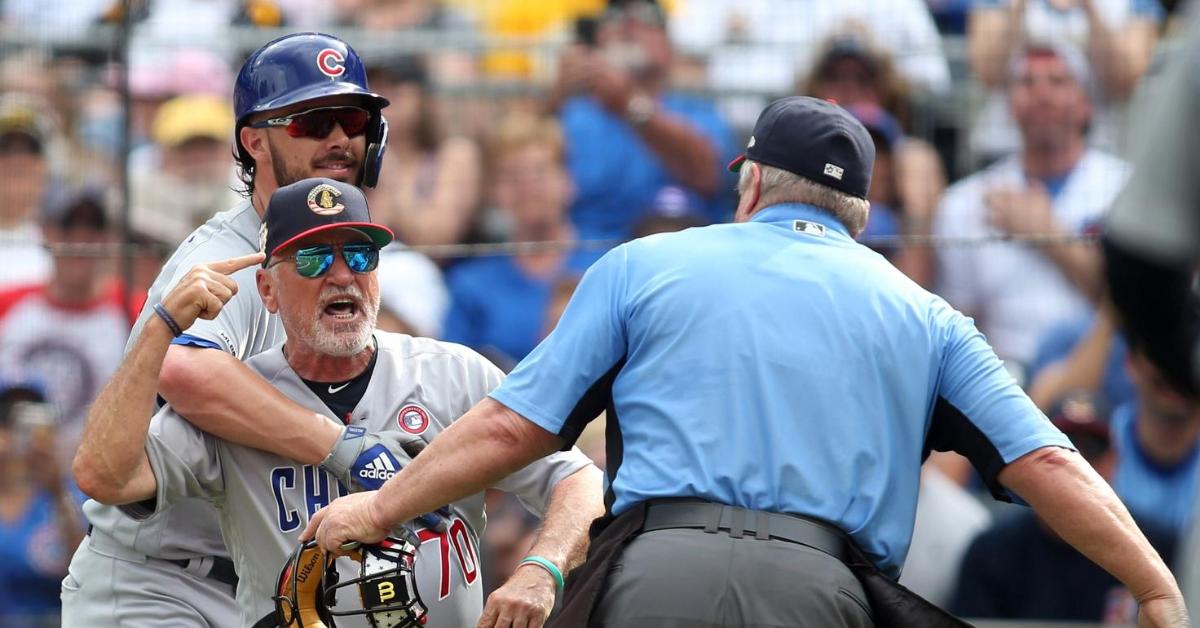 | | |
| --- | --- |
| Cubs News and Notes: Happy Festivus, Electronic Strike zones, Bad contracts, Hot Stove | |
---
Happy Festivus: Yesterday was that officially unofficial day; Festivus. Made famous by the show Seinfeld, one of the many facets to Festivus is the "airing of grievances," and at this point in the 2019-2020 offseason, I have more than a few. I'll be all about Christmas cheer (for the sake of my son and wife) for the next two days, but for now…
My friend Dave Wischnowky (Chicago Tribune) aired his grievance, which pretty much encapsulates how most of Cubs' Nation is feeling at this point. Nothing to see here, folks – just a few minor league signings and a whole lot of invites to Spring Training.
The Cubs' activity since naming David Ross as manager in October. pic.twitter.com/A4f7ZgQRNj

— Dave Wischnowsky (@wischlist) December 23, 2019
Electronic strike zones: According to a report in the Associated Press, "Umpires agreed to cooperate with Major League Baseball in the development and testing of an automated ball-strike system, [and] also agreed to cooperate and assist if Commissioner Rob Manfred decides to utilize the system at the major league level."
BREAKING: People familiar with talks tell The Associated Press that MLB umps have agreed to cooperate with computerized strike zone. https://t.co/thJr3Uy0iL

— AP Sports (@AP_Sports) December 21, 2019
If Manfred decides to utilize it? That almost seems to be a given.
I'm still on the fence about this whole thing, as I've seen enough video of these electronic calls to know that some look nearly as bad (maybe even worse) than the calls being made by human umpires.
Before we start debating on what this could mean for catchers like Willson Contreras, bear in mind that the new system would first be implemented in the minors, and even that phase is probably one to two years away.
Happy Hanukkah! pic.twitter.com/yFMlcqBTUK

— Chicago Cubs (@Cubs) December 22, 2019
Nicholas Castellanos: While the Cubs are hoping that maybe Castellanos will wait for them to clear some additional salary, the White Sox remain engaged on the idea of signing the hard-hitting outfielder. If Theo does nothing else significant this season, he needs to figure out how to retain Castellanos, or the Cubs may be in some serious, serious trouble at the plate.
On August 30th, Nick Castellanos jacked two ??'s against the Brewers...one that included a ?????? ???????? that was felt all the way in Milwaukee: https://t.co/iZOt21h2ri pic.twitter.com/I4GccfGzfa

— Cubs Talk (@NBCSCubs) December 23, 2019
Maddon says thanks: Joe Maddon and his wife, Jaye, said "thanks" to Chicago in a big way – via a full-page ad in the Chicago Tribune. Maddon may have moved on to Los Angeles and the Angels, but still has ties to the city and its fans, including his Maddon's Post restaurant in Wrigleyville.
Touching "Thank You" ad from Joe and Jaye Maddon to the city of Chicago: pic.twitter.com/cnFWWW4Qv6

— Mark Gonzales (@MDGonzales) December 22, 2019
Worst contract ever: The website 12-UP compiled a list of what they believe to be the worst contract in each team's history. Jason Heyward? Tyler Chatwood? Not even close. The "winner" for the Cubs and Theo Epstein belongs to the four-year/$52M deal that the Cubs gave to righty, Edwin Jackson, after they missed out on signing Anibal Sanchez during the winter of 2012.
For the first two seasons, Jackson made 58 starts, pitching to an ERA of 5.58. The Cubs would move him to the bullpen in 2015, where he did better (3.19 ERA in 47 appearances; 55.2 innings pitched), before finally offloading him to the Braves before the trade deadline.
Cubs' Birthdays Celebrating yesterday were ex-Cubs Alec DiStaso (71), Vic LaRose (75), Ken Hubbs (78), Elder White (86), Danny Taylor (119), and Henry "Doc" Gessler (139).
Baseball Quotes: "Winning is the only thing that makes me happy. Ask my wife. I don't get happy about anniversaries or birthdays. I don't care about that. Just winning." -Jeff Kent
You can't be afraid to make errors! You can't be afraid to strike out or make mistakes!

No one can ever master the game of baseball, or conquer it. You can only challenge it. -Lou Brock pic.twitter.com/lbXzsLyTdF

— Baseball Quotes (@BaseballQuotes1) December 14, 2019
MLB and the Hot Stove
NL Central News:
Reds: Reds' outfielder Nick Senzel is apparently preparing early for his big payday, when free agency comes his way in 2026. Yesterday, Senzel dumped his agent and signed on with Scott Boras.
From the Rest of MLB:
Record year: According to Forbes Sports, MLB set a new record in 2019, recording 10.7 billion in revenue. This marks the 17th consecutive season that the sport has set new records in revenue.
Angels: According to Angels' GM Billy Epler, the team may "delay [Shohei Ohtani] a little bit," as he continues his recovery from Tommy John surgery.
Blue Jays: Left-hander Hyun-Jin Ryu and the Toronto Blue Jays agree on a four-year, $80 million contract.
Cole: $324 million
Rendon: $245 million
Strasburg: $245 million
Ryu: $80 million
Moustakas: $64 million
Keuchel: $55.5 million
Watson: $3 million

The grand total for Scott Boras-negotiated deals this winter: $1,016,500,000 — now officially more than $1 billion.

— Jeff Passan (@JeffPassan) December 23, 2019
The Jays are having on a hell of a productive offseason. Yesterday, they signed infielder Travis Shaw to a one-year deal. Shaw will receive a $4M base salary with another $675k available in incentives.
According to reports, David Price may be next on their hit list.
White Sox: The AL Central seems to have become an arms race (no pun intended) between the Sox and Twins. The White Sox are now reportedly eyeing Edwin Encarnacion.
Padres: The Padres have signed RHP Pierce Johnson (former Cub) to a two-year/$5M deal, with a club option for the third year.
Marlins: Miami has signed catcher Francisco Cervelli to a one-year deal worth $2M.

Upgrade Your Account
Unlock premium boards and exclusive features (e.g. ad-free) by upgrading your account today.
Upgrade Now