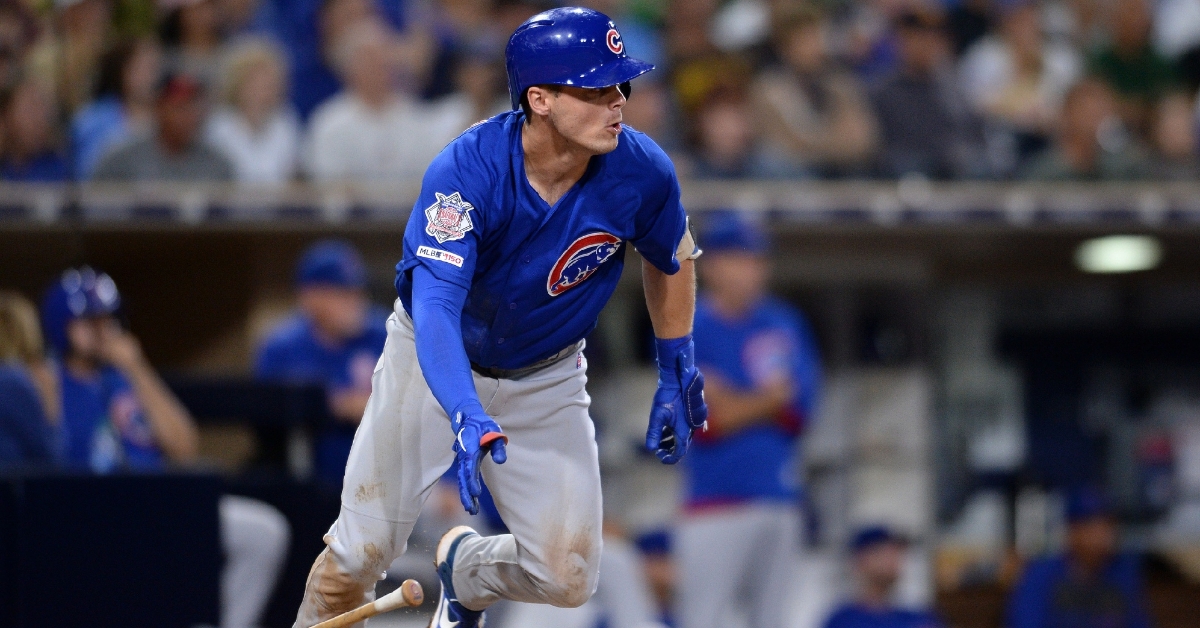 | | |
| --- | --- |
| Cubs News and Notes: I'll take Hoerner, Quintana in, Holland out, 2016, Hot Stove, more | |
---
CUBS NEWS AND NOTES
Q in; Holland out: As predicted, the Cubs have officially accepted the option on Jose Quintana, while showing Derek Holland the door. I'm not sure many fans will shed tears over Holland's dismissal, as he failed to show anything that (in my mind) qualified him as a right-handed specialist.
Quick note- exercising their team option on Q doesn't mean he'll be back in 2020, as the Cubs could trade him this offseason, however, between money issues and past performance, I think Q nails down the #4 spot this year.
Still on the Cubs' to-do list: Deciding on the $16.5M team option for 1B Anthony Rizzo. Would expect that to be exercised in the near future.

— Jordan Bastian (@MLBastian) November 2, 2019
Nico gets my vote I read an interesting suggestion take on another website yesterday, about how the Cubs could/should address the second baseman situation in 2020: Hold Hoerner back in the minors, then sign either Scooter Gennett or Didi gregarious to a one-year deal, while awaiting Hoerner to mature some.

Nonsense.

I'd have been all about Gennett becoming a Cubs at the beginning of last year (to replace Addison Russell), but a post-groin injury Gennett? No way. While Gennett looks fully healed from the injury that had him sidelined for months this season, his bat never came back into full swing (pun intended). I'm not certain whether he is swinging, running – or in some cases, fielding- in a manner which is allowing him to guard himself against reinjury, but whatever the case, he's lost something that he once possessed.

Gregorious wouldn't be a bad choice (certainly better than Gennett), but his offense has also been somewhat lackluster, especially if I point you to his 2019 stats, which reflect a slash line of only .238/.276/.441. Gregorious earned a reasonably hefty $11.75M in 2019, and it's unlikely that he'd be playing for less this year, especially considering that he'll only be turning 30 as spring training starts.

Keep Nico where he belongs, and that's in a Cubs' uniform (more specifically a Chicago Cubs' uniform). The kid was supposed to be the golden child, and once he got his chance, he survived under the pressure of playing in MLB. He carries himself well, both on the field and (reportedly) in the clubhouse, and the kid has earned his shot.

The Cubs will likely non-tender Addison Russell, which is a shame, as he'll walk for nothing, though I'm not sure what the Cubs could get out of him in trade. Daniel Descalso is… well, he's Descalso and I'd be surprised if the cubbies didn't swallow the two million for his salary as well. Again, no trade value whatsoever, and undoubtedly even less than Russell's, despite Russell's past issues.

Remembering 2016 I had a bullet in yesterday's column about the Cubs celebrating the third anniversary since their fairy tale World Series win in 2016, but somehow, what I posted just didn't seem like enough. Glancing through all of the cubs' anniversary videos and tweets from late last night, I had to end the Cubs' News and Notes sections with a few of the better clips:
11:12 PM: Tarp's off! Let's go! pic.twitter.com/0C23topvog

— Cubs Talk (@NBCSCubs) November 3, 2019
11:20 PM: @benzobrist18 comes up ????????????!!! pic.twitter.com/imgTTT77It

— Cubs Talk (@NBCSCubs) November 3, 2019
11:47 PM. It happened. It finally ????????????????. pic.twitter.com/D8TjdhDDqp

— Cubs Talk (@NBCSCubs) November 3, 2019
Trade target: One of the Cubs potential trade targets from 2018 and mid-2019 has now exercised his player option with the Giants. Lefty-reliever Tony Watson (age 34) has cashed in on his $2.5M player option, which could blossom to $7.5M with incentives.
Robo Umps: As the umpires grow continually worse, more and more fans are hoping that MLB will begin using the Robo-Umps. The number of blown calls in 2019 seemed to be the worst I can ever recall, but I still have some mixed emotions about going robo.
The human error factor has always been a part of baseball, and I think over time, the calls probably even themselves out – if not, they're certainly close. The other big issue for me is that old saying, "Live by the sword, die by the sword." The Cubs will win some games via the Robo-Ump, but it'll cost them some games as well. Look at Kyle Hendricks who makes his living on the corners; do you think he doesn't get a lot of calls in his favor? This is going to cost him and others on the team a ton of Ks while bringing walk rates up sky high.
When would you like MLB to install Robo-Umps?

— ESPN 1000 (@ESPN1000) November 2, 2019
Vote of no-confidence: In another ESPN 1000 poll, the question asked how many games the Cubs would have won, if this year's series was the Cubs vs Astros. The fans' answers weren't pretty.
If #Cubs faced the #Astros in the #WorldSeries how many games would #Cubs have won?

— ESPN 1000 (@ESPN1000) November 2, 2019
Cubs' Birthdays Celebrating yesterday were former Cubs Orlando Merced (53) and posthumously, Bill Connors (78), Jesse Flores (105), Johnny van der Meer (105), Ed "Dutch" Zwilling (131), Clem Clemens (133), and Otto Williams (142).
Baseball Quotes: "My goal is to win. It doesn't matter how I do. I want to do well, but I just want the team to win." – New Mets' manager, Carlos Beltran
There are only two seasons, winter and baseball. -Bill Veeck pic.twitter.com/qwGm4dnHn3

— Baseball Quotes (@BaseballQuotes1) October 31, 2019
MLB and the Hot Stove
Free agency in the NL Central:
While you don't see a ton of interdivisional trades occurring, anything is possible when it comes to signing free agents. The Cubs stand to lose some quality players (as well as some dead weight) to free agency, but other teams in the NL Central will also suffer losses, as the free-agent landscape is changing the look of the entire division. Money's tight for the Cubs again this winter, but they'd certainly benefit from being able to sign at least a couple of these guys (potential targets, as I see them, are in bold).
Here's the complete list of players who've now elected free agency in the NL Central.
Brewers: Catcher Yasmani Grandal, infielder Mike Moustakas , LHP Gio Gonzalez, RHP Jay Jackson, RHP Jordan Lyles, RHP Matt Albers and LHP Drew Pomeranz.
Cardinals: LF Marcell Ozuna , catcher Matt Wieters, RHP Adam Wainwright , LHP Tony Cingrani and RHP Michael Wacha .
Pirates: RF Melky Cabrera, LHP Francisco Liriano, and outfielder Lonnie Chisenhall.
Reds: LHP Alex Wood and shortstop Jose Iglesias .
In other NL Central Hot Stove news, Milwaukee has selected the contract of LHP Angel Perdomo; the Crew's 40-man roster now stands at 32.
From the rest of MLB:
Twins: Minnesota has outrighted injured reliever Sam Dyson. Because Dyson had previously been outrighted, he's refused the minor league assignment and entered free agency. Dyson is expected to miss all of 2020 while rehabbing his shoulder, following his surgery in September.
Nationals: Somewhat surprising, Washington has declined the options on Ryan Zimmerman ($18M) and Yan Gomes ($9M).
Nats are planning to pick up Sean Doolittle's $6.5M option and Adam Eaton's $9.5M option but are expected to decline Yan Gomes' $9M option (though that seems like a close call), in addition to Zimmerman's $18M option.

— Jon Heyman (@JonHeyman) November 3, 2019
Adding insult to injury, Stephen Strasburg has opted out of his Nats' contract, foregoing a guaranteed $100M over the next four years. The team says it will start renegotiating with Strasburg today. Strasburg is one of Scott Boras' clients (as if you were surprised).
Oh, by the way…
Max Scherzer is enjoying the Nationals parade ???? pic.twitter.com/GM2Ufvndx2

— Baseball Quotes (@BaseballQuotes1) November 2, 2019
Giants: The Giants have declined their option on reliever, Ferdinand Abad. Additionally, after being outrighted, Kyle Barraclough has elected free agency.
Mets: With Carlos Beltran now in place as the manager, the Mets are rumored to be looking toward former Mets' manager, Terry Collins, to serve as Beltran's bench coach.
Yankees: More than a few Cub fans were hoping that Aroldis Chapman and Theo Epstein would someday celebrate a reunion, but those hopes have now been squashed. The Yankees have worked out a deal to keep Chapman in the bullpen through 2022, at the cost of an additional $18M. Chapman had had two years and $30M remaining, bringing the total contract to three-years/$48M.