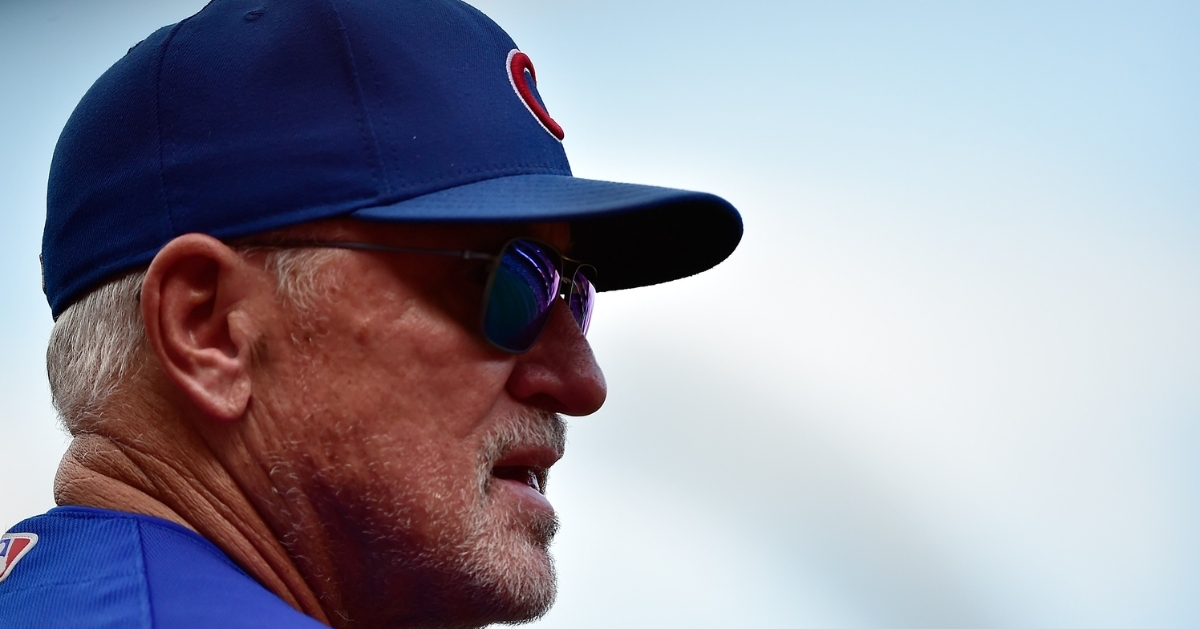 | | |
| --- | --- |
| Cubs News and Notes: Joe Maddon tribute, El Mago's tattoos, Rizzo honored, Hot Stove | |
---
| | | |
| --- | --- | --- |
| Thursday, October 3, 2019, 6:04 PM | | |
MLB Postseason
Last night it was the Rays, and A's in the American League Wild Card game, with the rays pouring it on from the start. By the time the top of the third ended, Tampa had built a 4-0 lead, with the A's finally grabbing a run in the bottom of the third. Tampa would score again in the fifth, making it 5-1, which is just how it would end. Oakland goes home; Tampa advances.
This afternoon and evening will feature the start of the two NLDS series, with TBS carrying both broadcasts. The Braves and Cards got underway in Atlanta at 4:02 PM CDT (Mikolas vs. Keuchel), while the Dodgers will be hosting the Nationals at 7:37 PM CDT (Corbin vs. Buehler).
Tomorrow night will see the American League start their Division Series.
The ALDS pitching matchups between the Astros and Rays are set, and they look awfully good:

Game 1: Justin Verlander vs. Tyler Glasnow

Game 2: Gerrit Cole vs. Blake Snell

Game 3: Zack Greinke vs. Charlie Morton

This has a chance to be a really, really good series.

— Jeff Passan (@JeffPassan) October 3, 2019
CUBS NEWS AND NOTES
Joe Jagger? Joe Maddon recently compared himself to Mick Jagger, of all people, stating (with regard to managing), "I think I got a solid three-to-five minimum. I just saw Mick Jagger rock Soldier [Field] at [age] 75, 76." Good luck, Joe, but you also have to consider that Mick is some sort of freak of nature; as are Ozzy Osbourne, Steven Tyler and Keith Richards. For the record, that quartet is still rocking at a combined age of 291 years.
Cubs release Maddon video: The Cubs released a very warm and heartfelt video to Joe Maddon yesterday, acknowledging his accomplishments.
471-339
19 postseason wins
1 World Series

Your fingerprints are all over the Cubs organization and we are grateful for the winning culture you brought to Chicago.

Thank you for changing this franchise forever. pic.twitter.com/cA1B0xQrog

— Chicago Cubs (@Cubs) October 3, 2019
Thanks, Ben I've been saying that this would be Ben Zobrist's last year and I really thought he was done when he took his leave of absence from the team in May to deal with what sounded like a very traumatic divorce. His return in September was uplifting, and it was so perfect on so many levels for anyone and everyone involved. No, Ben's return didn't break the unpredictably predictable losing streaks, but no one thought for a minute that it would. If Ben's last duty as a major leaguer was striking out Yadier Molina, I'm fine with that, as his smile (and Yadi's) was priceless. Thanks a ton, Ben.
We may have seen Ben Zobrist's last game as a member of the #Cubs.

How would you describe his tenure on the North Side in one word? pic.twitter.com/pt1S3lDbCP

— Cubs Talk (@NBCSCubs) October 3, 2019
Vote Rizzo: Anthony Rizzo is the Cubs' nominee for this year's Hank Aaron Award. The award recognizes the best overall offensive performer form each league, and I couldn't think of a better candidate to represent the Cubs.
Anthony Rizzo is the Cubs' nominee for the 2019 Hank Aaron Award. Full list and voting is here: https://t.co/VpN0XPGd1A

— Jordan Bastian (@MLBastian) October 3, 2019
Since its inception in 1999, only three Cubs have ever won the award: Sammy Sosa (1999), Aramis Ramirez (2008) and Kris Bryant (2016).
Hurry Theo: It will certainly be interesting to see how quickly Theo moves to find and appoint his next manager. The free-agent season starts in just about a month, and it would behoove the Cubs to have a manager in place when the mania begins. After an anticlimactic free agent season last year, it will be interesting to see how many players (and their agents) will settle for quick deals this winter, to avoid seeing guys like Craig Kimbrel signing midseason.
Tattoo tour: Watch as Javier Baez explains his upper body artwork. Interesting, that Javy's Cubs' World Champion tattoo features the MLB 2015 logo and not the logo from 2016. Javy says he knew what he was doing, he just didn't like the 2016 version.
.@Cubs shortstop @javy23baez takes you on a tour of his tattoos pic.twitter.com/PabdqitgaZ

— GQ Magazine (@GQMagazine) October 3, 2019
Cubs' Birthdays: Celebrating yesterday, were ex-Cubs Matt Murton (38), Dennis Eckersley (65), and posthumously, Jack LaMabe (83), Dom d'Allessandro (106), and Bob Bowman (109).
MLB and the HOT STOVE
White Sox: Add another pair of hitting coaches to the unemployment list. Yesterday the Sox fired hitting coach, Todd Steverson, and assistant hitting coach, Greg Sparks.
Mets: As expected, the Mets have released manager, Mickey Callaway, after just two seasons.
Name to watch if #Mets fire Callaway: Carlos Beltrán. Bi-lingual. Strong communicator. Played for #Mets from 2005 to '11. Interviewed for #Yankees' job that went to Boone. One Mets exec, Allard Baird, was his GM with #Royals. Another, Omar Minaya, signed him when he was NYM GM.

— Ken Rosenthal (@Ken_Rosenthal) October 3, 2019
Reds: Club president of baseball operations, Dick Williams, says the Reds will be increasing their payroll again for 2020, stating, "The goal for us now, all we're talking about is the postseason. That's what matters. That's the goal next year. It's not taking incremental steps in a rebuild. It's about the postseason."
Orioles: Classy move by the Baltimore franchise, to say the least. After another dismal season, several players are writing handwritten notes to season ticket holders, saying, "thanks and hang in there."
Baseball Quotes: "You can't sit on a lead and run a few plays into the line and just kill the clock. You've got to throw the ball over the goddamn plate and give the other man his chance. That's why baseball is the greatest game of them all." -Earl Weaver
If a woman has to choose between catching a fly ball and saving an infant's life, she will choose to save the infant's life without even considering if there are men on base. -Dave Barry pic.twitter.com/FXXmo4dMtg

— Baseball Quotes (@BaseballQuotes1) October 2, 2019