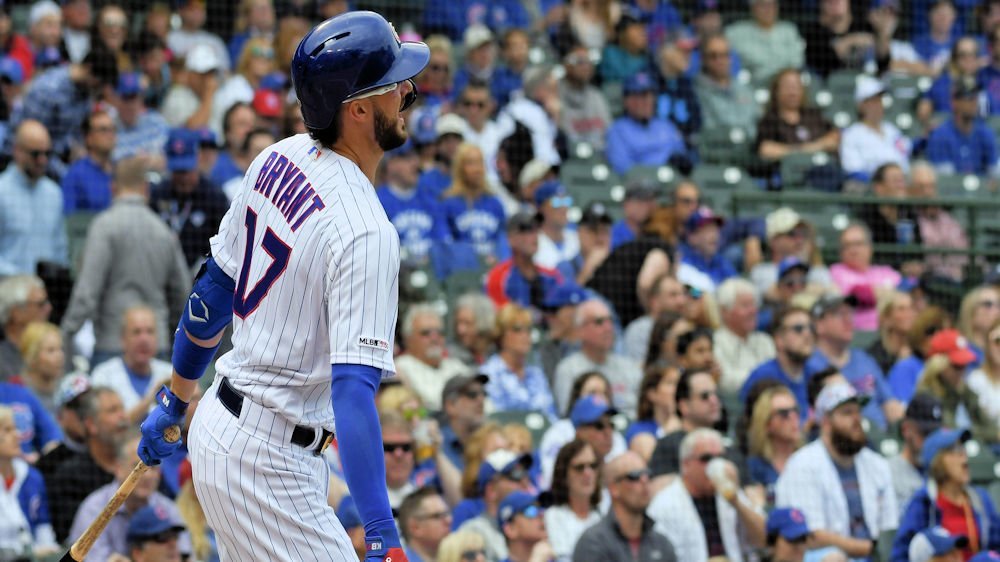 | | |
| --- | --- |
| Cubs News and Notes: Kris Bryant to leadoff, Piniella in camp, Maddon stirs the pot, more | |
---
| | | |
| --- | --- | --- |
| Thursday, February 20, 2020, 8:22 AM | | |
CUBS NEWS AND NOTES
Next Game: Next Game: 3 days – Saturday, February 22, 2020: Athletics vs Cubs (Sloan Park).
Opening Day: 35 days - Thursday, March 26, 2020: Cubs vs. Brewers (Miller Park).
Bryant to lead off? According to reports from Mesa, Kris Bryant has volunteered to be the Cubs' leadoff man, and David Ross is doing it. Ross says Bryant will start the season at leadoff.
"You'll see him at the top of the order a whole lot in spring training. My goal is to put the best players and the best at-bats for me at the top of the order. Kris Bryant is a really good at-bat, gets on base, is probably one of our best baserunners. His baseball IQ is extremely high. So, when you talk about putting the best players in baseball at the top of the order, I think that's our best player, and I want to put him at the top."
I'm not sure whether Bryant is more of a choice for Ross, or a lack of options. Bryant's numbers at leadoff are enticing (.321/.387/.464, with an OPS of .851), but he's only had 31 plate appearances – 28 at-bats – as a leadoff man, assuming the role in just seven games. Bryant is much more established as the #2 man, stroking .298/.398/.534 (.932 OPS) in 1,562 plate appearances (1,326 at-bats).
Best bats at the top of the order?? pic.twitter.com/DPETTqsEln

— Marquee Sports Network (@WatchMarquee) February 19, 2020
In 244 plate appearances (206 at bats), Anthony Rizzo has managed a slash line of .335/.426/.602, with an OPS of 1.028.
Jason Kipnis is also a guy who could become an option to lead off, should he win the job at second base. In 1,017 plate appearances (894 at-bats), Kipnis has maintained a .274/.348/.432 slash line with an OPS of .779. Not as attractive as Rizzo's numbers, nor Bryant's, but Kipnis has spent a good part of his career at that position (19.6%). That may not seem like much, but when you consider that he's batted in all nine positions for his 1,121-game career, it seems more relevant. He's spent just under 34% of his time batting second (.263/.331/.435) and an additional 17.8% of his time batting third (.275/.361/.410).
I also wonder about Nico Hoerner's ability to take that slot, should he make the squad. He's not batted leadoff before, but his energy, attitude, and determination seem to play into his favor.
All I can say is imagine the heat if Theo ends up with an acceptable trade offer for KB.
Piniella in camp: Arriving as an analyst for the ever-elusive Marquee Network, former Cubs' manager Lou Piniella was in Mesa yesterday. During Piniella's time with the Cubs (2007-2010), Piniella recorded a record of 316-293 (.519).
Former manager Lou Piniella (part of @WatchMarquee's list of analysts) spending time in Cubs camp this morning. pic.twitter.com/cShGdJyBiQ

— Jordan Bastian (@MLBastian) February 19, 2020
Maddon opines: Joe Maddon's restaurant closed in December after being open for only seven months. Maddon was bantering yesterday about how his Maddon's Post restaurant would still be open, had he stayed in Chicago. Well, duh.
What were fans supposed to do? Flock to the Post to watch Angels' games? Not hardly, though the Halos may be more accessible on TV than the Cubs are. I'd seen a lot of negative reviews when the place was open, and not many of them were favorable.
Maddon needs to realize that he's a baseball manager and not a restaurateur, a chef, or a wine connoisseur and that despite his best intentions, the restaurant was something of a novelty to fans. While open, Maddon frequented the restaurant, giving fans a chance to say hi. No Maddon equals no business. It's really that simple.
I'm not sure why all of the sudden Maddon seems to be on a roll for wanting to downplay, diminish and dismiss things that went on under his watch. In the last week, he's talked about differences with Theo (after continually saying that they were on the same page); he's blamed his restaurant's failure on no longer being associated with the Cubs; and yesterday he basically called Javier Baez a liar.
Yesterday, adding a little more of a shot at Javy, Maddon said, "I would take a poll on that. See who actually raises a hand that they weren't ready or not. I didn't recognize that."
Joe Maddon on the idea that his Cubs weren't prepared for games: "I would take a poll on that. See who actually raises a hand that they weren't ready or not." @PJ_Mooney: https://t.co/beKMyfYrVl

— The Athletic Chicago (@TheAthleticCHI) February 19, 2020
"Listen, my methods, I've been doing it for a while," Maddon said. "I was pretty pleased with the run we had. I really can't tell you that it could have been much better. I've been doing it that way for a while. Of course — I can't be specific — I'm always trying to figure out a better way of doing things or learning from the past. But right now, the program you saw in Chicago was born here in the first place with the Angels. The stuff that you saw there — and what you saw in Tampa Bay — was born here (with) a lot of my mentors."
Well, Joe, let's see what you can do for the Angels, but for now, it's time to close that chapter on you in Chicago.
Cubs' Birthdays: Celebrating yesterday, were ex-Cubs Miguel Batista (49) and posthumously, Jim Cosman (77).
Baseball Quotes: "You could be a kid for as long as you want when you play baseball." - Cal Ripken, Jr.
What league you been playing in?

California Penal.

How'd you end up playing there?

Stole a car. -Major League pic.twitter.com/v8tpJSRQzQ

— Baseball Quotes (@BaseballQuotes1) February 18, 2020
MLB News and Notes:
Title-less Astros? Jeff Passan says that with the continued fallout from the Astros' sign-stealing scandal, Manfred could very well find himself in a position to strip Houston of their 2017 (and only) World Series title.
From @GetUpESPN earlier today, I talked about how MLB would love to change the narrative on the sign-stealing scandal — and at this point how difficult that is. Would stripping the Astros' 2017 World Series title satisfy the ire from both the players and the public? pic.twitter.com/J3Y5cwEnwJ

— Jeff Passan (@JeffPassan) February 19, 2020
Instead of slowing down, more and more players are speaking up about the level at which the Astros defrauded and tarnished MLB. Manfred's already promised immunity to the players (huge mistake), so taking a title away could be what settles this down. The only problem, as I see it, is that to do so would constitute a form of punishment – something that Manfred promised wouldn't happen. This whole thing is a mess, and Manfred only seems to be making it worse.
Pirates: OF/2B Pablo Reyes suspended 80 games for PEDs. This team just keeps getting worse and worse… This kid has all of two seasons (89 games) under his belt.
Red Sox: Boston has signed former Cubs' rental, Jonathan Lucroy. Lucroy would earn a $1.5MM base salary were he to crack the Major League roster.
Mike Fiers "I'm not asking for extra security. I'm here to play baseball, and I can defend myself if anything. We do have National League games, and I'm going to have to get into the box (to hit) just like everybody else. It's part of the game. If they decide to throw at me, then they throw at me. There's nothing much you can do about it."