| | |
| --- | --- |
| Cubs News and Notes: North and South, Castellanos market, Prospect time, Hot Stove, more | |
---
| | | |
| --- | --- | --- |
| Sunday, December 29, 2019, 7:25 PM | | |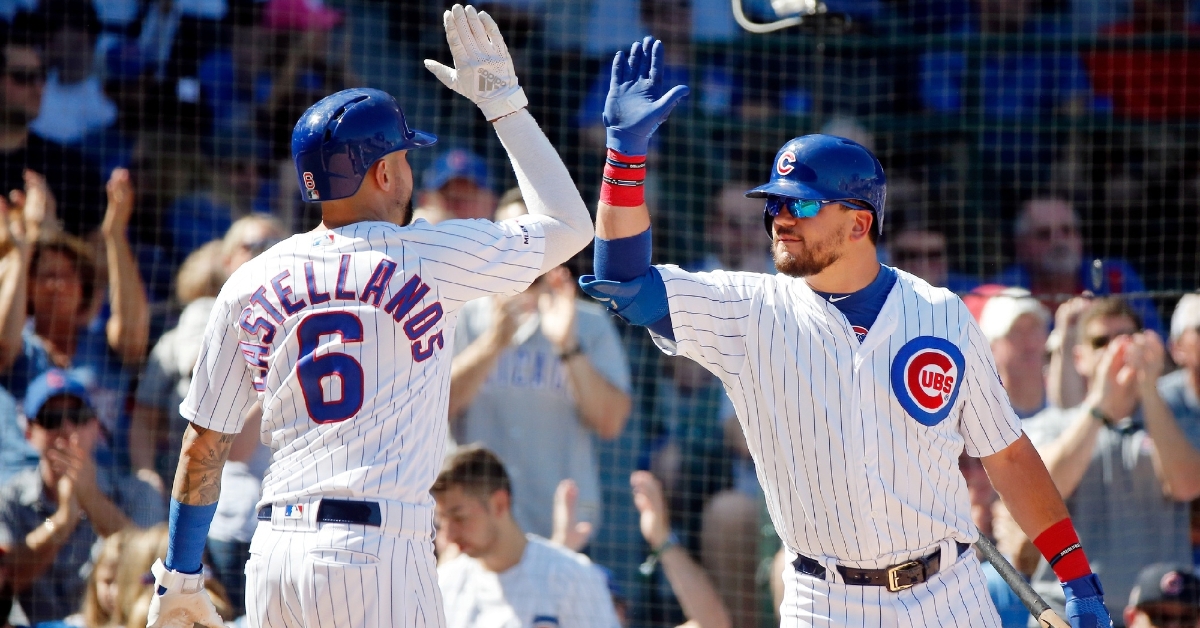 CUBS NEWS AND NOTES
Let's start this edition off with a quote that seems to sum things up pretty well:
Welp … it's hard to know what to say here. If the baseball operations department is as hard up for cash as reports indicate, then it's difficult to pinpoint opportunities that ought to be pursued. To this point, the Cubs have made only the cheapest of additions…" — Jeff Todd, MLB Trade Rumors
North and South: With starters and position players locked down, the Chicago South Siders may very well be a contender this year. The Sox are now reported to be focusing their attention on bullpen needs. The team was also in pursuit of either Yasiel Puig or Nicholas Castellanos but has now reportedly backed off from both.
On the other front, Pedro Strop, Brandon Kintzler, and Steve Cishek may all be on the White Sox radar this winter.
The White Sox aren't pursuing Yasiel Puig and Nick Castellanos at this time, sources tell @MLBBruceLevine.

Their focus has shifted to adding bullpen help, and several former Cubs fit the bill of what they're looking for.https://t.co/R9egLSAhTS pic.twitter.com/fKNIIQ9g8J

— 670 The Score (@670TheScore) December 27, 2019
Nicholas Castellanos: The White Sox are now out of the running, but that doesn't mean Castellanos will return to the Cubs. With a handful of interested teams still out there, MLB Trade Rumors is now reporting that the Texas Rangers are the favorites to land Nick and his golden bat.
Free Agent Faceoff: Castellanos Vs. Ozuna https://t.co/sPazi5QqTu pic.twitter.com/wSwulBGfCB

— MLB Trade Rumors (@mlbtraderumors) December 28, 2019
Cubs "Still Have Interest" in Nick Castellanos, But Rangers "Most Prominent Team" https://t.co/oU52s7K7QO pic.twitter.com/gMKZtaR3w0

— Bleacher Nation (@BleacherNation) December 28, 2019
Are prospects the answer? Much is being made about Adbert Alzolay and other prospects being brought up to the majors to plug some of the holes in what appears to be a sinking ship.
While Alzolay still isn't ready in my opinion, others – such as Dakota Mekkes – probably need to get their chances to make a name for themselves in the majors – hey it worked out pretty well for Nico Hoerner.
It's growing apparently and painfully obvious that the Cubs may not have what it takes to make a significant improvement this season, so why not throw a little work to the prospects? Even the proposed Kris Bryant trade scenarios seem to be focusing on prospects in return, so maybe it's time to get these guys up to Chicago and get them throwing.
My question is when are the #Cubs going to consider taking off the training wheels and letting these guys pitch. It's not just them but team philosophies in general these days where the fear of having someone get hurt overrides the development of playing the game to WIN. https://t.co/5clSczi9cn

— Mick Gillispie (@BroadcasterMick) December 28, 2019
Javier Baez: Two word: El Mago… Enough said.
They call him El Mago.

Today, we celebrate some of Javier Báez's best moments from 2019.

Read: https://t.co/vfwGvsLCHE pic.twitter.com/jQqqDgfXTz

— Cubs Talk (@NBCSCubs) December 28, 2019
Jon Lester home runs pre 2010: 0

Jon Lester home runs 2010-2019: 3

Pretty great decade, IMO

— Corey Freedman (@CFCubsRelated) December 27, 2019
Cubs' Birthdays Celebrating yesterday, were ex-Cubs Dylan Floro (29), Cole Hamels (36), Chris Gimenez (37), David Aardsma (38), Raúl González (46), Byron Browne (77), Phil Gagliano (78), & posthumously, "Dutch" McCall (99), Charlie Brewster (103), "Red" Lynn (106), "Pete" Lamer (146), and Bill Bishop (155).
Baseball Quotes: "The way I approached the game was I tried to play the game hard, play the game right every single day." -Craig Biggio
I don't believe a player is ever a finished product. There is always something to work on, something to improve. -Anthony Rizzo pic.twitter.com/xYOu5b7PvW

— Baseball Quotes (@BaseballQuotes1) December 20, 2019
MLB and the Hot Stove
NL Central News:
What's ahead for the #Cubs, #Brewers, #STLCards, #Reds and #Pirates? https://t.co/6pZrQmsfzc pic.twitter.com/8Abd3NVIp9

— MLB Trade Rumors (@mlbtraderumors) December 28, 2019
Pirates: According to MLB Network Radio (Sirius XM), if things continue to mature, it looks like Starling Marté will be headed to the Mets. There was news this morning reporting that both sides have exchanged offers for the trade. Arizona and others are still trying to secure Marté.
Reds: As the Reds continue to build, they're now reportedly "deep into talks" with centerfielder Shogo Akiyama.
From the Rest of MLB:
Blue Jays: The Jays have officially announced the signing of Hyun-Jin Ryu.
The Toronto Ryu Jays ?????? pic.twitter.com/9VZ7gcSk7F

— Toronto Blue Jays (@BlueJays) December 27, 2019
The Jays have also signed RHP Shun Yamaguchi to a two-year deal.
Chris Tillman: Former O's righty, Chris Tillman is rebounding from shoulder surgery, but planning a spring showcase. Tillman had three golden years from 2012 to 2014 but hasn't ever shown a lot in his 10-year career with Baltimore. In fairness, Baltimore's perpetually weak rosters may account for some of Tillman's 4.57 career ERA, but with a career WHIP of 1.378, it's hard to blame it all on his fielders.
Phillies: The Phils have signed backstop Christian Bethancourt to a minor league deal.
Royals: KC has signed 3B Michael Franco to a one-year deal. This move has implications on the Cubs, as it has been long rumored that a KB for Whit Merrifield swap was a possibility.
Marlins: Miami has signed OF Corey Dickerson to a two-year deal worth $17.5M.

Tags: Cubs Baseball
,
Pedro Strop
,
Brandon Kintzler
,
Steve Cishek
,
Adbert Alzolay
,
Dakota Mekkes
,
,
,
,
Cole Hamels
,
Anthony Rizzo