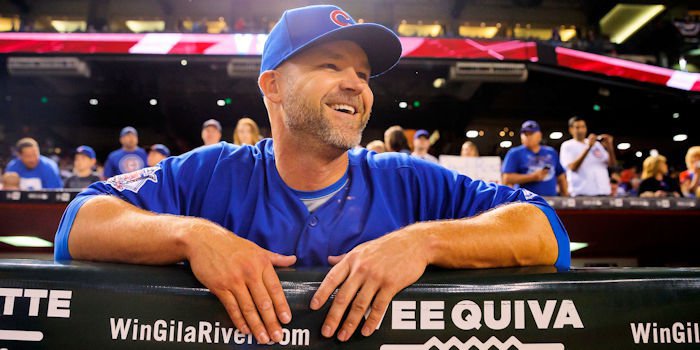 | | |
| --- | --- |
| Cubs News and Notes: Ross or Espada, Theo's pooch, Miguel Amaya, MLB Hot stove, more | |
---
MLB Postseason
NLCS: Nationals Advancing to the World Series after sweeping the Cards, 4-0.
ALCS Game-4 was scheduled for tonight at 7:08 PM Central (FS1), however, it was postponed due to rain. The game will be made up tomorrow at 7:08 PM Central (FS1); Zack Greinke vs. Masahiro Tanaka.
CUBS NEWS AND NOTES
The field narrows: After spending nearly two weeks combing through candidates, Theo Epstein is reportedly down to two choices for the manager – but probably not the two you may think. Fans (at least some) will be glad to know David Ross is among the two, but Joe Girardi isn't. Theo's second choice is the Astros' bench coach, Joe Espada. I predicted that Theo would decide by Monday (at the latest), but it wouldn't surprise me to see the Cubs next manager named by the end of business tomorrow.
Houston source tells me Astros coach Joe Espada had a sensational interview w/Cubs front office. "He gave Theo + Jed a lot to think about. They really liked him + came away exceptionally impressed. Was it enough to overcome David Ross's relationship w/Theo and Jed? We'll see."

— David Kaplan (@thekapman) October 17, 2019
Cubs' Baseball Operations Department: The Cubs have made several changes to their Baseball Ops Department. Matt Dorey has been named Senior Vice President, Player Development. Bobby Basham has now been named Director of Player Development, while Craig Breslow has been named Director of Pitching/Special Assistant to the President and General Manager. Justin Stone has been named Director of Hitting, and finally, Jeremey Farrell has been named Assistant Director of Baseball Development. For a more detailed explanation of the changes made, check out the Cubs' Press Release.
Stone wasted no time getting to his new position and starting work, starting in the EMG lab (Electromyography).
Very little EMG work has been done in hitting. Taking some hacks in the lab today to check lower body muscle firing patterns. pic.twitter.com/gCYd7HRHHo

— Justin Stone (@elite_baseball) October 17, 2019
Joe Espada: While Espada remains one of just two candidates for Maddon's job, there is now a report that the Giants have asked the Astro's permission to speak with him as well. San Francisco has a lengthy list of candidates, so plucking Espada from the thin Cubs pool would most assuredly give Ross the job by default.
Theo's pooch: While we can't be sure what the outcome of Theo's dog urine trial will be (people with any common sense should be able to figure it out though), at least one lounge is squarely in the pooch's corner. Nisei Lounge in Chicago lays it right out there for the Judge.
Official message from Nisei Lounge. pic.twitter.com/fJpctiucHK

— Nisei Lounge Chicago (@NiseiLounge) October 17, 2019
Miguel Amaya: Recent rumors of Willson Contreras (and/or Victor Caratini) being traded seem to have died down, but Cubs' catching prospect, Miguel Amaya, is staying ready for his chance in the big leagues. Amaya got some time with the Cubs in spring training last year, but he certainly didn't look like a kid who was quite ready to come up yet. Unlike Nico Hoerner, who carried himself like a seasoned veteran from day-one, Amaya didn't seem nearly as sure of himself during the spring. Don't get me wrong – he's a great catcher, just not ready to be a major league backstop yet.
Off day in the @MLBazFallLeague today, so here's some explosive BP footage of #Cubs catcher Miguel Amaya yesterday. Signed for $1.25 mil out of Panamá in 2015; he is BUILT at just 20-years-old, grades well behind the plate and has upside with the bat ?????? @mamaya_9 pic.twitter.com/JbtYAKJnFc

— Jacob Zweiback (@TheReelJZ) October 17, 2019
Cubs' Birthdays: Celebrating yesterday were ex-Cubs Carlos Gonzalez (34), John Mabry (49), and posthumously, Johnny Klippstein (92), Johnny Ostrowski (102), Paul Derringer (113), and George Nicol (149).
Baseball Quotes: "Baseball is the only field of endeavor where a man can succeed three times out of ten and be considered a good performer." -Ted Williams
Pitching is the art of instilling fear. -Sandy Koufax pic.twitter.com/NV2FsMSDlC

— Baseball Quotes (@BaseballQuotes1) October 15, 2019
MLB and the HOT STOVE
Angels: With Joe Maddon now in place, the Angels have set their sights on former Halos' hurler, Mike Butcher (1992-1995) to serve as their pitching coach. Butcher hasn't been hired as of yet.
Mets: I wrote yesterday that Nats' third base coach, Bob Henley was being considered for the manager's spot in San Diego, and now word has surfaced that Nats' first base coach, Tim Bogar is being considered for the manager's job for the Mets. Not sure where this may leave Joe Girardi if he not hired by the Cubs (though I presume Philly), but what about Carlos Beltran? Beltran recently canceled interviews with the Cubs and Padres, as he was fixating on a job in New York.
Brewers: Former Brewers infielder, Hernan Perez, has now elected free agency after being designated for assignment (then outrighted) by Milwaukee earlier this year.
Angels: I guess it was time to drop Joe Maddon from the "Cubs News and Notes" section to the MLB section. Joe Maddon has left "the Cubs Way' and is already preaching the Angels Method: According to Maddon, that means, "Playing a specific style of baseball, which really started with (Mike) Scioscia and before that with Marcel (Lachemann), and before that with Gene Mauch."
Maddon: "There's definitely an Angel method." Goes down memory lane with Bob Clear, etc., with teaching methods he wants to resurrect.

— Mark Gonzales (@MDGonzales) October 16, 2019