| | |
| --- | --- |
| Cubs News and Notes: Yu decent, Cubs eyeing lefty relievers, Ortiz health update, more | |
---
| | | |
| --- | --- | --- |
| Tuesday, June 11, 2019, 9:09 AM | | |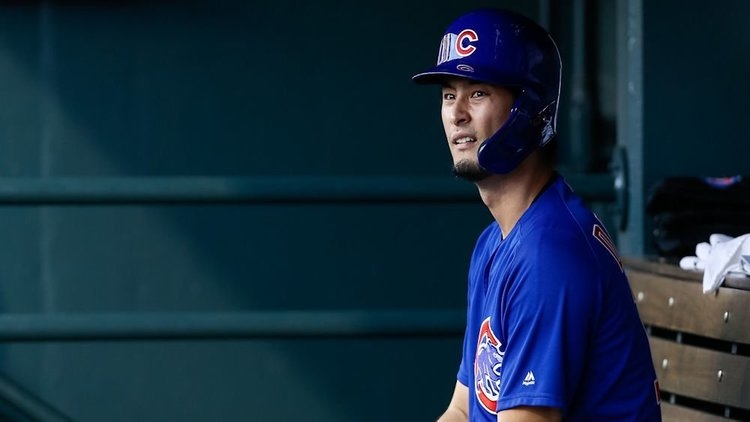 Next Game: Today, 7:40 PM CDT: Cubs @ Rockies: 7:40 PM: LHP Jose Quintana (4-5, 3.77 ERA) vs Rockies TBD (presumably, RHP Peter Lambert (1-0, 1.29 ERA).
CUBS NEWS AND NOTES:
Monday's Game Recap:
Leaving the Friendly Confines after sweeping the Cardinals on Sunday, the Cubs set sail for Denver, hoping for continued success. Chicago has had a problem when playing away from home this year (13-16 on the road, .448 win%), and it only gets tougher after Denver, as the Cubs will then head to Los Angeles to meet the Dodgers. First things first though, as last night it was righty, Yu Darvish (2-3, 4.88 ERA) versus Rockies' righty, German Marquez (6-3, 4.07 ERA).
The Cubs jumped out to an early 4-0 lead in the third, after David Bote and Kyle Schwarber teamed up for back-to-back homers, followed two batters later by a Rizzo blast with Bryant on base from a walk.
Darvish had a decent outing, despite giving up a pair of two-run homers (Blackmon and Desmond) in the third, which tied the game. Once the Rockies caught up, they'd never relinquish the lead. Six pitches into the seventh, Mike Montgomery gave up a solo shot, giving up the lead, but the Cubs fought back and tied it at five in the eighth. The Rockies would tag Steve Cishek for the go-ahead run in the bottom of the eighth, followed by former Cub, Wade Davis, who closed it out for the Rox. Final score: Rockies-6; Cubs-5.
The final line for Yu Darvish: 6.0 IP, six hits, four earned runs (2 HR), 0 walks, three strikeouts. Steve Cishek took the loss, while Oberg was credited with the win and Davis the save.

Cubs/Rockies Probable Pitchers: Wednesday, 2:10 PM: LHP Cole Hamels (5-2, 3.24 ERA). vs RHP Antonio Senzatela (5-4, 4.95 ERA).
Cubs/Dodgers Probable Pitchers: Thursday: LHP Jon Lester (5-4, 3.56 ERA) vs RHP Clayton Kershaw (5-1, 3.14 ERA). Friday: RHP Kyle Hendricks (6-4, 3.16 ERA) vs. RHP Rich Hill (3-1, 2.40 ERA). Saturday. RHP Yu Darvish (2-3, 4.88 ERA) vs. RHP Walker Buehler (6-1, 3.69 ERA). Sunday: Pitchers TBD.
Jon Lester themed road trip: Sometimes words just can't describe, and this was the case with the Cubs' Jon Lester themed road trip. The Guys look pretty good in western-wear, but get a load of Edwards with the stick horse…
Heading out West. ?? pic.twitter.com/GrnJBgzCQc

— Chicago Cubs (@Cubs) June 10, 2019
Cubs' Notes: (1) Since April 11 (53 games), the Cubs are 34-19 (.642). This is the 2nd best record in N.L., behind the Dodgers (37-16/.698) and is 5th best in the majors. (2) Kyle Schwarber has a .349 on-base percentage, .562 slugging percentage, and .911 OPS in 23 games from the leadoff spot. This is good enough to rank 2nd among NL leadoff batters in OPS, 2nd in slugging and 7th in OBP (min. 100 plate appearances). Schwarbs ranks 3rd with an average of 4.31 pitches per plate appearance and 2nd with 1 HR per 12.71 Abs
Trades on the horizon: As the July 31st trade deadline approaches, stay tuned to CubsHQ, and I'll keep you up to date on the biggest trades involving not only the Cubs but from around MLB as well. Look for the Cubs to be wheeling and dealing for left-handed relievers.
Cubs eyeing Giants lefties: The trade rumors have begun, and the latest is that the Cubs are (still) interested in Giants' lefty-relievers Will Smith and Tony Watson. The Cubs showed interest in the pair last winter, and it was rumored then that the Giants were interested in Jason Heyward and Ian Happ. While the Cubs may have parted with Heyward previous year, it's doubtful that they'd do so now. Ian Happ may be a different story.
La Stella the All-Star? Former Cub, Tommy La Stella, has found his groove with the Angels; so much so, that he's currently among the leaders in the All-Star balloting for the AL second-base position. Nice job, 3 AM!
Contreras' arm: You may have seen this from Sunday night's game, but it's always worth seeing again. Willson Contreras with a shotgun throw to second, coupled with another no-look tag by Javier Baez. Say goodbye to Marcell Ozuna.
It's OK, it happens to everyone. pic.twitter.com/cirLm6fDaU

— Chicago Cubs (@Cubs) June 10, 2019
Kimbrel in Atlanta? Didn't I say this like five days ago? What MLB Network's Jon Morosi failed to add, was that the Braves signed Dallas Keuchel. If both can be ready for that series, you'd potentially have the two, holdout free-agents making their 2019 debuts at the same time.
If Craig Kimbrel is ready for the @MLB roster two weeks from today, he can make his @Cubs debut against the @Braves, his original team, in the series at Wrigley that begins June 24. ?? @MLBNetwork

— Jon Morosi (@jonmorosi) June 10, 2019
Maddon says three weeks, others say before AS Break. My gut says he'll be in the pen June 24th when the Cubs open up a home series with Atlanta. He should be in Iowa by the end of the weekend for an impromptu spring training.

— Ken Allison (@KenAllison18) June 6, 2019
David Ortiz update: After being shot in the back in the Dominican Republic on Sunday night, David Ortiz is recovering from surgery. According to the last updates that I've seen, Ortiz suffered trauma to his liver, gallbladder, and had parts of his colon removed during surgery. He is reported to be in serious, but stable condition, and is reported to be "out of danger."
The Red Sox team plane landed in the Dominican Republic early yesterday afternoon, waiting to fly Ortiz back to Boston for more advanced medical care. Ortiz had been cleared for travel and the plane was to take off as soon as it was prepped for use as a medical transport.
Utter shock. That was no robbery, that was a hit, and they better get to the bottom of it. Thank god no amount of evil or hate can overcome a heart that big. You got this @davidortiz, we love you bro!

— Jon Lester (@JLester34) June 10, 2019
Baseball quotes: "Maximum effort and hustle on every play are two things that require zero athletic ability." -Wade Boggs
Cub Birthdays: Celebrating yesterday, were ex-Cubs Frank DeMarée (109) and Mike Kreevich (111).
NL CENTRAL SCHEDULE (June 9 – June 15, 2019)
(Wins are in green, losses in red)

NL CENTRAL SCOREBOARD/STANDINGS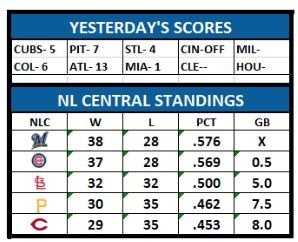 Tags: Cubs Baseball
,
Yu Darvish
,
Jose Quintana
,
David Bote
,
Kyle Schwarber
,
Mike Montgomery
,
Steve Cishek
,
Wade Davis
,
Cole Hamels
,
,
Kyle Hendricks
,
Jason Heyward
,
,
Tommy La Stella
,
Willson Contreras
,