| | |
| --- | --- |
| Cubs News and Notes: Yu's first win, Theo on trades, Hamel's injury, Mai Tai Guy, more | |
---
| | | |
| --- | --- | --- |
| Thursday, July 18, 2019, 8:55 AM | | |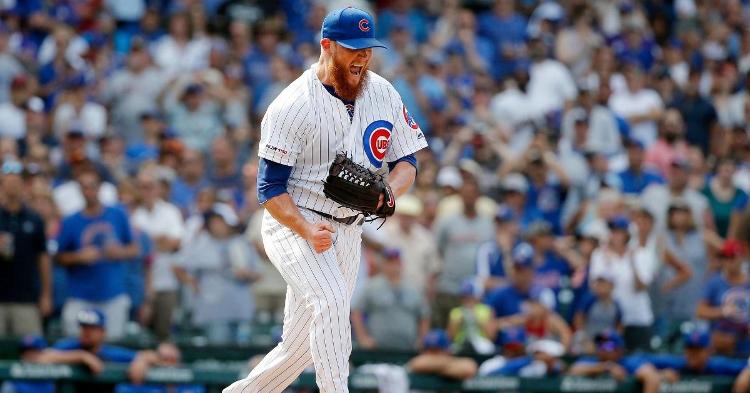 Next Game: Friday, 1:20 PM: LHP Eric Lauer (5-7, 4.04 ERA) vs LHP Jon Lester (9-6, 3.74 ERA).
Wednesday's Game Recap:
Despite continually improving throughout this season, Yu Darvish just hasn't been able to buy a win at Wrigley Field, but that didn't stop him from taking the mound yesterday. Eager to take yet another series from the Cubs, Reds' manager, David Bell, would send Sonny Gray to the hill for Cincinnati.
Before I get to the scoring, props to Yu Darvish on another phenomenal outing, Darvish lasted 6.0 innings, allowing only two hits, while striking out seven. In Darvish's previous outing, he carried a perfect game into the fifth, and yesterday, he had a no-hitter with two outs in the fifth, before finally giving up a hit.
Sonny Gray was also good, allowing just a pair of hits through six, the problem was, both of those went as solo-home runs; one by Kris Bryant in the first, one by Addison Russell in the second. At the end of the sixth, the Cubs were still up 2-0.
The 20th home run of the season for @KrisBryant_23! #KBoom pic.twitter.com/8LDz6ooNNp

— Chicago Cubs (@Cubs) July 17, 2019
The #Cubs have 20 home runs over the last 10 games dating back to July 3. pic.twitter.com/HooLDA1g2U

— Chicago Cubs (@Cubs) July 17, 2019
The Cubs would buy some insurance in the seventh, when Jason Heyward doubled with one out, scoring Bryzzo, who had drawn back-to-back walks to start the inning. Cubs lead 4-0.
Brandon Kintzler was overdue for a lousy inning- defined for Kintzler as any inning in which two or more men reach base, regardless of whether or not they score. The Reds did manage to tag Kintzler for a pair of runs this time, but his signature, double-play-groundball pitch, limited the damage. Cubs up-4-2.
The Cubs would tack on one more in the eighth; then it would become Craig Kimbrel's job to close it out. One, two, three. Cue the music, Fly the W, as the Cubs win their second straight series, five of their first six since the break, and Yu Darvish earns his first win at Wrigley. Yesterday was a good day.

Yu Darvish since All-Star Break (2 starts): 12.0IP, 4hits, 0runs, 1 BB, 15K
Took a no-hitter into the 5th inning both games.
Thanks to @ckamka for ????????????#Cubs

— Kelly Crull (@Kelly_Crull) July 17, 2019
Cubs News, Notes and Commentary
Padres/Cubs Probable Pitchers: Saturday, 1:20 PM: LHP Joey Lucchesi (7-4, 3.92 ERA) vs LHP Jose Quintana (7-7, 4.21 ERA). Sunday, 1:20 PM: RHP Cal Quantrill (2-2, 4.21 ERA) vs RHP Kyle Hendricks (7-7, 3.46 ERA).
Dietrich deserved that one: Anyone who reads my articles with any regularity, knows that I never like to see any player (from any team) injured. Derek Dietrich of the Reds took a pitch to the knee from Darvish yesterday, and he had that one coming.
Of course Dietrich gets hit by a pitch. He doesn't like to move in the box does he? Lead off man on in the 5th for the Reds who now have 2 HBP in this game and nothing else.

— Jesse Rogers (@ESPNChiCubs) July 17, 2019
Much like Tommy La Stella's gift of drawing catcher's interference calls, Dietrich has made it his mission to lean into inside pitches. He's now been hit 21 times this year, three of those coming in the series with the Cubs. I told my wife just the other night, that one of these days he was going to stay put in the batter's box and get himself hurt. Well, yesterday was that day. After being hit square in the side of his knee with a mid-80 mph slider, Dietrich took first base after laying on the ground for a minute but was removed for a pinch-runner one pitch later. Keeping with my policy about seeing players hurt, I hope he's not seriously injured, but I do hope he learns his lesson.
This Bud's for Yu: It's taken time, patience, frustration, and injury, but Yu Darvish is finally showing why he was given the contract that he was. Enjoy the moment, Yu, you've earned it.
Rizzo on Darvish pic.twitter.com/oSI8IFq8zZ

— Mark Gonzales (@MDGonzales) July 17, 2019
Darvish on 1st win at Wrigley: "it's amazing." pic.twitter.com/bYaig8ZzW4

— Mark Gonzales (@MDGonzales) July 17, 2019
Yu Darvish last 9 starts (54 innings pitched)

3.50 ERA, .176 batting avg against
28.2% strikeout rate, 5.7% walk rate

MLB averages this year:

4.49 ERA, .252 batting avg against
22.7% strikeout rate, 8.5% walk rate

— Jeremy Frank (@MLBRandomStats) July 17, 2019
Darvish was asked what he'll do with the ball from his first Wrigley win: "I'll give it to my wife. Maybe. (Pause) She doesn't want it."

— Jesse Rogers (@ESPNChiCubs) July 17, 2019
Theo on buying: Speaking on the Cubs' approach to acquiring players as the trade-deadline looms closer, Theo Epstein says, that "… it would take a special deal to sacrifice the very top of the farm system."
Hamels on his injury: Cole Hamels hopes to be back in uniform by August first, and says while he "hates it," making at least one rehab start, because "it's the smart thing to do."
A word of caution: The Cubs certainly need the wins they've been getting- both for the sake of the standings and for team morale but bear in mind, they're placing last place and bottom-of-the-division teams right now, not to mention that they're playing at home. San Diego shouldn't be much of a problem (last-place team) and hopefully not the Giants (4th place team but super hot), but the real test will come in San Francisco (and beyond), as the Cubs look to get their act together on the road.
Following the Giants series in San Fran, the Cubs have a day off before heading to Miller Park to face the Brewers, then another off-day, before playing St. Louis, in St. Louis, before returning home to host the Brewers. Buckle your seat belts; the next two weeks will be make-it-or-break-it for the Cubs and the rest of the NLC.
Gore heads east: Scratch any desire you may have had for the Cubs to re-sign Terrance Gore (I'm bummed). Gore is hitting .275 this year in 51 at-bats, to go along with all that speed. Best of luck, Terrance.
Yankees Acquire Terrance Gore https://t.co/artXhhq5me pic.twitter.com/ZIR6jkGmJU

— MLB Trade Rumors (@mlbtraderumors) July 17, 2019
Rizzo knows: Anthony Rizzo discusses his "fellow pitchers'" shortcomings. Geesh, who doesn't know how to strikeout AJ Pollock?
What's @ARizzo44's pitching strategy?

The @Cubs 1B joined #IntentionalTalk to discuss his highly effective approach. ??



Full ???: https://t.co/cecnI9lf9H pic.twitter.com/1qftPp9Rkb

— Intentional Talk (@IntentionalTalk) July 17, 2019
Was that Caratini? I keep saying how much Victor Caratini has continued to improve all around, and now he's working on his throwing game. In a very Willson Contreras-esque move, Vic did a little back-picking of his own on Wednesday.
Slick Vic!#EverybodyIn pic.twitter.com/vlWJ6KD4xj

— Chicago Cubs (@Cubs) July 17, 2019
#StLouisIsBoring pic.twitter.com/ZbfBk9e4Y3

— Wrigley Report (@wrigleyreport) July 17, 2019
Jackass of the month: Who doesn't want a home run ball from a walk-off at Wrigley? "Mai Tai Guy" apparently wanted Kyle Schwarber's home run ball so badly on Tuesday night, that he pushed his way past two kids who clearly could have reached it in the basket. For this, my friend, you've earned my first-ever, "Jackass of the Month" award.
.@kschwarb12 has homered in three straight games.

(This one was our favorite) pic.twitter.com/LzEQI4T99B

— Chicago Cubs (@Cubs) July 17, 2019
(I reserve the right to determine the frequency in which this "honor" is awarded, based upon the level of stupidity demonstrated by the potential nominees. The same guy wins a second award for what he said following the game, when interviewed by the media about the incident.)
Mai Tai Guy, identified as Christopher Sorley, actually had the audacity to defend himself, saying, "All the kids are in the front row because we let them go there," Sorley said. "You know what I'm saying? (Schwarber's homer) is a gamer. You know the rules here. The Cubs can't be responsible for the actions of fans when trying to procure a home run or a foul ball. A walk-off home run? It's kind of anyone's game. I feel bad for the kids, but it looked a lot worse than it really was."
In case you're wondering about his rather ridiculous nickname, Sorley claims it's a matter of simple math and economics: "When I first started coming out here when I was 21, the beers were a buck cheaper than the Mai Tais," Mai Tai Guy said. "The beer is only 5% (alcohol). The Mai Tai is like 12%. So, for a buck more, let's get after it, you know?"
Mr. Sorley, try being more like this guy…
We stan this hero that:

- Snags a foul ball one-handed, while holding a beer
- Only spills a tiny bit of the beer
- Hands the foul ball to a youngster. pic.twitter.com/4G1fSOLBsW

— Cut4 (@Cut4) July 17, 2019
Baseball Quotes: "It's unbelievable how much you don't know about the game you've been playing all your life." -Mickey Mantle
If I'd just tried for them dinky singles I could've batted around .600. -Babe Ruth pic.twitter.com/GnbUVR4qsb

— Baseball Quotes (@BaseballQuotes1) July 17, 2019
THIS WEEK'S NL CENTRAL SCEHEDULE:
(Wins are in green, losses in red)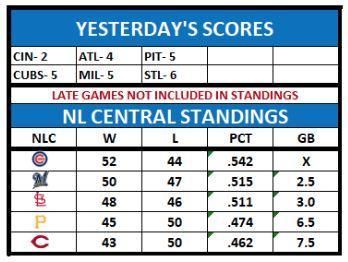 Tags: Cubs Baseball
,
Yu Darvish
,
,
,
Addison Russell
,
Jason Heyward
,
Brandon Kintzler
,
Jose Quintana
,
Kyle Hendricks
,
Tommy La Stella
,
Cole Hamels
,
Anthony Rizzo
,
Victor Caratini
,
Willson Contreras
,
Kyle Schwarber
,
Theo Epstein