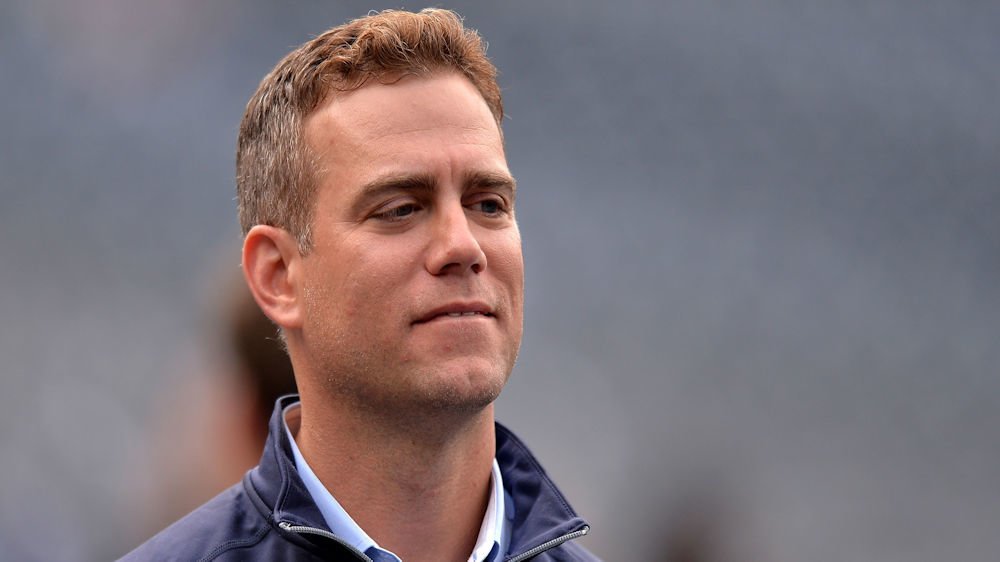 | | |
| --- | --- |
| Cubs Odds and Ends: Cubs manager talk, Kris Bryant's future, Three-batter minimums | |
---
| | | |
| --- | --- | --- |
| Monday, October 7, 2019, 10:58 AM | | |
I'm not being wishy-washy about KB
A friend on social media hinted that I was kind of back-and-forth on my opinion of what Kris Bryant's fate will be this winter, so let me clarify.
I believe the Cubs are 100% dedicated to finding a trade partner, but they aren't going to just give KB away for two Single-A prospects and a case of Kleenex to help comfort the tons of overemotional fans. They are going to have to find a serious trade partner and one who can offer the Cubs a healthy haul on the deal. Who that trade partner remains to be seen, but 29 teams out there have something the Cubs could use, although the likelihood of KB staying in the NL Central (at least through a direct trade) is next to nil.
The Cubs already have a cash crunch going into 2020, and Bryant is due for arbitration this winter. His $12.9M this year is likely to increase to $17M or better, leaving the Cubs that much thinner when it comes time to sign pitching, hitting, or whatever else Theo deems necessary for the new year. Bryant presents himself very professionally, but one must remember that there's some bad blood between his agent and Theo and every time he's up for a raise, he's going to take all he can get, while never leaving the table satisfied. Expect no "hometown discount" from Scott Boras on this one, just thank him for his service and find a trade partner.
Could Davey Martinez be a dark horse for Maddon's job?
As I sat here last night wondering about the possible suitors for Joe Maddon's job, I began to wonder about the possibility that Davey Martinez might be (secretly) in the running. I initially laughed that off when a friend showed me a screenshot of something someone posted saying Martinez "was really the Cubs' main objective," but the more I thought about it, this sort of makes sense.
The Nationals' turnaround this season has been nothing short of remarkable. I was almost certain he was going to get fired back during the spring, but regardless of how this NLDS turns out, Davey Martinez has done an incredible job.

— Dave Wischnowsky (@wischlist) October 7, 2019
Davey Martinez spent three years with the Cubs as the bench coach (2015-2017) and interviewed for the manager's spot with Chicago in 2013 before it was given to Rick Renteria. Ben Zobrist (along with Evan Longoria and Alex Cobb) endorsed Martinez when he interviewed for the Rays managing role in 2014, but he didn't figure among the Rays' top-three finalists. After going to the Nationals to begin his managerial career, Martinez posted an 82-80 record in 2018 (2nd place), then increased the team's wins to 93 in2019, despite being down Bryce Harper. During the Nat's two years under Dusty Baker, the team posted a 192-132 record, making Martinez's two-year record of 185-139 seem like a letdown, though extremely comparable.
Theo Epstein did remark in his exit presser that the Cubs had not yet gotten permission to talk to someone, but I figured that they were hunting someone's bench coach and not an active playoff manager. Martinez signed a three-year, $2.8M deal with the Nats (2018-2020) with a $1.2M option for 2021. The Cubs would certainly up the ante for Martinez if interested, but will the Nationals let him go?
Many felt that Martinez would be let go this year, but now the playoff berth may have silenced some of those theories. I don't think he'd be a bad choice at all, but the ball is most certainly in Washington's court at this point.
Three-batter minimum = maximum mayhem
Of all the rules to take effect in 2020, I think the three-batter minimum for pitchers is the one most likely to cause issues. Yes, it will undoubtedly screw up certain managers (Joe Maddon and Craig Counsell come to mind first), but what it's ultimately going to do is injure players.
Managers are going to be pushing starters further, which isn't a bad thing in the fourth, but when a guy is 110 pitches deep and needs to get that "one last batter" before the skipper brings in a righty (or lefty, as the case may be), stress injuries are going to occur. Likewise, relievers are going to be in trouble when they tweak something on the mound. Take an incident like Yu Darvish's forearm tightness (and yes, I know, Darvish is a starter, this is a hypothetical), rather than to pitch to a batter, feel that something's not right, then be replaced, the new rule states that if a guy comes out for injury prior to meeting the minimum, he's going to be ineligible for a certain number of days (this was instituted to prevent feigning injury). This whole thing can only end in mayhem.
This move is also likely to end the days of the lefty/righty specialist and will shorten careers for some guys as well, as that one and done specialty won't be needed anymore. Baseball Commissioner Rob Manfred unilaterally imposed this rule, and it's nothing short of garbage. No, I don't think the matchup games always work, but that should be on the manager and not the commissioner. If Joe Maddon (or whoever) wants to burn through 10 pitchers a game, that's on him, but the Commissioner's office need not get involved in designating who pitches and when. The problem is, with Manfred, it's all about the pace of play.