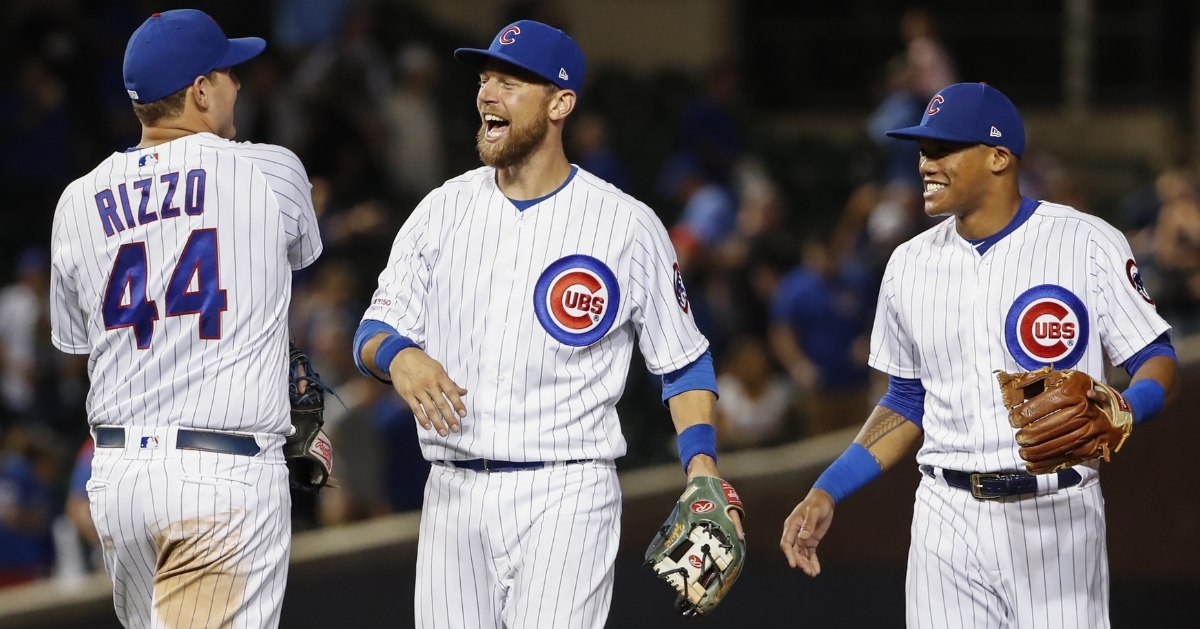 | | |
| --- | --- |
| Cubs Odds and Ends: Thoughts on free agency, Cubs rumors, MLB Trade Rumors' predictions | |
---
Some thoughts on free agency
As I sat down to write this morning, I began thinking about free agency, how it breaks apart teams (sometimes for good, sometimes not) and how it leaves players scrambling to find new homes, while the teams are left struggling to replace the outbound personnel. It's exciting, and it's nerve-racking, it's good for the players and, in some ways, it can benefit the team. It's madness at its finest for the next few months, and love it or hate it, it's not going anywhere.
"Every year at this time, people ask me if the offseason will be crazy. And every year I assure them, 'Don't worry, it will be completely insane.' Now, there are different levels of insanity — most of the nuttiness last winter stemmed from the stalemate between teams and top free agents that delayed several big signings until February. But if you're wondering, 'Will we be shocked?' yes, we will be shocked. We always get shocked, one way or another." -Ken Rosenthal
Last year's Hot Stove was anything but "hot" (especially for the Cubs), during an offseason which saw the number-one closer get signed in June. Others like Bryce Harper and Manny Machado found themselves a home after a couple of months, while still others were left unwanted and unaccounted for, subsequently left to choose retirement.
This year, the Cubs failed to give Cole Hamels a ($17.8M) qualifying offer, which surprised many – though it shouldn't have. Hamels (God love him) is not worth just south of $18M anymore, so Theo did the right thing. Hamels (understandably) would have jumped all over that offer, so the Cubs wouldn't have gained a draft pick either way. There's an off chance that Hamels may re-sign, but I sincerely doubt it. I'm hearing rumors that he winds up back in Philly, but I can't see that happening either.
The Cubs also failed to make a qualifying offer to Ben Zobrist, which isn't surprising, based on Ben's age, but what did shock me is that no one (including me) even mentioned it – at least not from what I've seen. In my defense, I thought Zo had already been given a qualifying offer back in his Rays' days, which would have made him ineligible to receive one this year, but not so; according to MLB Trade Rumors he was in line with Hamels to qualify for one from the Cubs. Sorry, Ben.
Missing Zobrist's eligibility goes to reaffirm what I've come to think of free agency and the circus that surrounds it: There are no victims, only volunteers.
Players can choose to stay for less, but they don't. Ownership and upper management can work harder to retain players, but instead, they refocus their priorities. Guys like Scott Boras tend to price players right out of most teams' budgets, leaving any fan leery about even buying a jersey with one of his clients' names on the back.
Ken Rosenthal discusses the Cubs
Ken Rosenthal's article from this morning, entitled, "Storylines to watch this winter" had a section which focused on the Cubs and their choices for this winter.
Rosenthal points out that the Cubs have some wrangling to do, with Kris Bryant becoming a trade piece (or not) due to his grievance. As I said in an earlier article, Bryant is unlikely to win his grievance against the Cubs, but not many teams are going to want to deal for him, knowing that he might (emphasis on might) be entering his walk year.
Brace yourselves. Rosenthal next explored the possibility of dealing Willson Contreras, who has three years of team control remaining, allowing Victor Caratini to emerge as the Cubs' #1 backstop. This sort of move could feasibly leave the Cubs enough cash to acquire some pitching help, as well as a veteran agent catcher to work side by side with Caratini. Good point, but I can't see it happening. Caratini is emerging as quite the catcher, but there's something about Contreras, which just screams, "I'm a Cub for life." Furthermore, Caratini may very well be a better pitch-framer, but his arm doesn't hold a candle to Contreras.
Contreras' pitch-framing remains a bit of an issue, though he did improve some last year. With David Ross now at the helm and no longer behind a desk in Theo's broom closet, I think Contreras has a chance to take his game to the next level, and I'd hate to see him get dealt. Caratini isn't happy about playing second fiddle to Willy, but there's something to be said for the way that the two work together to achieve the end result.
I do see a minor problem with dealing one or the other: If (and if is a mighty big word) the Cubs somehow fail to keep Anthony Rizzo past 2021, the Cubs could find themselves in a spot to have to acquire a first baseman. Caratini has done a good job at first while covering for Rizzo, but to lock him in behind the dish (after dealing Contreras) could backlash.
(Double gasp) Rosenthal goes on to suggest that moving KB and Willson Contreras would free up enough money (about $23M) to allow the Cubs to focus on a high-end starter, once again making Caratini the everyday backstop, but even for as radical as I can be, this sounds insane. I'm all for dealing KB if possible, though it seems his value is self-imploding by the day, but I draw the line there. I'm not opposed to a shakeup, and I'm not opposed to shedding a ton of overpriced dead weight, but let's not get crazy, Ken.
MLB Trade Rumors and their projections
The masses on social media keep hoping for some breaking news, which will say Nick Castellanos is going to remain a Cub. No deal will be made on Nick for a while unless Theo magically pops up and offers him about $300M (which is NOT happening). He'll be listening to offers from about 29 different teams, so expect a decision in about two to two-and-a-half months.
According to MLB Trade Rumors, they project Castellanos to sign a four year/$58M deal with Chicago … but not the northside version. I still think Theo works some magic and lands Castellanos on a longer-term contract. For the record, MLBTR is also predicting that Keuchel lands with the White Sox on a three-year/$39M deal.
As long as I'm plugging MLBTR so heavily, they project Cole Hamels to go to the Braves on a two-year/$30M deal, while Steve Cishek is projected to head to Arizona on a two-year/$10M deal. Pedro Strop? Well, according to MLBTR he'll land with Boston on a one-year/$5M deal.
2019-20 Top 50 MLB Free Agents With Predictions https://t.co/Ued1iHBkMS pic.twitter.com/Xnga9s38OP

— MLB Trade Rumors (@mlbtraderumors) November 5, 2019

Upgrade Your Account
Unlock premium boards and exclusive features (e.g. ad-free) by upgrading your account today.
Upgrade Now