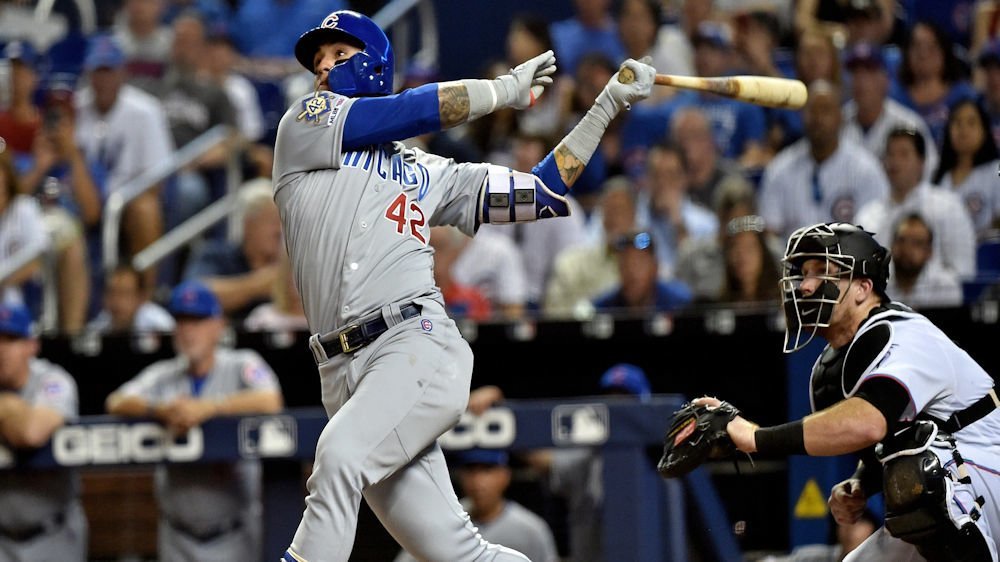 | | |
| --- | --- |
| Cubs by the Numbers: Cubs on fire, Bryzzo slumping, Player rankings, more | |
---
| | | |
| --- | --- | --- |
| Friday, April 19, 2019, 3:00 PM | | |
What can I say? Over the last eight games (which was the last time I calculated stats and rankings), this team has done almost a complete 180. The starters are cranking, the pen has stabilized, and the offense, or at least 2/3 of it, is on fire.
If you need a tutorial on how my rating system works, check out the first edition of my stats column.
Cubs' Offense: The Basics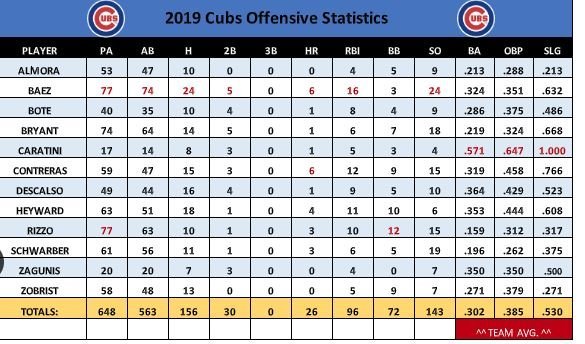 The current state of the Cubs' offense is indescribable at this point; it's working, yet there's no logical reason why that is so. Literally, 33.3% of the offense is in a deep funk (Kris Bryant, Albert Almora, Jr., Anthony Rizzo, and Kyle Schwarber), but the other 2/3 is firing on all 8-cylinders, and then some.
Despite leading the team in strikeouts (24), Javier Baez (.324) is also currently leading the team hits (24), doubles (5), and RBI (24), and is tied with Willson Contreras (.319) for the most home runs (6). Jason Heyward has crushed his critics with a .353/.444/.608 slash line this season, and has already hit a total of four dingers, as compared to just 8 in all of 2018. If you look up the definition of "clutch," Merriam Webster is probably going to tell you to "see Daniel Descalso." Thus far this season, Descalso (.364/.429/523) is batting an astonishing .571 with two outs and runners in scoring position, and he's currently ranked 5th in RBI (9). Half of the position players are carrying batting averages over .300, and even with the slumps weighing down the team stats, the Cubs are still slashing .302/.385/.530.
With a total of 30 doubles and 26 homers already, the Cubs are hitting for extra bases (56) in 9.6% of their plate appearances, and the percentage of XBH out of their total hits is now at 35.9%. Their strikeout to walk ratio is currently 2:1 (143 K vs. 72 BB), and the two areas they are somewhat lagging in are stolen bases and sac flies/bunts. While they may not be stealing a ton, they continue to be very aggressive on the bases, with a "stop" sign being merely a suggestion to Baez.
Now, for those slumps… The floor seems to have fallen out from under Rizzo, as his batting average has plummeted to just .159, with his 12 walks serving as the only thing to prop up his OBP. Kyle Schwarber has also dipped below .200 (.196) and is striking out so frequently that he'll likely pass Baez in the not too distant future. Bryant has also found an inescapable slump, seeing his BA bottom out to .219, although he did manage a hit on Wednesday night. As for Almora, I'm not sure anyone has an excuse, although limited playing time is certainly not helping him.
Cubs' Offense: Player Rankings & Ratings
Quick recap: Positive points per occurrence for hits, doubles, triples, homers, RBI, stolen bases, walks and sacrifices (flies/bunts). Negative points per event for strikeouts and grounding into double plays. Every stat for each player is set proportionately to the stats of his teammates. Then individual factors are totaled, then added to, or subtracted from, the base score of 100, depending on whether the factor score is positive or negative.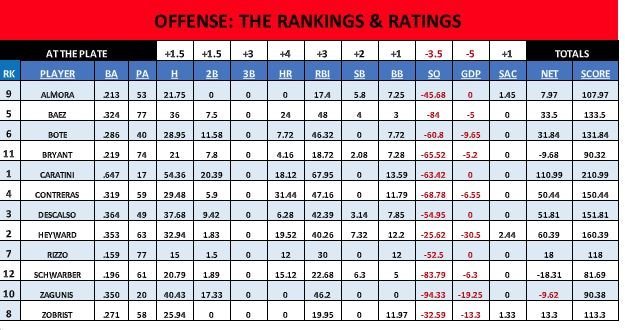 Lots of movement in the offensive rankings this week, as players were moving up or down by leaps and bounds. The most significant changes from last week are Baez: 1#10 up to #5; Bote: #12 up to #6; and Heyward: #5 up to #2. Those going the other direction, falling like a stone, include Schwarber: #6 to #12 and Bryant, who fell to #11 from #8.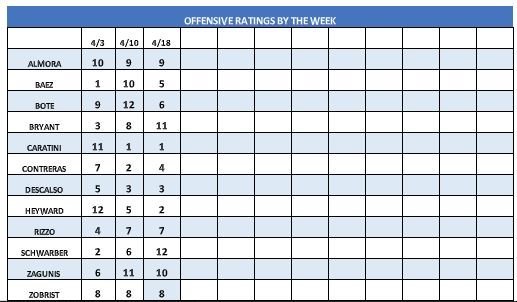 Cubs' Pitching: The Basics

What a difference a week makes. As of April 9, the starting rotation had a record of 2-4 (.333), as of today, they've improved that to 7-6 (.538). The walks are down (WAY down) with the starters issuing only six walks in the last eight days, while the number of strikeouts in that same period has nearly doubled (48 as of April 9th, 94 as of today. WHIP has also taken a dive, with average (1.543) down from 2.155 last week.
Jon Lester's 2.57 ERA is still the best for the starters, but Cole Hamels is closing in, lowering his ERA over his last couple of outings to 2.77, from what was 5.73 last week. Quintana is also dropping ERA points like crazy, lowering his ERA to 3.43 from what was a 10.29 last week. Hamels and Jose Quintana have become iron-men, chewing up innings and not allowing runs, while tallying the strikeouts and eliminating a vast majority of the walks. Although Yu Darvish is improving with every outing, Kyle Hendricks is still struggling to gain control, posting an 0-3 record while allowing 24 hits and five walks in just 13.1 innings.
For the bullpen, it's been the difference between night and day, as well. Over the last eight games, the opponent's hits, runs and walks are all down considerably. The relievers combined ERA (7.85) has dropped almost two full runs per 9 innings, from what was 9.77 just over a week ago. While the bullpen's WHIP is still high (1.974), t is also improving, as it was 2.032 when I last calculated the stats. Bear in mind that Mike Montgomery and Carl Edwards Jr. are still included in these numbers, as the stats are cumulative for the season, but without the pair of troubled relievers, the remainder of the bullpen's ERA has dropped from 6.05 to 4.12.
Cubs' Pitching: Ratings and Rankings
Jon Lester's injury has cost him in the rankings (dropped from #1 to #3), as he's fallen behind in innings pitched. Most of the rotation stayed about the same this week in the ratings, except for Jose Quintana who catapulted from fifth to first. Q had been rated as the #1 start the first week I calculated this, but after his rough outing in Milwaukee, he lost ground, falling to fifth. Trailing Quintana by only a handful of points, Cole Hamels and Q seem to be battling for top honors.
There was a lot of movement in the bullpen concerning player rankings this week, Brandon Kintzler yielded first place to Kyle Ryan, while Rosario dropped from #3 to #7. Pedro Strop moved up two spots to #4, and Tim Collins premiered in the rankings at #8. The biggest surprise this week was Steve Cishek, who went from #1 to #4 to #5 over the three "grading periods."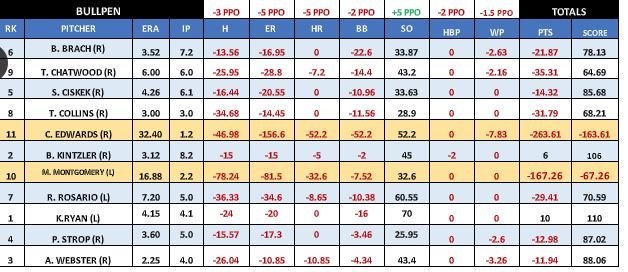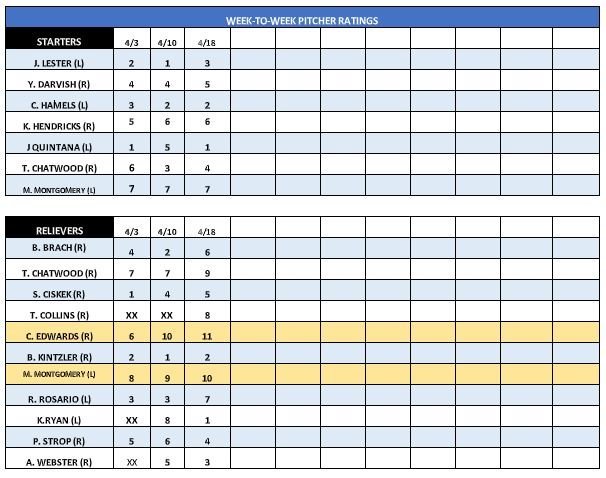 That does it for another episode of "A Man with Time and A Calculator." As always, I welcome your feedback. Email me at ken@cubshq.com.

Upgrade Your Account
Unlock premium boards and exclusive features (e.g. ad-free) by upgrading your account today.
Upgrade Now

Tags: Cubs Baseball
,
,
Anthony Rizzo
,
Kyle Schwarber
,
,
Willson Contreras
,
Jason Heyward
,
Daniel Descalso
,
,
Cole Hamels
,
Jose Quintana
,
Yu Darvish
,
Kyle Hendricks
,
Mike Montgomery
,
Brandon Kintzler
,
Kyle Ryan
,
Pedro Strop
,
Steve Cishek