| | |
| --- | --- |
| Cubs disappoint at dish in extra-innings loss to Giants | |
---
| | | |
| --- | --- | --- |
| Tuesday, July 10, 2018, 2:24 AM | | |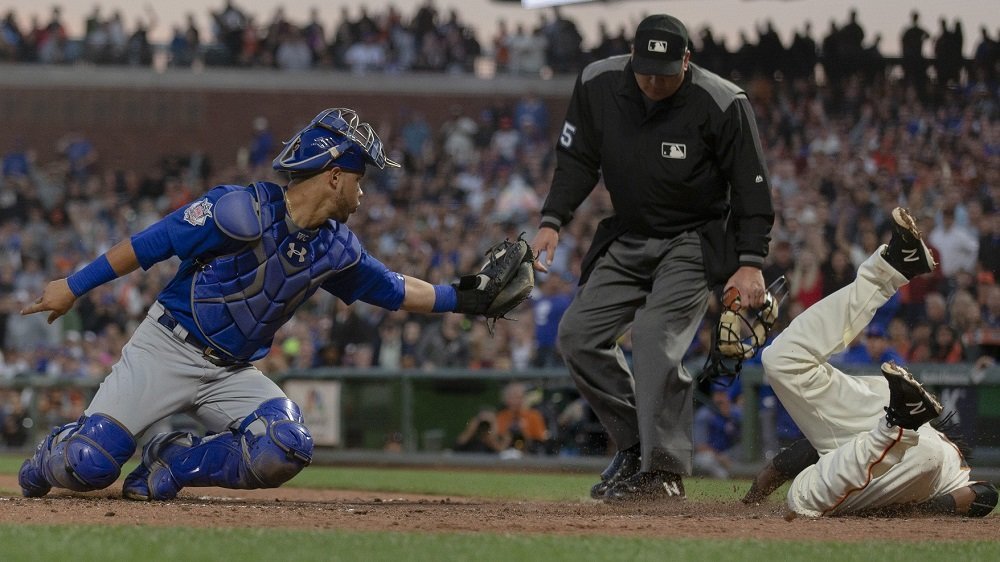 SAN FRANCISCO — A stark contrast to their 10-inning walk-off thriller with the Cincinnati Reds on Sunday, the Chicago Cubs fell to the San Francisco Giants in an 11-inning game that, despite ending in walk-off fashion, featured very little offensive excitement. Mustering just four hits, the Cubs started off their six-game West Coast road trip on the wrong foot at the plate. Losing 2-1 on a walk-off hit, Chicago came up empty-handed with the bats in extras and fell to a San Francisco squad that came alive at the most opportune time.
The Cubs struck first for the second straight game, with shortstop Addison Russell attaining his 32nd RBI on a fielder's choice groundout in the third inning. Ian Happ led off the frame with one of three Chicago doubles hit on the night. Cubs starting pitcher Kyle Hendricks then attempted to bunt Happ over and ended up bunting foul with two strikes for an out. After that, Chicago center fielder Albert Almora, Jr., tallied his lone hit of the game with a single that pushed Happ to third.
Russell followed with a grounder to shortstop that could have easily resulted in an inning-ending double play. Instead, the Cubs caught a break, as Giants second baseman Alen Hanson made a high throw to first base after getting pitched the ball by shortstop Brandon Crawford and stepping on second base for a force out. Giants first baseman Brandon Belt had to jump off the bag in order to catch Hanson's high throw, which enabled Russell to reach safely. As a result, Happ scored to put the Cubs on top 1-0.
Hanson made up for his high throw, which was not scored as an error, in the base-running department during the fifth inning. The bottom of the fifth was not a pleasant half-inning for Cubs first baseman Anthony Rizzo, who was charged with two errors. Entering the game with just three errors on the year, Rizzo committed two of them in a span of mere minutes. Making matters more frustrating for Rizzo, both errors were questionable, as neither one was totally Rizzo's fault.
The first error came on a dribbler hit by Giants third baseman Pablo Sandoval that Cubs second baseman Javier Baez charged and fielded before making a side-armed toss to Rizzo that was thrown unnecessarily hard for such a short-ranged throw. Rizzo was unable to corral the catch and was charged with an error because of it.
Two at-bats later, after Hanson reached first on a fielder's choice grounder, Rizzo suffered his second error on a shaky pick-off attempt by Hendricks. Thrown low and seemingly out of Rizzo's reach, the ball bounced behind the bag and into foul territory down the right-field line. Hanson, a certified speedster, motored to third base with ease and then opted to test his luck by heading for home.
Although Rizzo was charged with an error on the play, the true erroneous Cub was Baez, who loafed to the baseball after it bounced past Rizzo. Taking his time while grabbing the ball, Baez was even slow to the draw when throwing home after Hanson took off for the plate. Sliding in headfirst, Hanson scored before Cubs catcher Willson Contreras had a chance to tag him, thereby knotting the game up at 1-1.
K byeee

#SFGiants pic.twitter.com/f1jhhBaLmA

— #BeltTheBallot (@SFGiants) July 10, 2018
Both starting pitchers experienced solid outings on Monday night. Coming off three straight subpar starts, Hendricks got back on track with arguably his best performance of the season. Lasting 8.1 innings, Hendricks allowed just one run to score and gave up five hits and one walk while striking out eight. As for Giants starter Andrew Suarez, who entered the matchup having suffered only one losing start since May, he gave up three hits and four walks and struck out five in six innings on the hill.
The Giants were fortunate to have the opportunity to win the game in extra innings, as they advanced a meager two runners into scoring position through nine innings. The Cubs were not much better, moving just four men into scoring position in the first nine innings and stranding a total of 13 on base from start to finish. Chicago's best chance to retake the lead after Hanson's run came in the very next inning, when Russell led off the top of the sixth with a double. However, the Cubs were unable to bring him home.
In the ninth, another Cub was stranded, as Ben Zobrist smacked a two-out double to left prior to David Bote hitting into an inning-ending groundout. The Cubs went cold in extras, with a one-out walk by Jason Heyward in the 10th serving as their only offensive success in the final two frames. The Giants, on the other hand, were much better at the dish in extra innings, accruing four of their nine hits in the contest during bonus baseball.
Cubs reliever Steve Cishek worked himself out of a jam in the bottom of the 10th after Giants left fielder Hunter Pence hit a one-out triple over Almora, Jr.'s, head in center field. Collecting two straight swinging strikeouts thereafter, Cishek gave the Cubs new life. He was not so lucky in the 11th, though, as he was taken for back-to-back singles by right fielder Andrew McCutchen and Crawford, respectively, with one out. Cishek was then pulled and replaced with Pedro Strop, who gave up the losing hit just three pitches in.
Crawford was intentionally walked to load the bases and bring Sandoval, the far less formidable hitting threat between the two, to the plate. Unfortunately for Chicago, the decision to send Crawford to first was made moot, as Sandoval laced a single to left on the third pitch of his at-bat that drove McCutchen home and ended the game. On the second pitch, Sandoval just missed on a lined foul down the left-field line, but he made perfect contact on the next pitch and provided the Giants with a 2-1 win on a walk-off hit.
Delayed gratification

#Walkoff #SFGiants pic.twitter.com/0onR7wCa2f

— #BeltTheBallot (@SFGiants) July 10, 2018
Chicago dropped to 51-37 with the loss to San Francisco, which now stands at 48-45. Cishek received the losing decision to make him 2-1, and Giants reliever Ty Blach collected the winning decision to improve to 6-5. The Cubs and the Giants will square off twice more at AT&T Park in the coming days. The Cubs will assuredly need to improve their hitting output if they are to win the next two games and thus claim their fourth straight series title.

Tags: Cubs Baseball
,
Addison Russell
,
Ian Happ
,
Kyle Hendricks
,
Anthony Rizzo
,
,
Willson Contreras
,
Ben Zobrist
,
Jason Heyward
,
Steve Cishek
,
Pedro Strop