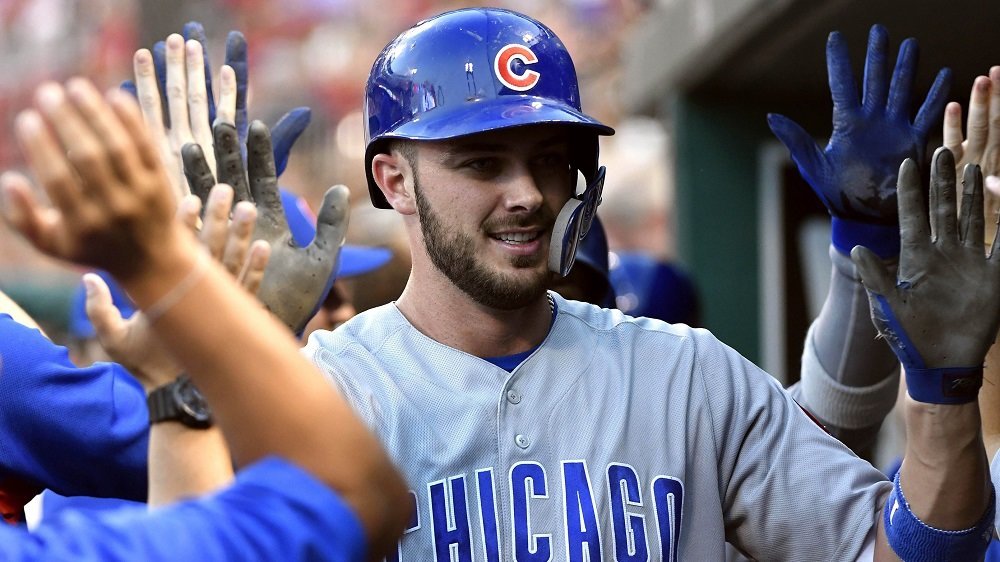 | | |
| --- | --- |
| Cubs dominate D-backs, Bryant on Harper's deal, Rizzo's hair, RIP Harry Caray, more | |
---
Upcoming Cubs games: Saturday, 3:05 PM: Brewers @ Cubs (Chase Anderson vs. Jon Lester); Sunday, 3:05 PM: White Sox @ Cubs (TBD vs. Yu Darvish).
Cubs' Opening Day: 27 days. (March 28 @ Rangers). (We can finally say baseball is back "this month.")
Friday's Game Recap: An all-around team effort would lead the Cubs to a 10-2 victory over Arizona on Friday, improving their record to 5-3. Starter, Jose Quintana, and Tyler Chatwood would combine for five quality innings of work, and the offense would pound away at Arizona from the first pitch of the game. Mark Zagunis and Jared Young would combine for five RBI on a pair of home runs, as the Cubs breezed their way to a "W."

Tyler Chatwood: Anyone who's known me for about three minutes, knows that I've been pretty critical of Chatwood. Well, Chatty impressed me yesterday. He went three solid innings, only gave up a couple of singles, no walks, no runs and most importantly, nothing wild. Good movement on his fastball and his breaking stuff was working. He looked confident, and the mechanical changes that he made seem to be working well. I honestly have to say that I was sorry to see him lifted after the fifth inning.
Tyler Chatwood's line: 3 IP, 3 H, 0 R, 0 BB, 3 K, 45 pitches. Had 3 flyouts and 3 groundouts. Averaged 93.8 mph with 4-seam FB, topped at 96.2. pic.twitter.com/1TfcBdeKhL

— Jordan Bastian (@MLBastian) March 1, 2019
Kyle Schwarber: With MLB televising the game yesterday, I got my first live look at the Cubs this year. While I see a lot of improvement, Schwarber impressed me. He trimmed down over the winter, changed his batting stance and added unbelievable speed to his swing. Not known as a fast guy, he even managed to swipe third yesterday legitimately.
Mike Montgomery: Reports say Monty took another step towards completing his rehab when he threw a total of 20 pitches in live batting practice on Friday.
Lefty Mike Montgomery threw a 20-pitch live BP session this morning. First time facing hitters this spring. Likely one more live BP before shifting to Cactus League games. pic.twitter.com/RsJBJlq6PD

— Jordan Bastian (@MLBastian) March 1, 2019
Kyle Hendricks: As part of the plan to compensate for the lack of power on his fastball, Hendricks says that he plans on throwing more curveballs this season.
Kris Bryant: "I think it's important to be happy for what we've got here rather than what we didn't get. I'm happy for Bryce; I would have loved to play with him. But it just didn't work out, and now we'll just have to beat him."
"I would love to have played with him, but it just didn't work out. Now, we'll just have to beat him."

Bryant reacts to Bryce's contract: https://t.co/Z35Xlda5dS via @MLB pic.twitter.com/r9D6663Txl

— Jordan Bastian (@MLBastian) March 1, 2019
Anthony Rizzo; blonde? As Rizz talks about Jake Arrieta's near-naked welcome video for Bryce Harper, another questioned surfaced": What's up with the hair, Dude?
ICYMI: Rizzo reacts to Arrieta sweeping in his underwear: "I love it": https://t.co/tA8KYNoDyJ pic.twitter.com/9ZAz0uUXW7

— CubsHQ (@ChicagoCubsHQ) March 2, 2019
HOLY COW! Happy birthday, Harry. The Cubs broadcaster would have turned 105 Friday. This Bud's for you.
Happy Birthday Harry Caray! pic.twitter.com/gYqb481ygZ

— CubsHQ (@ChicagoCubsHQ) March 1, 2019
Team worth: The Cubs recently paid tribune Media $107.5M to buy out the remaining ownership of the team, which is currently valued at $2,150,000,000.00 (that's BILLION for those who get confused by zeroes). The number equates to about 40 times what the Tribune paid for the team almost 40 years ago.
Friday's Scoreboard: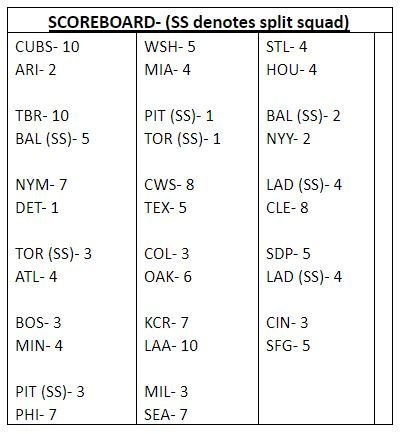 Saturday's games (EST): 1:05 PM: BAL @ BOS, MIN @ WSH, ATL @ DET, NYY @ PIT, PHI @ TBR (SS), MIA @ STL, TBR (SS) @ TOR, HOU @ NYM. 3:05 PM: CWS (SS) @ CUBS, LAA @ CIN, SEA @ KCR, TEX @ SFG (SS), COL @ CWS (SS), CLE @ OAK. 3:10 PM: LAD @ ARI, SFG (SS) @ SDP.
Sunday's games (EST): 1:05 PM: TEX @BOS, HOU @ WSH, TBR @ PIT, MIA @ ATL, DET (SS) @ NYY (SS), NYM @ STL, PHI @ MIN, NYY (SS) @ TOR. 3:05 PM: CWS @ CUBS, KCR @ CLE, SDP @ TEX (SS), CIN @ MIL, TEX (SS) @ LAD, DET (SS) @ BAL. 3:10 PM: OAK @ LAA, SFG @ COL, ARI @ SEA.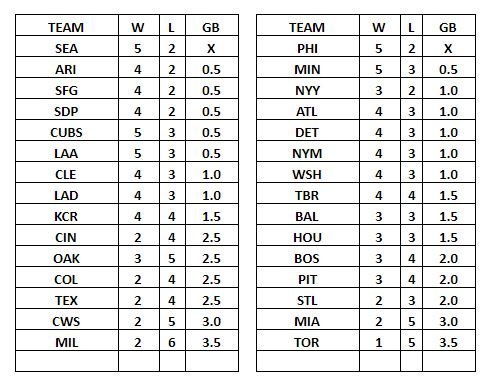 Latest news from around MLB:
MLB statement on Giants CEO Larry Baer's domestic incident with his wife: "Major League Baseball is aware of the incident and, just like any other situation like this, will immediately begin to gather the facts. We will have no further comment until this process is completed."
Angels: According to Fabian Ardaya (The Athletic), "Mike Trout said he does not want to negotiate an extension during spring training or the regular season over the next two seasons before his contract expires. That means that, if the Angels were to extend him before he hits free agency, that would come next offseason."
Dodgers: LA has signed free-agent infielder, Brad Miller to a minor league pact. Miller will be able to compete for a roster spot in spring training.
Nationals: Washington says now that Harper is with Philly, they'll shift their focus to signing Anthony Rendon to a long-term extension.
Padres: San Diego has signed free-agent RHP, Adam Warren, to a one-year deal with a club option for 2020.
Phillies: The Phillies said that they'd be spending "stupid money" this winter, and it looks like they are accomplishing that goal. In addition to Segura, McCutchen and now Harper, Philly is looking at both Craig Kimbrel and Dallas Keuchel for short term deals. Their odds of winning the division have increased again with the addition of Harper, and they'll no doubt increase even more with the addition of one or both of the top free-agent pitchers.
Pirates: Pittsburgh has claimed RHP (reliever) Jake Barret of waivers from SF. In turn, they've placed RHP Chad Kuhl on the 60-day IL.
Royals: Tommy John surgery has been recommended for Royals star catcher Salvador Perez. He is expected to have the surgery next week and would be back for the 2020 season.

Tags: Cubs Baseball
,
Jose Quintana
,
Tyler Chatwood
,
Mark Zagunis
,
,
Yu Darvish
,
Kyle Schwarber
,
Mike Montgomery
,
Kyle Hendricks
,
,
Anthony Rizzo
,
Jake Arrieta
,
Adam Warren