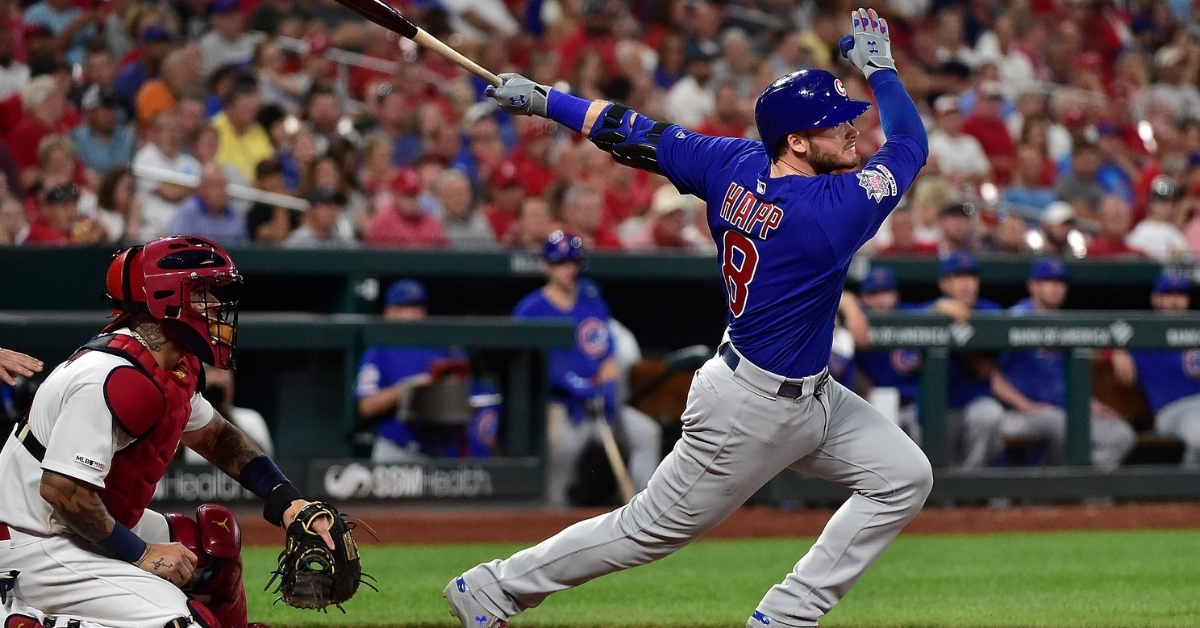 | | |
| --- | --- |
| Cubs end losing skid, hinder Cardinals' pennant push | |
---
| | | |
| --- | --- | --- |
| Saturday, September 28, 2019, 1:26 AM | | |
ST. LOUIS — Not going down without a fight, the Chicago Cubs (83-77) enacted revenge on the St. Louis Cardinals (90-70), who effectively ruined the Cubs' playoff chances with a recent 4-game sweep at Wrigley Field, by impeding the Cardinals' race for the National League Crown on Friday. Winning 8-2 at Busch Stadium in the opener of their final series of the season, the Cubs snapped a 9-game losing streak and prevented the Cardinals from increasing their lead in the standings over the second-place Milwaukee Brewers (89-71), who lost 11-7 to the Colorado Rockies (69-91) at Coors Field on the night and remained one game behind the Cardinals.
While a 7-run seventh inning essentially won the game for the Cubs, center fielder Albert Almora Jr. led the way for the Cubs in the early goings via his outstanding defense. Interestingly, Almora was a late addition to the Cubs' starting lineup, as outfielder Nicholas Castellanos was scratched from the contest due to groin tightness. Almora robbed Yadier Molina of a potentially pivotal hit on two separate occasions, with the second instance marking one of the best defensive plays of Almora's career.
In the bottom of the first, Molina hit a drive to deep center field with two outs, and Almora was able to track it down and make a leaping catch while colliding with the wall, thus leaving two baserunners stranded. Molina led off the bottom of the fourth with another deep drive, and, this time around, Almora robbed Molina of a go-ahead home run by jumping up and reaching over the wall in order to make the superb catch.
.@albertalmora out here stealing souls tonight. pic.twitter.com/Igvnh82BV3

— Chicago Cubs (@Cubs) September 28, 2019
As fate would have it, Almora, who was jacked up after preventing Molina from going yard, might have injured himself on one of the stellar defensive feats, as he was removed from the game in the top of the sixth after experiencing pain in his lower right leg during his at-bat. Almora was able to finish the at-bat, which resulted in him reaching base on a fielder's choice, but, once he reached second base with a bad wheel, Almora was replaced by pinch runner Javier Baez, who donned a protective mitt on his injured left hand.
Prior to that, Willson Contreras suffered an inning-ending strikeout with the bases loaded in the top of the third. Cubs hurler Alec Mills, who made his second spot start versus the Redbirds in a little over a week, was largely able to keep the Cardinals at bay, though, with the promising right-hander tallying a career-high nine strikeouts in his five innings of work. Mills dodged a bullet when Almora yanked Molina's near-homer out of the seats, but he was not so lucky in the ensuing plate appearance, as certified Cub killer Matt Carpenter slugged a solo shot into the bullpen beyond left field.
This one's gone! pic.twitter.com/yBD0SOpRhZ

— St. Louis Cardinals (@Cardinals) September 28, 2019
Despite the Cubs' recent offensive struggles, Ian Happ has performed well at the dish as of late, and he continued to produce by going 3-for-5 with two runs scored and two RBI on Friday. Cardinals starter Daniel Hudson pitched five scoreless innings, in which he fanned 10, and his replacement, reliever Giovanny Gallegos, was taken deep by Happ on his very first pitch. Happ cranked a game-tying solo dinger out to right field at the beginning of the sixth frame.
that happened! pic.twitter.com/VzhugpiHjq

— Cubs Talk (@NBCSCubs) September 28, 2019
The following inning saw Happ provide the Cubs with a lead that they did not relinquish when he slapped an RBI double down the right-field line. Contreras proceeded to score on a wild pitch thrown by Cardinals reliever Andrew Miller, and, soon afterward, Nico Hoerner collected an RBI single. Robel Garcia put the Cubs ahead by a score of 7-1 when he skied a 3-run moonshot to right field, and Ben Zobrist capped off the 7-run scoring barrage by plating Tony Kemp, who doubled in the previous at-bat, on an RBI base knock.
You're welcome, @Brewers. pic.twitter.com/bgdjk1ggsv

— Cubs Talk (@NBCSCubs) September 28, 2019
St. Louis garnered one run in a lengthy bottom half of the seventh inning, which featured several hard-fought at-bats. Molina ushered a runner home with an RBI single, but Cubs reliever Rowan Wick went on to force Paul DeJong to hit into an inning-ending flyout to cap off an 11-pitch plate appearance. DeJong's fly ball was hit with the bases loaded, leading to a deflated reaction from the hopeful fans at Busch Stadium. The Cubs held off the Cardinals over the course of the last two innings and stopped short of allowing their losing skid to reach double digits. Furthermore, Chicago's 8-2 victory was a nice send-off for WGN-TV, as the station wrapped up its 72-year run of airing Cubs games with its final broadcast on Friday.
Chicago Cubs at St. Louis Cardinals
Sep 27, 2019
1
2
3
4
5
6
7
8
9
R
H
E
Chicago (83-77)
0
0
0
0
0
1
7
0
0
8
10
0
St. Louis (90-70)
0
0
0
1
0
0
1
0
0
2
9
0
W: Brad Wieck (2-2) L: Andrew Miller (5-6)