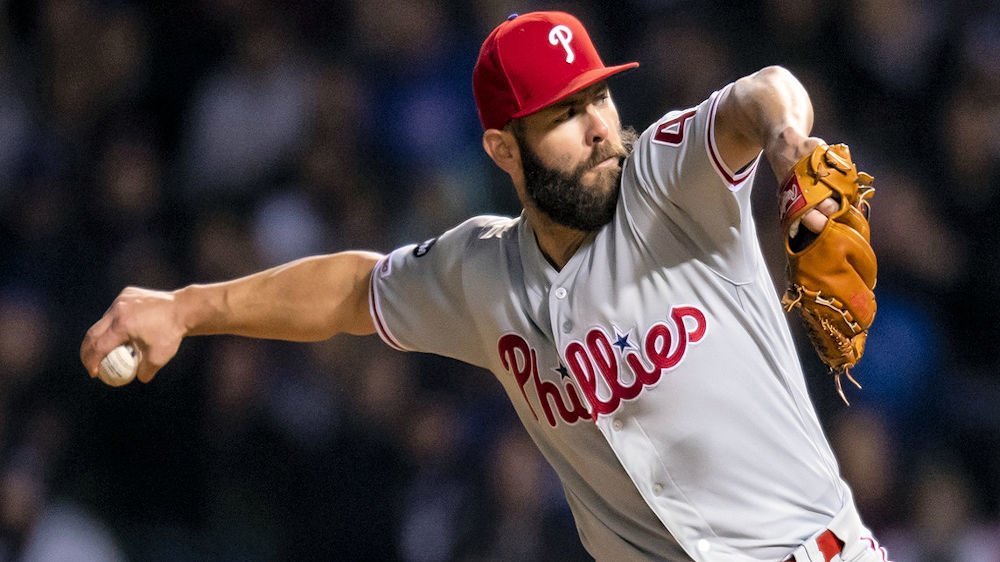 | | |
| --- | --- |
| Cubs fall to Phillies in extras, Arrieta's return to Wrigley, Epstein on El Mago, more | |
---
| | | |
| --- | --- | --- |
| Tuesday, May 21, 2019, 9:00 AM | | |
Next Game: Today, 6:05 PM CDT: Phillies @ Cubs. LHP Jose Quintana (4-3, 3.68 ERA) vs RHP Zach Eflin (5-4, 2.89 ERA).
CUBS NEWS AND NOTES:
Monday's Game Recap: After barely escaping from Washington with both the W and another series win, the Cubs returned home to host the Phillies on Monday. In a much awaited (and extremely over-hyped) matchup, Yu Darvish took the mound to face-off against former Cub, Jake Arrieta.
Darvish was brilliant for five of his six innings last night, finally exhibiting his ability to challenge batters effectively. In 6.0 innings of work, Darvish raked a total of seven strikeouts, while allowing 3 ER on four hits, and his breaking pitches were filthy. Jake Arrieta also looked great for his 6.0 innings, but truth be told, I'd have to give the edge to Yu Darvish. Yes, Darvish gave up two more runs than Arrieta did, but in fairness to Yu, the Cubs also failed to score multiple times with men on base (19 total stranded).
The Cubs lit it up in the eighth, taking a 4-3 lead, but Kyle Ryan gave up a game-winning homer in the 10th. Tough break for the Cubs, but a great game overall (I told you this series would be good). Final score: Phillies 5; Cubs 4.

Cubs/Phillies Probable Pitchers: WEDNESDAY: LHP Cole Hamels (4-0, 3.13 ERA) vs LHP Cole Irvin (2-0, 2.77 ERA). THURSDAY: LHP Jon Lester (3-2, 2.09 ERA) vs RHP Aaron Nola (4-0, 4.47 ERA).
Would "Yu" believe: Fans have been rough on Yu Darvish, but he's not as bad as some think he is. Believe it or not, from 2012-2018, Darvish ranked second among all pitchers in strikeouts per nine innings (11.1), fourth in opponent batting average (.219) and fifth in hits allowed per nine innings (7.33). I'm not suggesting that he's even close to being worth the $21M a year that he's making in Chicago, but he's definitely got the ability to do so. Going into last night, Darvish ranked #31 in MLB with his 55 strikeouts.
7???????????????

????MLB Tonight??????????
MLB Tonight: Yu Darvish Breakdown

???????????????????? pic.twitter.com/50N07WPtbf

— Mr. Gone (@yuarerad) May 21, 2019
Once A Cub, always a Cub: Not that this should come as any surprise, but Cubs fans greeted Jake Arrieta with a standing ovation as he walked to the plate for his first at-bat. Arrieta acknowledges to the nearly 39,000 fans with a tip of his batting helmet. Class act.
Standing ovation for @JArrieta34 at Wrigley Field. ??????

Well done, @Cubs fans. pic.twitter.com/X8hbZHVv73

— Philadelphia Phillies (@Phillies) May 21, 2019
Javy sits: After suffering a right heel contusion (deep bruise) on Sunday night, Javier Baez missed his first start of the year in last night's game. Theo Epstein updated the media by saying, "He's not bad. I saw him in the clubhouse on a bike. He is just sore. We will just play it out. We thought it would be wise to give him the day. I think he will be available to hit if we need him to."
The spirit of Javy: El Mago may not have been on the field last night, but apparently, he'd left at least a little magic in the air. When the Cubs rallied to take the lead in the eight, it started with back to back walks issued to Victor Caratini and Jason Heyward. Albert Almora Jr. almost reached first safely on a crafty slide, but Daniel Descalso would become the temporary hero. Descalso blasted a beautiful line drive shot into center that split the left and right fielders, winding up with a triple. An errant relay throw then ricocheted off of his foot, landing in the stands, which allowed Descalso to go all the way home due to the error. Let that marinate for a moment: Daniel Descalso tripled. If that isn't magic, I don't know what is.
Inside-the-park-little-league-go-ahead home run.

Baseball. pic.twitter.com/zyaT6zqbhD

— Chicago Cubs (@Cubs) May 21, 2019
Welcome back, Victor Caratini: I've always liked Victor Caratini, from the first day he appeared with Chicago, and it's great to have him (and his bat) back in the lineup after his injury, even if it is only part-time. Caratini went 1-3 last night with a pair of walks and one strikeout. Although it's a small sample size, he's still rocking a .450 batting average and a 1.327 OPS. He also caught Yu Darvish very effectively, which isn't an easy task. I was worried how Darvish would respond without Taylor Davis around to catch for him, but Caratini brought out the best in him.
NLC at rest: The scheduling gurus at MLB weren't very kind to Chicago this month. By the end of May, the Cubs will have played 28 games in 31 days, including their current run of consecutive games which will end on May 30, after having played 16 straight. Meanwhile, the remainder of the NLC had yesterday off, and all four of them will be off again on Thursday.
Cub Birthdays: Celebrating yesterday were ex-Cubs Brian McNichol (45) and posthumously, Bobby Murcer (73) and George Grantham (119).
NL CENTRAL SCHEDULE (May 19 – May 25, 2019)
(Wins are in green, losses in red)
YESTERDAY'S NL CENTRAL SCOREBOARD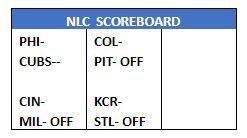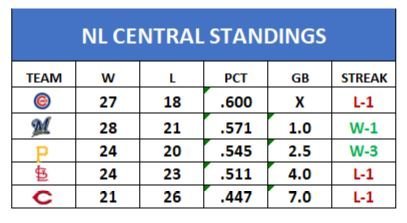 Tags: Cubs Baseball
,
Jose Quintana
,
Yu Darvish
,
Jake Arrieta
,
Kyle Ryan
,
Cole Hamels
,
,
,
Victor Caratini
,
Jason Heyward
,
Albert Almora Jr
,
Daniel Descalso
,
Taylor Davis
,
Theo Epstein