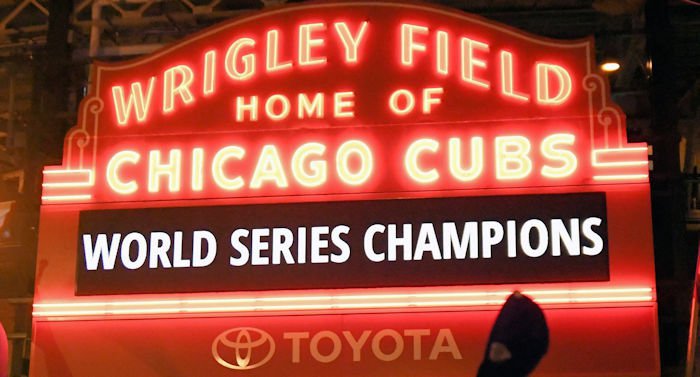 | | |
| --- | --- |
| Cubs fans shared the most memorable Cubs games they've ever attended Part 2 | |
---
I had so much response to my request for people's favorite Cubs' games that I didn't want to leave anyone out. Here's Part-2.
Joshua D. Fox: "Division clinching night in St. Louis 2017!"
Sharon Gold Walker: "June 19, 2019. Intense playoff energy for Sunday night baseball and Willy's first at-bat first HR!"
Daniel Langlois: "Can't say the date, but I got to see a McGuire/Sammy Sosa game. The whole crowd stood when one of them got to the plate."
Tom Hoffman: "September 1, 1971. Ferguson Jenkins pitched a complete game against Montreal and hit two home runs. The crowd was clamoring for him to play first base the next day."
Jason M. West: "May 12th, 2015. Arrieta was pitching for the Cubs and Noah Syndergaard's debut."
Paula Kruger Schell: "1984 game 2 of the league championship series against San Diego. Sat next to Bob Sirott behind the Cubs dugout."
(Ken's note- Hey, Paula, I remember when Sirott was a top-40 DJ for WLS AM, way back in the early '70s…)
Tatum Leopard: "Every one I've attended. Why? It's Wrigley!!! No other reason needed!"
Doug Jensen: "First game of a DH against the Cardinals. I think it was September 5, 2003. It went 14 or 15 innings. Five game series, Cubs sweep."
Josh Wilson: "April 29, 2005. Maddux vs Clemens. 300 vs 300 winner."
Also, in May 2014. Jeter's last Wrigley visit. During batting practice, Ichiro was running the bases, and a slow roller went down the 3rd baseline foul. He picked up the ball and tossed it to me."
Stephen Boatman: "First game of the 2016 NLDS."
Dustin Burken: "Game 5 of the 2016 WS. Loudest I've ever heard any stadium when Kris Bryant hit that dinger."
Rick Nachenberg: "I was at the first official night game, 8/9/1988."
Frankie Ren: "05/06/2020. Yankees kicked our butts. It was a wonderful time despite the whooping. My boys took me to Wrigley Field for a Mother's Day present. Being in Wrigley for the first time, watching Cubs and Yankees, and spending time with my boys. Win, Win. Go Cubs Go!"
Steven Novick: "So many Sandburg, 89 wild card game, Bote Game. Tuff y Rhodes 3 homer Opening Day."
John Steinberg: "8/9/88, No need to explain why."
Kris Carlson: Don't remember the date. Ernie Banks hit home run # 499!"
John Steinberg: "April 2016. Cincinnati. Arrieta threw a no-hitter. Beat the Reds 16 to 0. The first row left field."
John Steinberg: "For individual achievement, the Bote walk-off Grand Slam in August 2018. For team, Game 5, 2016 World Series. The only win we got to see, and it started the ball rolling."
George Reynolds: "1985 in June... My first game as a child. I was seven going on eight, and Mr. Ryne Sandberg signed a baseball for me and wished me Happy Birthday... Biggest thrill as a child... Still have the ball and will always have the memory."
Jason Ward: "September 28, 1995. Cubs over Astros 12-11. After Astros tie game in 5th and take a 1-run lead in 6th, Cubs proceed to tie the game. Astros score in 7th; Cubs tie...two runs in 8th, Cubs tie. Extras: Each team scores 1 in 10th, Astros scratch out 1 in 11th & Cubs win with 2 in the bottom half. And most memorably, an angry fan charges Randy Myers after he yields a 2-run home run to James Mouton in the top of the 7th. Myers dropped him in a flash."
Ken Allison: I get to voice my opinions all the time, so the last couple of days have been about you, our valued readers.
My favorite game? Any game that my dad took me to as a kid in the early 70s to early 80s. The Cubs were awful back then, and I don't recall ever seeing them win while I was there. That's OK. I was with my dad.
I seem to remember one game when the Cubs were getting blown out by the Dodgers. The Cubs were down by about 15 runs, and my father had had enough. We left early to beat the traffic on the Dan Ryan, as we headed back to our home in Chicago Heights. Just about the time, we were about halfway home (I think we left in the 7th inning), Carmen Fanzone belted a grand slam. I was livid that we'd left. Fanzone only played for the Cubs from 1970-1974, so it was sometime in that time frame.
In recent years, it was June 27, 2019. My first trip to Wrigley in about 30 years. My wife had never been there, and my son had never been there. It was magic. Even for all the games, I'd attended when I was younger, it was still electrifying.
Tyler Chatwood got the start against Atlanta. He struggled, and the Cubs were down early, but they came back. It was Carlos Gonzalez's last game as a Cub (Cargo got ejected that day). Victor Caratini homered, as did Kyle Schwarber.
It was Craig Kimbrel's Cubs' debut, and the Cubs were up 9-7. The crowd went berserk when he came out of the bullpen with Guns N Roses "Sweet Child O' Mine" blasting throughout the stadium. Kimbrel took the mound. The minute he flared his arm out, the crowd went ballistic again.
He struck out McCann on five pitches, all strikes. McCann fought him hard but got caught looking on a questionable call. He then threw three pitches to Camargo – again al strikes, retiring him on a groundball to second. Kimbrel had Acuna down 1-2 in the count, but Acuna singled took it to a full count before hitting a double to left that got stuck in the ivy. He then walked Swanson.
You might remember the final play of the game. Anthony Rizzo was playing on the line but was playing deep behind first base. A ground ball from Freeman came his way with two outs. Rizzo went down to a knee for the ball and nabbed it, but then realized Kimbrel wasn't going to beat Freeman to the base. Rizzo took off for first, diving to tag the bag, beating Freeman by literally less than a half stride.
Then we sang. Priceless.