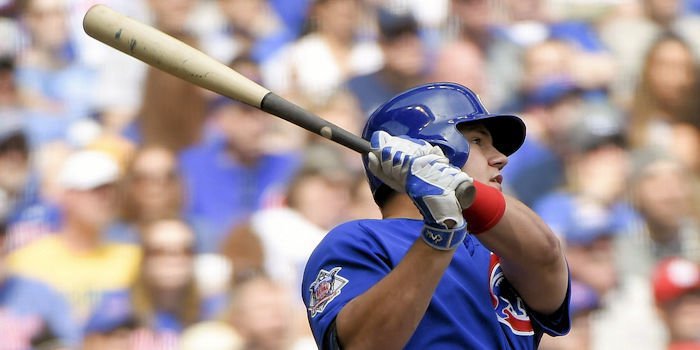 | | |
| --- | --- |
| Cubs score 16 runs to blow past Red Sox | |
---
| | | |
| --- | --- | --- |
| Tuesday, March 26, 2019, 6:21 PM | | |
After winning 3-2 last night against the Reds Sox, the Cubs stayed home today to host Boston once last time before closing out spring training. Starter, Kyle Hendricks, was a late scratch and was replaced by Carl Edwards, Jr. (0-0, 3.60 ERA) while the Red Sox countered with their ace lefty, David Price (0-1, 6.00 ERA).
The Cubs would have a bullpen game, using a total of 10 pitchers in their 16-7 win over Boston.
T1: RHP Carl Edwards: Flyout, strikeout, single, wild-pitch (runner to 2nd), lineout. (Pitch count: 21)
B1: (BOS: LHP- Price) Albert Almora, Jr.: Strikeout. Ben Zobrist: Flyout. Anthony Rizzo: Groundout. No score.
T2: RHP Brandon Kintzler: Line-out, strikeout, flyout. (Pitch count: 8)
B2: (BOS: LHP- Price) Willson Contreras: Fly-out. David Bote: Walk. Daniel Descalso: Flyout. Kyle Schwarber: Strikeout. Game tied 0-0.
T3: LHP Tim Collins: Groundout, home run (Swihart), strikeout, flyout. (Pitch count: 14) Cubs trail 1-0.
B3: (BOS: LHP- Price) Mark Zagunis: Flyout. Addison Russell: Single (steals 2nd). Almora: Double (Russell scores). Zobrist: Walk. Rizzo: Single (scores Almora, Zo to second. Rizzo replaced by Jim Adduci). Victor Caratini: Grounds into a 1-4-3 double-play. Cubs lead 2-1.
T4: RHP George Kontos: Groundout, groundout, pop-foul to Caratini. (Pitch count: 11).
B4: (BOS: LHP Price) Bote: Groundout. Descalso: Groundout. Schwarber: SCHWAR-BOMB! Opposite field homer. Zagunis: Triple. Russell: Double (Zagunis scores). David Price replaced by RHP Kelley. Wynton Bernard: (Russell takes 3rd on a wild pitch), Bernard singles (Russell scores). Johnny Field: Walk. Adduci: Strikeout. Cubs lead 5-1.
Incoming #Shwarbomb ???????? pic.twitter.com/x2W3SBpNN3

— Cubs Talk (@NBCSCubs) March 26, 2019
T5: RHP Rowan Wick: Flyout, flyout, strikeout. (Pitch count: 5)
B5: (BOS: RHP- Hembree) Caratini: Hit by pitch (foot). Phillip Evans: Walk. Descalso: Walk (pinch-runner, Zack Short). (Hembree replaced by RHP-Workman). Andy Weber: Strikeout. Zagunis: Single (Caratini, Evans score, Charcer Brooks pinch-runs for Zagunis). Russell: Single (Short scores, Burks to 2nd, Nico Hoerner pinch-runs for Russell). Bernard: Single (nobody scores, as they thought it would be caught, bases jammed). Field: Strikeout. Adduci: Single (Burks, Hoerner score, Bernard to 3rd). Caratini: Walk. Evans: Double (ball lost in the sun, three runs scored). Short: Strikeout. Cubs lead 13-1.
T6: RHP James Norwood: Strikeout, groundout, swinging-bunt-single, double (run scores), strikeout. Cubs lead 13-2.
B6: (BOS: RHP-Thornburg) Weber: Strikeout. Burks: Double: Hoerner: Pop-out to catcher. (Thornburg replaced by RHP- Brewer) Bernard: Reaches on an error (2B), Burks scores. Field: Strikeout. Cubs lead 14-2.
T7: RHO Matt Carasiti: Groundout, flyout, flyout. (Pitch Count: 7)
B7: (BOS: RHP-Weber) Adduci: Groundout. Caratini: Groundout. Evans: Single. Short: Flyout. Cubs lead 14-2.
T8: RHP Ian Clarkin: Single, walk, walk, single (run scores), grand-slam home run. Clarkin replaced by RHP Scott Effross: Plunked batter, grounder 6-4-3 double-play (Hoerner-Short-Jared Young), flyout. (Cubs lead 14-7.
B8: (BOS: RHP-Feltman) Webster: Hit by pitch, takes second on a wild-pitch to Burks). Burks: Strikeout. Hoerner: Groundout (Webster to second). Bernard:
BOOM! Two-run homer. Field: Groundout. Cubs lead 16-7.
T9: RHP Brad Markey: Flyout, pop-out, groundout.
FINAL SCORE: CUBS-16; RED SOX-7.
That's all folks…goodbye spring training, hello baseball season. The Cubs have an off-day tomorrow, then the next time you'll see them, it'll be in a game that counts. Thursday afternoon 3:05 PM (CDT): Cubs vs Rangers (Lester: 0-0, 0.00 ERA vs Minor 0-0, 0.00 ERA).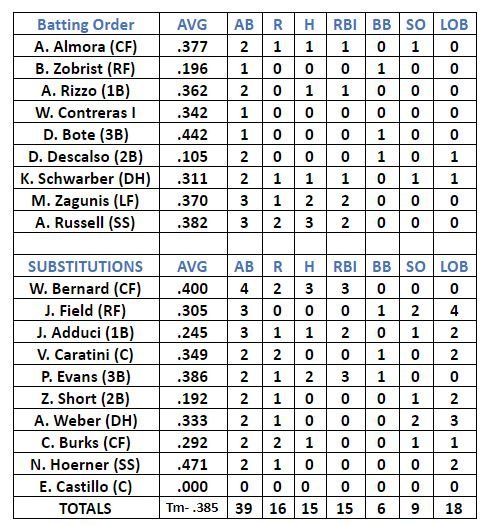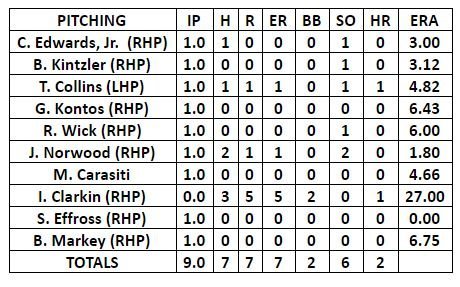 Final: #Cubs 16, Red Sox 7

Regular season starts Thursday! pic.twitter.com/YMBp2XLl5F

— CubsHQ (@ChicagoCubsHQ) March 26, 2019
Thank you to all who helped us set a franchise record with this spring's total attendance of 250,893!

See you next year, @SloanParkMesa! #EverybodyIn ???? pic.twitter.com/Ti4ikEbGy6

— Chicago Cubs (@Cubs) March 26, 2019
Cubs win!

Final: #Cubs 16, Red Sox 7. pic.twitter.com/YsvEMprOcW

— Chicago Cubs (@Cubs) March 26, 2019

Tags: Cubs Baseball
,
Kyle Hendricks
,
Ben Zobrist
,
Anthony Rizzo
,
Brandon Kintzler
,
Willson Contreras
,
David Bote
,
Daniel Descalso
,
Kyle Schwarber
,
Mark Zagunis
,
Addison Russell
,
Victor Caratini
,
Rowan Wick
,
James Norwood