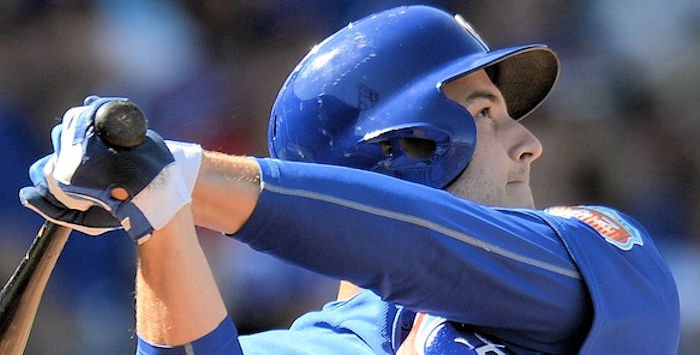 | | |
| --- | --- |
| Cubs sweep Angels to open season 2-0 for the first time since 1995 | |
---
| | | |
| --- | --- | --- |
| Wednesday, April 6, 2016, 12:46 AM | | |
The Los Angeles Angels will be glad to see Chicago move on after the Cubs completed the 2-game series sweep in convincing fashion on Tuesday night.
A day after Jake Arrieta shut out the Angels, Jon Lester threw 7 innings of one run, 4 hit ball to led the Cubs (2-0) to a 6-1 win over the Angels (0-2). The Cubs opened a season 2-0 for the first time since 1995.
Offensively the Cubs were powered by three homers - Matt Szczur's 2 run homer in the second inning which Anthony Rizzo followed with his own two-run blast later in the inning to put the Cubs up 4-0. Dexter Fowler also had a two-run homerun in the seventh inning to cap the scoring for the Cubs.
The Angels broke a 14-inning scoreless streak against the Cubs in the sixth inning when Lester allowed a double and a single to plate the Angels only run of the night.
The Cubs have won 11-straight regular season road games dating to September 15 of last season.
Chicago will enjoy a day off before starting a four-game set against the Diamondbacks on Thursday.
Watch some #Cubs homers!@superSZCZ4: https://t.co/ZxnBIKJv3t@ARizzo44: ?? #LetsGohttps://t.co/UtJwIwdNth

— Chicago Cubs (@Cubs) April 6, 2016


	1	2	3	4	5	6	7	8	9	R	H	E


CHC	0	0	4	0	0	0	2	0	0	6	9	1


LAA	0	0	0	0	0	1	0	0	0	1	4	0  

Chicago Cubs


BATTERS		AB	R	H	RBI	BB	SO	LOB	AVG


Fowler CF	4	1	2	2	0	1	1	.625


Heyward RF	4	1	0	1	0	1	1	.111


Bryant 3B	4	0	0	0	0	1	0	.000


Rizzo 1B	4	1	1	2	0	1	0	.286


Zobrist 2B	4	0	2	0	0	0	0	.444


Soler DH	4	0	0	0	0	2	2	.125


Russell SS	4	0	0	0	0	2	1	.000


Szczur LF	4	2	2	1	0	1	0	.600


Ross C		4	1	2	0	0	0	1	.500


Totals		36	6	9	6	0	9	6	-


BATTING

2B: Ross (1, Heaney)


HR: Fowler (1, 7th inning off Morin, 1 on, 1 out); Rizzo (1, 3rd inning off Heaney, 1 on, 2 out); Szczur (1, 3rd inning off Heaney, 0 on, 0 out)


TB: Fowler 5; Szczur 5; Rizzo 4; Ross 3; Zobrist 2


RBI: Fowler 2 (2); Rizzo 2 (3); Heyward (1); Szczur (4)


Team LOB: 3

Los Angeles Angels


BATTERS		AB	R	H	RBI	BB	SO	LOB	AVG


Escobar 3B	4	1	1	0	0	0	1	.125


Gentry LF	3	0	1	1	0	0	2	.250


Nava PH		0	0	0	0	0	0	0	.333


Soto PH		1	0	0	0	0	0	1	.000


Choi LF		0	0	0	0	0	0	0	.000


Trout CF	4	0	0	0	0	1	0	.000


Pujols DH	4	0	0	0	0	1	1	.000


Cron 1B		4	0	0	0	0	1	0	.143


Calhoun RF	3	0	0	0	0	1	0	.167


Simmons SS	3	0	0	0	0	0	0	.000


Pérez C		3	0	1	0	0	2	0	.200


Giavotella 2B	3	0	1	0	0	0	0	.167


Totals		32	1	4	1	0	6	5	-

BATTING


2B: Escobar (1, Lester)


TB: Escobar 2; Gentry; Giavotella; Pérez


RBI: Gentry (1)


Team LOB: 4

Chicago Cubs


PITCHERS	IP	H	R	ER	BB	SO	HR	ERA


Lester W (1-0)	7.0	4	1	1	0	4	0	1.29


Cahill		0.2	0	0	0	0	1	0	0.00


Wood		0.1	0	0	0	0	0	0	0.00


Strop		1.0	0	0	0	0	1	0	0.00


Totals		9.0	4	1	1	0	6	0	-

PITCHING


Pitches-Strikes: Lester 93-63; Cahill 12-7; Wood 2-2; Strop 12-8


Ground Balls-Fly Balls: Lester 11-4; Cahill 2-0; Wood 0-1; Strop 2-0


Batters Faced: Lester 25; Cahill 3; Wood 1; Strop 3


Inherited Runners-Scored: Wood 1-0

Los Angeles Angels


PITCHERS	IP	H	R	ER	BB	SO	HR	ERA


Heaney L (0-1)	6.0	7	4	4	0	7	2	6.00


Morin		0.1	2	2	2	0	0	1	13.50


Álvarez		1.0	0	0	0	0	2	0	0.00


Smith		0.2	0	0	0	0	0	0	0.00


Street		1.0	0	0	0	0	0	0	0.00


Totals		9.0	9	6	6	0	9	3	-

PITCHING


Pitches-Strikes: Heaney 87-59; Morin 9-6; Álvarez 14-11; Smith 7-6; Street 6-4


Ground Balls-Fly Balls: Heaney 8-7; Morin 0-0; Álvarez 0-1; Smith 1-1; Street 1-2


Batters Faced: Heaney 25; Morin 3; Álvarez 3; Smith 2; Street 3