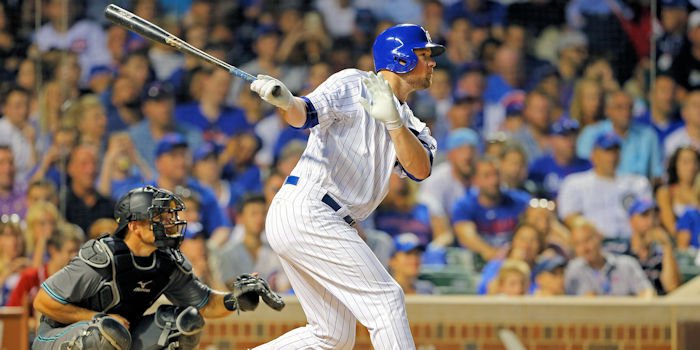 | | |
| --- | --- |
| Cubs throttle Diamondbacks on Lester's historic night | |
---
| | | |
| --- | --- | --- |
| Tuesday, August 1, 2017, 11:53 PM | | |
CHICAGO – Tonight was a homer party and the Cubs were invited. The Cubs rattled the Diamondbacks' cage tonight in a 16-4 slug fest that featured home runs from players up and down the lineup, including Jon Lester's first career home run. He had come close quite a few times with doubles off the ball, but he smoked a Patrick Corbin offering in the third inning that left little doubt about where it was headed.
As if that wasn't enough, Lester (8-6, 3.96 ERA) also threw the 2,000th strikeout of his career as well. According to the Elias Sports Bureau, Lester and John Smoltz are the only two pitchers on record to hit a home run the same night they hit 2,000 strikeouts, although it was Smoltz's fifth career homer.
.@JLester34 is hereby admitted to the #PitchersWhoRake club. pic.twitter.com/9qLSCgkHIY

— MLB (@MLB) August 2, 2017
With his 9th K of the night, @JLester34 now has 2,000 career strikeouts! pic.twitter.com/wHA28kBwhA

— Chicago Cubs (@Cubs) August 2, 2017
Despite pitching quite well. Lester was not rewarded with a win because he left having given up no outs in the top of the fifth with two men on base. He had over 100 pitches when he left, but many of those were foul balls. Lester had a couple of at-bats where he recorded the out, but had to throw eight more pitches to get it.
.@JLester34 becomes the 25th LHP in @MLB history to reach 2,000 career strikeouts.

He ranks 4th among active LHP. pic.twitter.com/Bk6RYxmfm0

— Chicago Cubs (@Cubs) August 2, 2017
Even if Lester hadn't pitched well, it wouldn't really have mattered. The lineup did its job hitting balls in every direction and "using the entire field" as Joe Maddon likes to put it. Every single Cubs starter recorded a hit including the pitcher, Lester, who had two. Javier Baez had a bad night until he cranked a three-run homer in the sixth to round out the scoring.
Ian Happ led off the second inning with a home run, Anthony Rizzo hit two bombs, even Kyle Schwarber came off the bench to grab a hit and join the fun. The bats were generally quiet against the Brewers last weekend despite taking two of three, but they broke out in a big way tonight silencing any doubters about their recent resurgence.
Did you miss me? pic.twitter.com/FhqQGZrN0I

— Chicago Cubs (@Cubs) August 2, 2017
Of interesting note during the game, relief pitcher Justin Wilson and catcher Alex Avila joined the club yesterday and enjoyed their first home game at Wrigley Field. Wilson was seen dancing with his bullpen during every home run and having a good old time of it. Sure beats not winning in Detroit.
Welcome to the party, Justin Wilson!

You're going to fit in just fine. #ThatsCub pic.twitter.com/hhjBd70LT9

— Chicago Cubs (@Cubs) August 2, 2017
The Cubs will host the Diamondbacks again tomorrow when Zack Godley (4-4, 3.06 ERA) takes on Jake Arrieta (10-7, 4.03 ERA) at 7:05 PM CDT.
Hello, August. ?? #W pic.twitter.com/HpDFbaeXbh

— Chicago Cubs (@Cubs) August 2, 2017