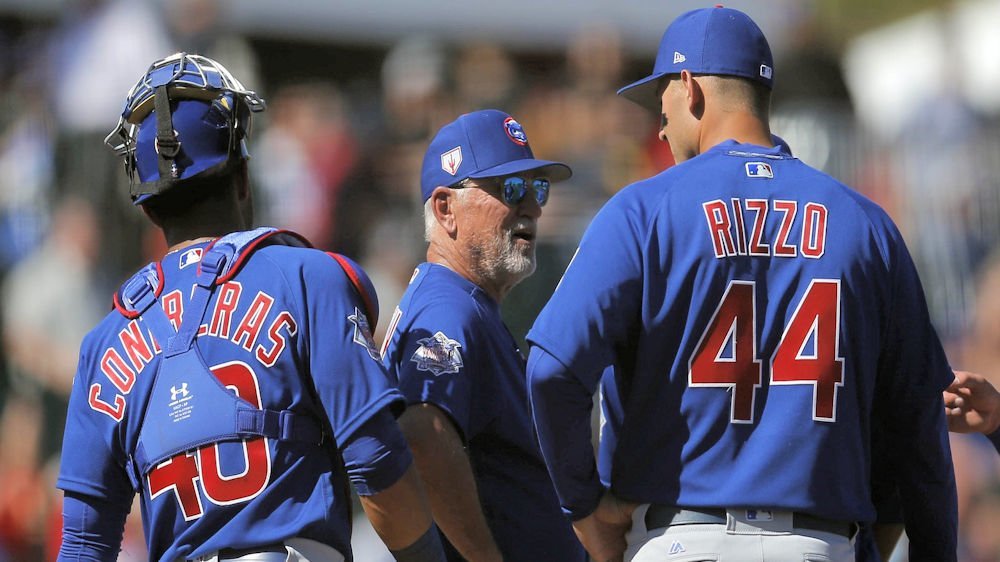 | | |
| --- | --- |
| Cubs vs. Mets Series Preview: TV times, Starting pitchers, Predictions, more | |
---
| | | |
| --- | --- | --- |
| Tuesday, August 27, 2019, 12:55 PM | | |
After getting blasted for three straight days at home, the Cubs are set to take on the Mets in, what I refuse to call anything else but Shea Stadium. The teams have nearly identical records, the difference being that the Cubs (69-61) sit three games out of second place behind the Cardinals, while the Mets (67-63) sit in fourth place 12.0 games behind Atlanta.
The Mets have been playing good ball lately, posting a 6-4 record over their last 10, while the Cubs, following this past weekend's disaster at Wrigley, fell to 5-5 over their last ten games. Much like the Cubs, the Mets dominate at home (37-24), and with the Cubs' road record being just 25-39, this will prove to be a tough must-win, series for Chicago.
Injury Report:
CUBS: Willson Contreras (hamstring); Daniel Descalso (ankle): Steve Cishek (hip, due to be activated today); Allen Webster (arm); Ben Zobrist: Day-to-day, awaiting his opportunity to be reunited with the team.
METS: Robinson Cano (hamstring); Yoenis Cespedes (ankle); Edwin Diaz (upper body); Robert Gsellman (back); Jed Lowrie (knee); Steven Matz (finger); Brandon Nimmo (neck); Drew Smith (elbow).
Series Overview:
While the starting rotation for the Cubs this series may serve as a plus, Chicago's bullpen certainly must factor into the equation as a negative. There's no consistency whatsoever in those that Joe Maddon looks to in relief, and without reliable go-to guys (other than Brandon Kintzler), every game becomes a crapshoot.
As we've seen all year, the Cubs' offense will either score a million runs, or they'll struggle to get men on base. Even if they hit often, hitting with runners in scoring position remains an ongoing issue.
The Cubs have looked for veteran leadership all season, a spark that they hope Ben Zobrist will provide, so long as he returns to Chicago, as expected, at the end of the week. I think despite having years of experience, Nicholas Castellanos is the guy who should be able to fire this offense up, as his attitude, work ethic and the offense can't help but to be infectious, yet somehow, this team fails to latch onto the energy that he's trying to provide.
On Monday, Joe Maddon said, "The ingredients are there. We've just got to go out, obviously, and do it. I've been involved with teams that have just all of a sudden clicked at the right time of the year."
At this point, I'm bewildered by Maddon's remarks. When he states that he's "been involved with teams that have just all of a sudden clicked," it almost sounds as though he's somehow estranged from this team (and I believe, to an extent, that he is). He's not some new manager who'd just been hired by Theo Epstein to fix a sub-.500 team, he's the current manager with four years' experience and a World Series Championship under his belt, for crying out loud.
Whether or not I'm reading too much into Maddon's remarks, he says what I've been saying all along (for the past two seasons)- things aren't clicking, and until they do, this team is going to continue to languish.
Mound Matchups
Tuesday: RHP Yu Darvish (4-6, 4.43 ERA) vs RHP Marcus Stroman (7-11, 3.18 ERA). Game information: 6:10 PM CDT; NBC Sports Chicago, MLB Network (out of market only).
Despite receiving a no-decision last time out, Yu Darvish entered the record books as the only pitcher in MLB history to go five straight outings with at least eight strikeouts in each, while walking no one. Darvish has turned on the afterburners, emerging as perhaps the Cubs best starter this season. The problem is, a sporadic offense often fails to give him any run support, resulting in no-decisions and losses.
Darvish has had minimal experience with the Mets, and only Michael Conforto and Wilson Ramos have had at least six at-bats against him. Conforto has posted a .286 average in seven at-bats, while Ramos has batted .167 in a half-dozen attempts.
Stroman's last start was cut short (4.0 IP) due to left hamstring tightness, but he says he never doubted being ready for this start against Chicago. Having only made four starts as a Metropolitan, Stroman has struggled to the tune of a 4.58 ERA.
Stroman hasn't seen much of the Cubs, but he has seen quite a bit of Nicholas Castellanos (14 at-bats). For as well as Castellanos has done in Chicago, Stroman has held him to an average of just .143.
Wednesday: RHP Kyle Hendricks (9-9, 3.20 ERA) vs RHP Noah Syndergaard (9-6, 3.71 ERA). Game information: 6:10 PM CDT; NBC Sports Chicago.
The Professor is coming off another great performance, which saw him hurl seven shutout innings against the Giants last week. He's allowed only one run over his last two starts (14.0 total innings pitched), but he's struggled on the road this season. In 13 road-starts, Hendricks has pitched to a 4.76 ERA, vs. his 1.79 ERA at Wrigley Field (11 starts).
Kyle has only seen a total of five of the players currently on the Mets' roster, but of them, Joe Panik has been an issue, batting .375 in eight at-bats against him. Hendricks has been able to hold Wilson to a .167 average (8 AB), while Frazier has hit .250 against him in 12 at-bats.
Then there's Thor. Since the All-Star break, Syndergaard has posted a 1.82 ERA with 55 Ks in 54.1 innings of work. He's seen a fair amount of the Cubs in the past, and Javier Baez, Jason Heyward, and Kris Bryant have hit well against him. Anthony Rizzo has been held to a .200 average in 10 at-bats against Syndergaard, though it remains to be seen if Rizzo will be available in this series, as back problems continue to nag him. Castellanos has five official at-bats against Thor and has gone 1 for 5.
Thursday: LHP Jon Lester (10-9, 4.49 ERA) vs Jacob deGrom (8-7, 2.56 ERA). Game information: 6:10 PM CDT; ABC-7, MLB Network (out of market only).
Lester got clobbered on Friday when he faced the Nationals at Wrigley, adding to his on-again, off-again season, which has his ERA nearing 4.50. Mechanics and control are recurring issues for Jon this season, and the frustration is mounting. For August, Lester has posted a 1-3 record (5 starts), with an astronomical 8.51 ERA, while averaging just over 4.2 innings per start. In those five outings (24.1 IP), big-Jon has fanned 24 but walked a dozen.
Rajai Davis and Amed Rosario have clobbered Lester in the past, but Jon has done reasonably well against the remainder of the Mets' roster. The key for him is staying focused on his work, rather than becoming aggravated with the umpiring, which has been a prominent source of tension for him this year.
Jacob deGrom has been a beast this season, and especially so since the All-Star break. deGrom has posted a 4-0 record with a 1.04 ERA since the second half began, and he's very much in the running for a Cy Young Award.
The good news, a handful of the Cubs, have knocked deGrom silly in past meetings. Jason Heyward: .375 in 24 AB; Kris Bryant: .357 in 14 AB; Victor Caratini: .333 in 6 AB; Anthony Rizzo: .435 in 23 AB. Nicholas Castellanos has never faced deGrom.
Series Prediction:
Sorry, but Joe Maddon doesn't figure out "how to make the team click" in this series either. Between Lester's issues, the Cubs' bullpen and the buzz saw that is Jacob deGrom and Noah Syndergaard, I think the Cubs lose this series 2-1. If the Cubs can't get past Marcus Stroman tonight, I wouldn't rule out a sweep, and if that happens, look for the Cubs to be sitting at least four games back, as the Cards are getting ready to manhandle the Brewers.
Next up: Cubs/Brewers from Wrigley Field. The action begins Friday at 1:20 PM, with WGN carrying the broadcast.
The @Mets and @Cubs begin a pivotal 3-game set on tonight's #MLBNShowcase!

Catch the game at 7pm ET and check out @MLBTheShow's wild prediction ?? pic.twitter.com/AXn02qfYtQ

— MLB Network (@MLBNetwork) August 27, 2019

Tags: Cubs Baseball
,
Willson Contreras
,
Daniel Descalso
,
Steve Cishek
,
Ben Zobrist
,
Brandon Kintzler
,
Yu Darvish
,
Kyle Hendricks
,
,
Jason Heyward
,
,
Anthony Rizzo
,
,
Victor Caratini
,
Joe Maddon
,
Theo Epstein