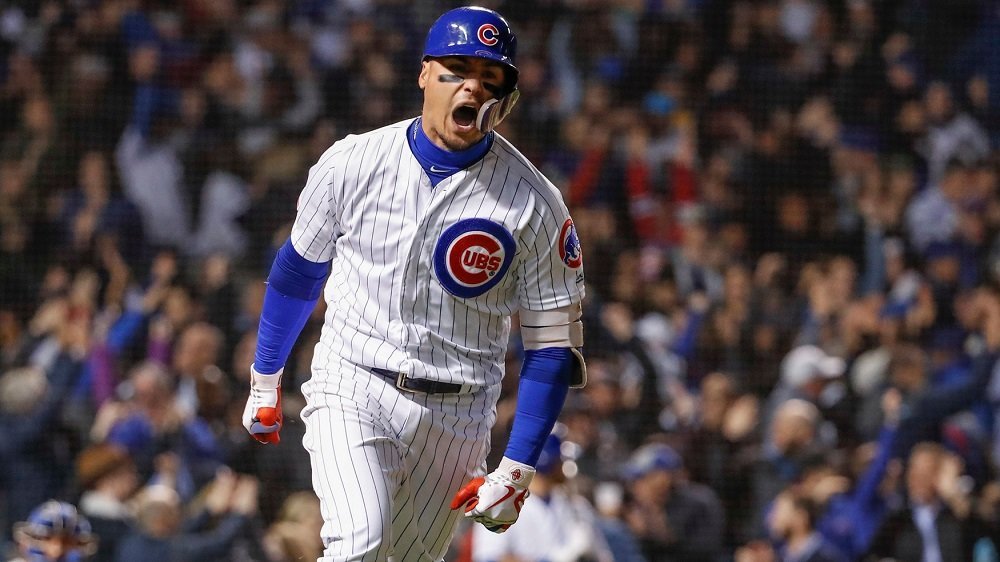 | | |
| --- | --- |
| Cubs vs. Nationals Series Preview: TV times, Starting pitchers, Predictions, more | |
---
The Cubs (69-58) quickly disposed of the Giants (63-65), now let's see if they can carry that momentum into their weekend set with the Nationals (70-57).
As the Cubs continue to ride what has now become a four-game win streak, they'll be hosting Washington, who's gone 8-2 over their last ten games. The Cubs continue to cling to first place, Washington lags behind first-place Atlanta by six games, although the Nats are up by 1.5 games in the wildcard race. Much like the Cubs, the Nats have some pitching issues, but their offense has come to the rescue several times throughout the season.
Injury Report:
CUBS: Willson Contreras (hamstring); Daniel Descalso (ankle): Steve Cishek (hip, due to be activated today); Allen Webster (arm); Ben Zobrist: Day-to-day, awaiting his opportunity to be reunited with the team.
NATIONALS: Sean Doolittle (knee); Roenis Elias (hamstring); Koda Glover (forearm); Jeremy Hellickson (shoulder); Ryan Zimmerman (foot); Johnny Venters (shoulder).
The Pros and Cons:
As the Cubs enter this series, my main concern continues to be the bullpen. They've come through for the last four days, but in some cases, only because the Cubs' offense had backed them with run support. The starting rotation remains strong, and despite some rough starts over the last month, they appear to be over their respective slumps.
The Cubs will dodge having to face Mad-Max Scherzer this time around (though I'd have loved to see another Scherzer/Hamels matchup), and the Nats are also without the services of Hellickson.
On a positive note, the Cubs offense remains impressive, despite being held to just a pair of hits yesterday, and the boost that Nicholas Castellanos has given them is just insane. Anthony Rizzo didn't just snap his two-month offensive slump, he shattered it, producing multiple hits and home runs over the last week, and Kris Bryant has come through in the clutch. Add in a few Schwar-Bombs, a handful of El Mago and the contributions from Jason Heyward, Ian Happ and the catcher de' jour, and you have what amounts to a potent offense.
Washington's offense also knows how to score, but despite a +94-run differential, they still trail in the East. The Nats have a winning road record but have failed to be string against teams over .500 (31-38), which should play into the Cubs' favor. Although they rank fourth in the NL for runs scored, the Nats seem to have a disconnect for hitting the long ball, as they rank seventh in the NL in that category (the Cubs rank fourth). Stats be damned, if the wind is blowing out, the Nationals can go deep, so best if the Cubs pitchers don't leave off-speed pitches hanging over the plate.
Mound Matchups
Today: LHP Jon Lester (10-8, 4.23 ERA) vs RHP Anibal Sanchez (7-6, 3.99 ERA). Game time 1:20 PM CDT; ABC-7, MLB Network (out of market only).
Sanchez has taken a beating in his last two outings, allowing eight runs over nine innings pitched. Also, he allowed a total of 15 hits and issued five walks. The Cubs should be able to pound him if he can't right the ship, and if he starts out rough, look for a bullpen game from a very weak bullpen.
Lester was great last time out, hurling six shutout innings against Pittsburgh. Jon did walk a total of five that game and struck out three, but over his previous 11 innings, he's allowed only three runs. Before that, Lester struggled mightily, giving a total of 20 runs (18 ER) over a 22 inning stretch.
He has handled the Nats' offense well in past meetings, but Rendon, Soto, and Turner have ben trouble.
Saturday: LHP Jose Quintana (11-7, 3.91 ERA) vs Nationals TBD. Game time 1:20 PM CDT; NBC Sports Chicago, MLB Network (out of market only).
While Joe Ross has been reported to get the start in this game, MLB has still listed Washington's starter as "TBD," despite other media listing him as the expected starter. I did contact the Nationals' Media relations department, and they responded that no start had been officially named. According to Baseball-Reference, Ross is on the IL for a leg injury, but the spokesperson from the Nationals stated to me that this information is erroneous and that Ross hasn't been on the injured list at any time during this season. I still say look for him to be the starter.
Last time out, Q pitched in the Little League Classic, and he was nothing short of amazing. That appearance saw him last a total of seven innings while fanning seven and walking only one. Over the past 26 innings (four starts), Quintana has raked 33 Ks, while issuing only one free pass. Remember what I've said about Q since he joined the Cubs: Quietly solid.
Who'd have thought back in late-march that Jose Quintana and Yu Darvish would emerge as the Cubs top-two starters in terms of performance, but they have. The Cubs do have a team-option on Quintana for 2020 and Darvish is still under contract for another four years; this could certainly payoff for the Cubs as they look to configure their rotation for 2020.
Sunday: LHP Cole Hamels (7-4, 3.37 ERA) vs RHP Stephen Strasburg (15-5, 3.65 ERA). Game time 1:20 PM CDT; WGN, TBS (out of market only).
Cole Hamels says that he still feels as though his mechanics are off; however, he did post what MLB defines as a "quality start" against the Giants on Tuesday. Hamels has seen a lot of the Nationals and has done reasonably well against everyone but Suzuki, but his 2.05 career ERA at Wrigley should (hopefully) benefit both him and the Cubs.
Stephen Strasburg can be trouble. Period. The one guy who's hit him well is Heyward, who's posted a .300 average in 20 at-bats. The only other Cubs with at least nine at-bats against Strasburg are KB (.222 average in 9 AB), Rizzo (.182 in 11 AB), Addison Russell (.222 in 9 AB) and Javier Baez (.082 in 12 AB). I'd have to say hope for the best but expect the worst in this matchup.
Series Prediction:
I think the Cubs take this series 2-1 as well, losing to Strasburg on Sunday. It does concern me a little (so far as a prediction is concerned) that the Nats haven't named a starter for Saturday's game, but I can't see anyone who poses a significant threat, so long as the Cubs' bullpen and offense stand firm.

Upgrade Your Account
Unlock premium boards and exclusive features (e.g. ad-free) by upgrading your account today.
Upgrade Now

Tags: Cubs Baseball
,
Willson Contreras
,
Daniel Descalso
,
Steve Cishek
,
Ben Zobrist
,
Anthony Rizzo
,
,
Jason Heyward
,
,
,
Jose Quintana
,
Yu Darvish
,
Cole Hamels
,
Addison Russell
,