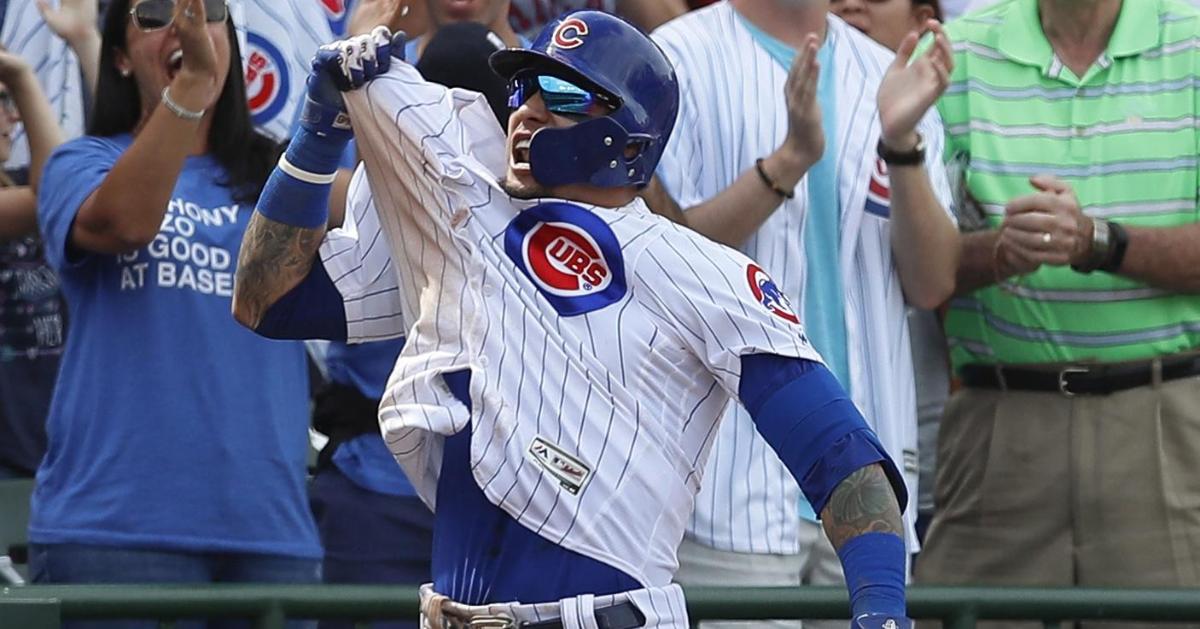 | | |
| --- | --- |
| Cubs vs. Reds Series Preview: TV times, Starting pitchers, Predictions, more | |
---
It never fails: The Reds play the Cubs like every game is the last Game of the NLCS, and quite often recently, they've gotten the better of Chicago.
I said back in December the Reds could be a third-place team this year, so long as they got everyone working together, and it looks as though they're making a charge. They dabbled in fourth place twice in the last week, and they got there by beating quality teams. They swept the Astros in Houston, then took two of three from the Brewers, so something appears to be clicking for them finally.
The Cubs need to start firing on all cylinders at once, and yesterday's game exemplified how a team- this team- does just that. Despite a rough outing by Tyler Chatwood, the Cubs' offense hung tough and chipped away a five-run deficit for only two innings. Consistent hitting, smart baserunning, and a resurrected bullpen all contributed to the 9-7 final.
Injury Report:
Cubs: (1) Kyle Hendricks: 10-Day IL (right shoulder inflammation. (2) Carl Edwards, Jr.: 10-Day IL (thoracic strain).
Reds: Despite a plethora of critical injuries, the Reds continue to win games against quality teams. Most notably, Scooter Gennett is still out with a groin injury and has landed on the 60-day IL as a result. Catcher/1B, Tucker Barnhart was scratched from Wednesday's game due to soreness in his side, and it was unclear if he'd be available for the series opener with Chicago. Reliever, Wandy Peralta, is now on the 10-day IL with a hip flexor, and one of the Reds new starters this year, Alex Wood, in on the 60-day IL with lower back stiffness.
The Pitching
The Cubs' rotation continues to have a pair of big question marks with Jose Quintana and Kyle Hendricks. The lefty fell off track better than a month ago and has struggled to regain his footing, while the Professor is dealing with a shoulder issue and may not return before the All-Star break. Q will get a start in Cincinnati, as will Jon Lester and Cole Hamels. Lester was good his last time out, and less a couple of bad starts this season, Hamels has remained solid all season.
Maddon on Hamels: pic.twitter.com/xMdC0sJMXY

— Mark Gonzales (@MDGonzales) June 28, 2019
The Cubs bullpen took an unbelievable turn for the better yesterday, with the addition of Craig Kimbrel to the pen. It almost seemed as the newcomer's presence had some profound impact on Pedro Strop, as he glided back into the set-up man role, from his role as the impromptu closer. Strop has struggled this year, but he looked unbelievably comfortable and effective again, pitching the eighth on Thursday before Dirty Craig's debut in the ninth.
Maddon on Kimbrel pic.twitter.com/Vca3TyUmtq

— Mark Gonzales (@MDGonzales) June 28, 2019
For the Reds, it'll be Gray, Castillo and DeSclafani, a trio which would generally be considered devastatingly effective, but they've each fought demons this season at one time or the another, and each is struggling some now.
The Offense
There's no question that the Cubs have superior offensive power, the question is; will they be able to tap into it and utilize it to their its full potential? The problem all season for the Cubs has been moving the runners in scoring position, and while the team hits, those just haven't come with any consistency at the most crucial times.
It's hard to believe that the Reds rank in the bottom 50% (in the NL) in most batting stats, as a lineup featuring names like Votto, Suarez, Senzel, and Peraza is bound to be good. Yasiel Puig has been a bit of a letdown to the Reds and their fans, and an injured Scooter Gennett hasn't done the team any favors either. The Reds have had relatively good success against this Cubs trio, especially, believe it or not, against Jon Lester.
Mound Matchups
Friday: LHP Cole Hamels (6-2, 2.92 ERA) vs RHP Sonny Gray (3-5, 4.03 ERA). Game time 6:10 PM CDT; Televised on WGN, MLB Network (out of market) and MLB TV.
Hamels has been insanely good this month, posting a 1.00 ERA with 36 strikeouts and only eight walks in June. Hamels has only had three trouble spots in the Reds' lineup, namely Joey Votto (.333 in 9 AB), Jose Peraza (.444 n 9 AB) and Phillip Ervin (.286 in 7 AB).
Sonny Gray's had very limited exposure to the Cubs' offense but has been effective against them. Albert Almora Jr. is 2 for two against Gray, Willson Contreras is 1 for 2, and Addison Russell is 2 for 4, but other than that, a big goose-egg in a combined 22 at-bats. Gray has struggled though lately, throwing an unbelievable 109 pitches over just 4.1 innings, last Friday in Milwaukee.
Saturday: LHP Jose Quintana (4-7, 4.50 ERA) vs RHP Luis Castillo (7-2, 2.56 ERA). Game time 3:10 PM CDT; Televised on ABC-7 and MLB TV.
Q's last start was brutal (9 runs over 4.1 innings) and Joe Maddon left him out there to hang, due to a bullpen who probably wouldn't have fared any better. Over the last half-dozen starts, Q is 0-4 with a 6.75 ERA, with only 20 strikeouts, while walking 11 and averaging just five innings per outing. Votto and Suarez have been Q's only two issues with the Reds' roster, but he's done reasonably well against the rest.
This could be Quintana's last season in Chicago unless the Cubs want to exercise a team option for next year, and his recent performances haven't done much to aid in job security. Quintana is the last of the struggling starters in Chicago who've had to get things figured out, but no matter how or what he's tried, the quality he showed early this season continues to elude him.
Much like Gray, Castillo has fallen on a little bit of a rough patch, as his walks are starting to accrue. In all of 2018, he walked 49, and now he's reached that mark before the halfway point. He's recently lacked control of his fastball and has struggled to throw strikes, so for the Cubs who can't hit him, patience may pay off. The Cubs haven't had a ton of success with Castillo, though Kyle Schwarber, Almora, Kris Bryant, Daniel Descalso, and to a lesser degree, Contreras have done well with him.
Sunday: LHP Jon Lester (7-5, 3.83 ERA) vs RHP Anthony DeSclafani (4-4, 4.70 ERA). Game time 12:10 PM CDT; Televised on NBC Sports Chicago, MLB Network (out of market) and MLB TV.
Jon Lester got back on track to some degree with his last outing, giving up two unearned runs against Atlanta on Monday over six innings. That outing saw Big-Jon fan seven while walking nobody, as he lasted six innings. Road starts have been Jon's problem this year, but he's generally done well in Cincinnati. Over seven career starts there, Lester has posted a 3-1 record with a 3.38 ERA over 45.1 innings (45 K, 9 BB). The record speaks volumes for the Cubs' offense, as the Reds have pounded Lester for hits.
DeSclafani has struggled this year, but even before that, the Cubs have pounded him. The only two Cubs who've been held hitless are David Bote and Almora (each 0 for 3), but the rest have cleaned house against him.
After beginning June with three, one-run starts, the Brewers tagged DeSclafani for six runs in four-and-a-third. When he faced the Cubs at Wrigley in May, he allowed four runs in just 3.2 innings.
Series Prediction:
The Reds never fail to play the Cubs hard and have gotten the best of them a good majority of the time over the past two seasons. After seeing the Cubs on Thursday, I saw what appeared to be a renewed sense of power, in part, due to Kimbrel. I think the Cubs take two of three this time around, with the Quintana vs. Castillo matchup being the one they drop.
Next up: The Pirates in Pittsburgh.

Upgrade Your Account
Unlock premium boards and exclusive features (e.g. ad-free) by upgrading your account today.
Upgrade Now

Tags: Cubs Baseball
,
Tyler Chatwood
,
Kyle Hendricks
,
Jose Quintana
,
,
Cole Hamels
,
Pedro Strop
,
Albert Almora Jr
,
Willson Contreras
,
Addison Russell
,
Kyle Schwarber
,
,
Daniel Descalso
,
David Bote
,
Joe Maddon