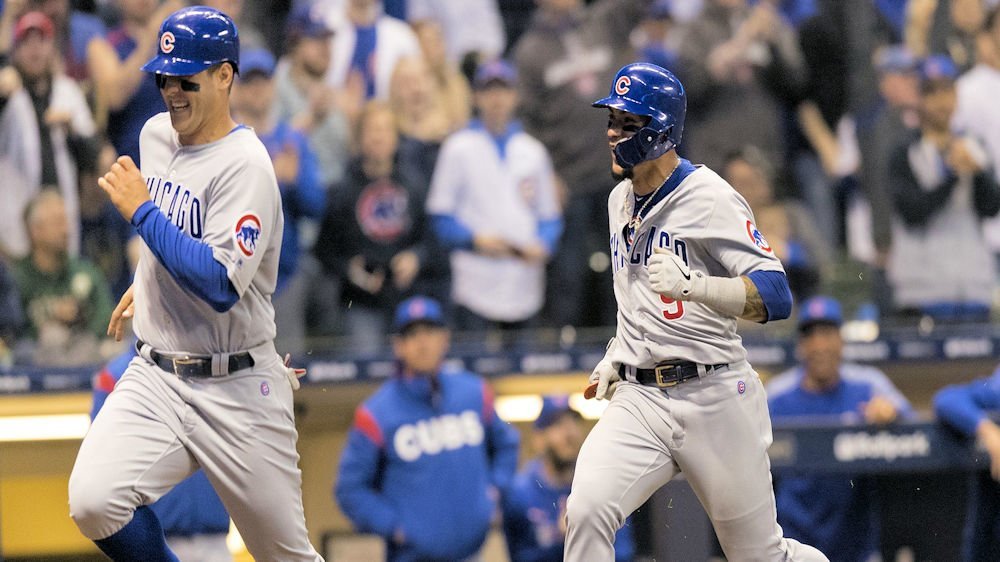 | | |
| --- | --- |
| Cubs vs. Reds Series Preview: TV times, Starting pitchers, Predictions, more | |
---
What is it about the Cincinnati Reds that spells trouble for the Cubs each and every time they meet? It seems to matter not, whether they're at Wrigley or Great American Ballpark, the Reds always play as though they're clinging to life, and by the series end, they've usually survived.
The key to stopping the Reds also seems to hinge on stopping Joey Votto, as he never fails to inflict serious damage. Oh well, I suppose we can always hope Joey forgets his ID again- that should help some…
Injury Report:
CUBS: Cole Hamels: 10-day IL (oblique strain); Carl Edwards Jr.: Rehabbing from shoulder injury.
REDS: Catcher Tucker Barnhart: 10-day IL (oblique); LHP Amir Garrett: 10-day IL (left-lat strain); RHP Alex Wood: 60-day IL (back). *Note:
Garret is expected to return for this series.
The Pitching
While the Cubs continue to limp by without Cole Hamels, without Carl Edwards Jr. and what looks to be a still-injured Kyle Hendricks, Cincinnati is gaining strength with the return of both Amir Garrett and Wandy Peralta from the IL.
I still stand by my prediction that the Reds are a third place team this year and having their top-two bullpen arms back in action, is only going to help them fulfill my prophecy. Tyler Mahle's bogged down the rotation a bit this year, and DeSclafani isn't pitching to anywhere near his potential, but despite that, the Reds possess the second-lowest team ERA (3.77) in the National League.
The Cubs have come out of the gate strong to start the second half, with quality performances from Yu Darvish, Jon Lester Jose Quintana, but oh, that aching bullpen. Randy Rosario has looked good since being recalled from Iowa, and even Kyle Ryan has done OK to start the second half, but Pedro Strop continues to struggle, which is not something the Cubs can afford as they look to plow ahead. Craig Kimbrel has what it takes to seal the deal, but the problem will continue to be bridging the gap between the starter and the ninth unless Joe Maddon intends to use Brandon Kintzler, Steve Cishek and Randy Rosario day in and day out.
The Offense
The Cubs' offense has looked better in the last few days than they have in months. They're finally starting to play as a team, counting on each other, as opposed to what had looked like nine guys with their own agendas. They're showing patience at the plate, and they're taking walks. They're hitting for contact more than for power, and when the need to hit one out arises, they've been able to come through- just ask Jon Lester.
When they faced a very tough Chris Archer on Sunday, they remained in control, and then they were able to exploit a weakness in Jordan Lyles and explode for a seven-run first on Saturday. I do not doubt that this team is capable, but for whatever reason, they just weren't doing it for the first 90 games.
I have never seen an offense as talented as Cincinnati's, rank so low across the board. They have a ton of power, some of the most respected names in the league, and yet they still can't seem to pull it all together. Give them time though, with that much talent, they won't (and can't) stay down forever- let's hope they struggle a little longer this week. Not a single man on that squad has a batting average of better than .286 (Iglesias), and when Scooter Gennett is slashing .100/.100/.100, you know you have problems.
Mound Matchups
Monday: RHP Luis Castillo (8-3, 2.29 ERA) vs RHP Kyle Hendricks (7-7, 3.49 ERA). Game time 7:05 PM CDT; NBC Sports Chicago, MLB Network and MLB TV.
Castillo has been a force all year, and there's little reason to think that he'll be any different in the second half. Kyle Schwarber, Albert Almora Jr., Willson Contreras, and Daniel Descalso have all hit Castillo well, but beyond them, he's done a number on the Cubs' offense. The Cubs did, however, beat Castillo when they faced him back on June 29th.
I'm more than a little worried about the Professor. In two outings since returning from the IL, Hendricks has failed to return to his previous form- something the Cubs can ill-afford as they forge on through the summer. Hendricks has always had a little bit of an odd looking delivery, but he seems to be forcing his pitches. He's not been able to command the edges of the strike zone, and that is always a recipe for trouble with him. With a little luck, the break gave him a little extra time to recuperate, and he'll return to what you're used to seeing out of him.
Tuesday: RHP Anthony DeSclafani (5-4, 4.26 ERA) vs RHP Alec Mills (0-1, 5.48 ERA). Game time 7:05 PM CDT; WGN, SAP WGN and MLB TV.
Anthony DeSclafani is a guy who should be spelling trouble for the opposition, but he's somehow fallen flat this season. DeSclafani did beat the Cubs when he saw them last (June 30), holding them scoreless on five hits, a walk and seven strikeouts for six innings.
I'll make no bones about it: I think Joe Maddon is making a mistake by starting Mills. The Cubs are playing at a feverish pace right now, and I don't think you insert a rookie, just off the IL (especially one who's not been great) to carry the momentum.
In Jason Heyward's own words, following Sunday's game, "We're always in the game, and we need to remember that. We can't get too down; we can't let things get away from us, we can't get sloppy. Don't take a break, because it's right there for us to take. Today was a good example of that."
Although he wasn't speaking about Mills when he said that, I agree with Heyward 100%. You're on top, you're starting to thrive, you're building a lead in the standing, so don't take a chance on a rookie, but Joe marches to his own drummer- I just wish I could hear the music.
Wednesday: RHP Sonny Gray (5-5, 3.42 ERA) vs RHP Yu Darvish (2-4, 4.72 ERA). Game time 1:20 PM CDT; Televised on NBC Sports Chicago and MLB TV.
Sonny Gray also got the best of the Cubs back in June, turning in a 6.1 inning outing, and holding the Cubs to a pair of earned runs on four hits and a walk (6 K). Gray hasn't performed as the Reds would have expected either, but much like DeSclafani, he's a guy who can turn it around on a dime at any time.
Never in my life, have I seen a guy who can't get a win in his home stadium, but Yu Darvish is that guy. When he pitches horribly, the Cubs lose; when he throws a gem, he winds up with no decision. Maybe this time will be the time that his team rallies around him with run support and finally gets him that W. Darvish's last outing was undoubtedly the best I've ever seen him pitch as a Cub, so we can only hope he's turned a corner.
Series Prediction:
I think the Cubs make it two in a row, with a 2-1 series win. The Cubs are due to have their turn at dominating Cincinnati, but Mills' start concerns me. If the offense keeps up the pace they've been on, a sweep may be feasible, but they'll also need help and consistency from the rotation and the pen.
Next up: San Diego Padres vs. the Cubs at Wrigley Field, beginning Friday, July 19th at 1:20 PM.

Upgrade Your Account
Unlock premium boards and exclusive features (e.g. ad-free) by upgrading your account today.
Upgrade Now

Tags: Cubs Baseball
,
Cole Hamels
,
Kyle Hendricks
,
Yu Darvish
,
,
Jose Quintana
,
Randy Rosario
,
Kyle Ryan
,
Pedro Strop
,
Brandon Kintzler
,
Steve Cishek
,
Kyle Schwarber
,
Albert Almora Jr
,
Willson Contreras
,
Daniel Descalso
,
,
Jason Heyward
,
Joe Maddon