| | |
| --- | --- |
| Cubs vs. White Sox Series Preview: TV times, Starting pitchers, Predictions, more | |
---
| | | |
| --- | --- | --- |
| Saturday, July 6, 2019, 3:17 PM | | |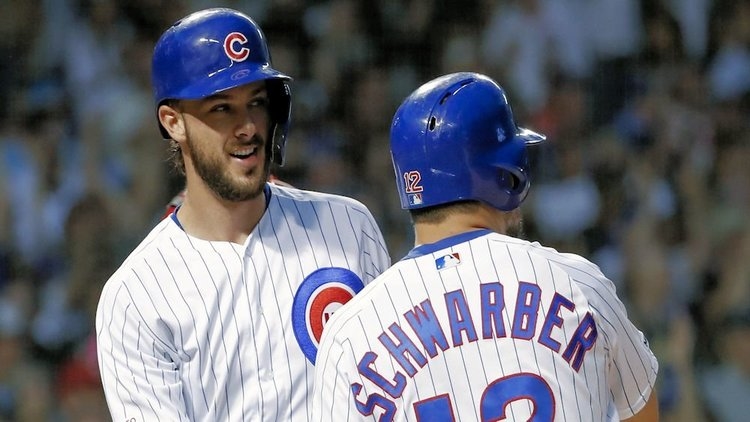 Here we go again- Round-2 of the Crosstown Classic. In the last meeting (June 18-19), the Cubs salvaged a split, losing Game-1 (3-1), but winning the second game by a final of 7-3. The Cubs should have breezed through that series with the South-Siders, but as of late, the best they can hope for is a series-split, having now gone seven series without a win (last series win was June 9, when they swept the Cards).
This series has implications reaching far beyond bragging rights, retaining first place and saving dignity; a few even speculate that this could even be Joe Maddon's last weekend if things go entirely south.
In #Crosstown Game 2, the story was "The North Side Strikes Back".

What will we be saying about the #Cubs after this weekend on the South Side? pic.twitter.com/c37jBbOuK1

— Cubs Talk (@NBCSCubs) July 5, 2019
Injury Report:
CUBS: Cole Hamels: 10-day IL (oblique strain); Carl Edwards, Jr.: 10-day IL (thoracic strain).
WHITE SOX: Shortstop Tim Anderson: 10-day IL (ankle); LHP Manny Banuelos: 10-day IL (shoulder); RHP Ryan Burr: 10-day IL (elbow); Catcher Wellington Castillo: 10-day IL (left oblique strain); RHP Dylan Covey: 10-day IL (shoulder); LHP Carlos Rodon: 60-day IL (Tommy John).
The Pitching
Lately, it seems like I should copy and paste from the previous series preview, as nothing seems to change with Chicago's pitching. The starters remain sporadic, the bullpen remains untrustworthy, and the choices that Joe Maddon makes remain questionable. Trades and DFAs are said to be coming, but then again, Theo Epstein said fourth months ago that players either needed to perform or they'd be gone. Players and fans should know for the next three weeks, whether or not he meant those words.
There's no reason why the White Sox remain a (just under) .500 team, as they're all-around lousy on paper. One starter (Giolito) has an ERA under 3.00, and their pen isn't much better, as only two relievers (Colome and Bummer) have ERAs under 2.16. There was no reason the Cubs should have had to settle for a split last time around, but somehow, they struggled with Nova and his high ERA, but then beat Giolito with ease.
The Offense
It remains a mystery as to why the Cubs can't seem to hit with runners in scoring position, that is of course unless they hit a home run. Situational hitting is nearly non-existent with this team, and that dog won't hunt for long. If you factor out the homers with RISP, the Cubs are batting only .222 as a team with runners on second or third.
The key to hitting for high average is to relax, concentrate, and don't hit the fly ball to center field. -Stan Musial pic.twitter.com/y86LHNG1UU

— Baseball Quotes (@BaseballQuotes1) July 3, 2019
Most of the guys on this Cubs team have power, but much like that shiny, new Camaro in the driveway, there's a time and a place to use it. Station-to-station hitting is what scores runs consistently, and that concept seems to elude this team.
Except for a team batting average of .256 (ranked sixth in the AL), the White Sox offense ranks in the bottom half of the American League in just about every measurable stat, yet somehow, they're playing just under .500 ball. They've provided little run support, as indicated by their -69 run differential, but somehow, their pitching is what's been keeping them in games, despite a terrible team ERA. They will run on pitchers, which may be a concern for Jon Lester, but with Willson Contreras behind the plate, the chances of success for the Sox is greatly minimized.
Mound Matchups
Saturday: LHP Jon Lester (7-6, 3.89 ERA) vs Lucas Giolito (11-2, 2.72 ERA). Game time 6:15 PM CDT; Televised on FOX and MLB TV.
Jon Lester pitched the second game of June's meeting between the two teams (5.2 IP, 3 ER, seven hits, one walk, six strikeouts) and got the win. Garcia tagged Lester for a homer in the first, then McCann blasted one out of the park in the fourth, but fortunately, the bases were empty in both occurrences. Lester would also give up a pair of doubles (Moncada and Anderson), as well as a triple (Sanchez).
Big-Jon had been cold for nearly a month, but he seems to be getting back o track. He's becoming increasingly frustrated with bad strike zone calls and blunders by his teammates, and the key for him is to remain calm and relaxed. Control has been a bit of an issue, not by any means wild, but he's missing the corners, which is a big part of his success.
Where do I even start with Lucas Giolito? How do you say anything wrong about a guy with an 11-2 record in 16 starts; one who is personally accountable for 26.2% of a team's wins? The guy's on fire. Period.
The funny part is, the Cubs were responsible for handing Giolito his second loss of the year, and they clobbered him in the process. In 4.1 innings last time out, the Cubs tagged Giolito for seven hits, six runs, three walks and a trio of homers. On paper, Giolito beats the Cubs hands down, but the reality is quite a different story.
Sunday: RHP Kyle Hendricks (7-6, 3.45 ERA) vs RHP Ivan Nova (3-7, 5.92 ERA). Game time 1:10 PM CDT; Televised on NBC Sports Chicago (Cubs' broadcast), WGN (Sox broadcast) and MLB TV.
I'm not sure quite what to expect out of the Professor this time around. He just completed an IL stint, and instead to go to Iowa for a rehab start or two, he returned to the rotation this past week for a scheduled, although abbreviated, start. Hendricks looked mediocre at best on Tuesday, allowing a pair of runs on four hits and a walk in just 3.0 innings. Hendricks was to be limited to somewhere between 65 and 75 pitches that night, but Mother Nature held him to even less, as rain created a two-hour and five-minute delay, ending his night.
Hendricks has had trouble with the White Sox, with his biggest problem being Yolmer Sanchez, who's batted .455 in 11 at-bats against Hendricks. They say that time heals all wounds, and the Cubs can only hope that an abbreviated start and an extra week have healed the Professor.
Last time around, Nova fared well against the Cubbies, but that shouldn't have been the case. In seven starts at Guaranteed Rate Field (aka Comiskey Park), Nova is 0-4 with an 8.31 ERA. Over his last seven starts, he's 0-2 with a 4.50 ERA, and he's become susceptible to hurling homerun pitches.
The Cubs core has hit him well in the past, except for Javier Baez who's batting .190 in 21 at-bats against Nova (though he's hit a pair of homers). Willson Contreras, Anthony Rizzo, Jason Heyward, Kyle Schwarber and Kris Bryant have all wallopped Nova, and collectively the team has belted a half-dozen homers and tallied 14 RBI against him.
Series Prediction:
It's becoming harder and harder to give a prediction on these series, as the Cubs have been so inconsistent. They should have cleaned house in Pittsburgh, but we all saw how that worked out. Unfortunately, I see nothing better than another split in this series, based on the pitching (starters and bullpen), an inconsistent offense and a terrible road record.
Next up: The All-Star break (All-Star Game to be played on July 9th), then the Pirates at Wrigley beginning on July 12.

Tags: Cubs Baseball
,
Cole Hamels
,
,
Willson Contreras
,
Kyle Hendricks
,
,
Anthony Rizzo
,
Jason Heyward
,
Kyle Schwarber
,
,
Joe Maddon
,
Theo Epstein