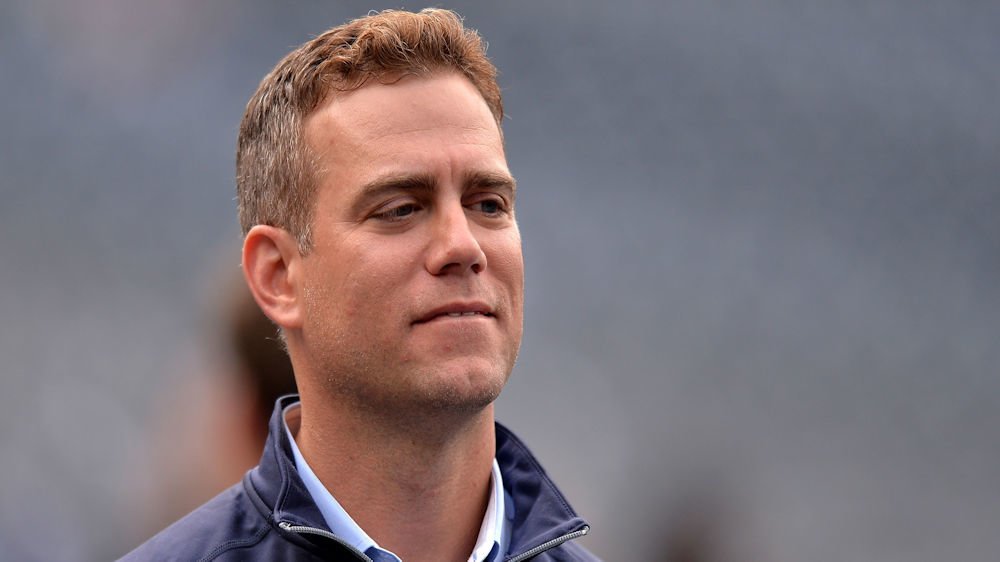 | | |
| --- | --- |
| Decisions, Decisions, Decisions…The Cubs Reckoning is Here | |
---
| | | |
| --- | --- | --- |
| Sunday, September 29, 2019, 11:32 AM | | |
"Never let the pressure exceed the pleasure," "Respect 90," "Embrace the Target," "Try not to suck," the Maddonisms could go on and on and on but the truth of the matter is that Theo's words ring much louder than anything Joe Maddon has said or will say when he said that this year is " a reckoning in a lot of ways."
Well, now it's time. It's not a secret that a ton of decisions will be made immediately following the last game of the season, but we won't even have to wait that long as Ken Rosenthal reported Saturday morning, Theo Epstein and Joe Maddon will meet after Saturday night's game. I'll say it again…the reckoning is here and yet every Cubs fan had felt this reckoning to be necessary since the 2-7 start to the season and then of course after the four-game sweep at the hand of the Cardinals that effectively ended the season even before they were mathematically eliminated.
So, what now? Well, there will inevitably be countless articles, podcasts, opinions, etc. that will come out for the offseason. There will be movement following the final game on Sunday, and there will be movement and decisions when free agency opens. All talk of the moves to be made will be pure speculation until the signatures are dry on new contracts, so what needs to be seen is what decisions should be made in the makeup of the roster and coaching staff going forward. In other words, what type of players do the Cubs need? What kind of coaching staff will they go after? What type of scouting department changes do they need? These are the decisions that are looming for the Cubs front office as they sift through their own mistakes and take the first steps toward rectifying those to save their jobs.
Epstein said it himself when talk began about a possible return to the Red Sox organization when he said, "I'm here. We have a lot we need to work on to get back to the level we're accustomed to. (Emphasis mine) I'm invested in that. That's what I'm focused on, so yeah, there's nothing to that."
He's saying the right words and only time will tell as the front office will face the most challenging and presumably most busy offseason they've had in quite a while. If anyone has earned the right to steer the ship back on course, it is Epstein and his front office, but if anyone will sink with that ship if it's not corrected and soon it is Epstein and his front office. The truth is, this is how it should be. This is what Tom Ricketts and family promised when they purchased the Cubs. This is what Epstein pledged to when he took over as President of Baseball Operations that things would take a while but that the aim would be a sustainable success. They successfully raised the bar, and now it's time to pick it back up before it hits the ground.
So, where do we go from here? There's going to be some emphasis areas that I think the Cubs will focus on this offseason and yes, the first will be who the manager will be. The hope is that after Saturday's game that will be much clearer and they can take the necessary steps toward improving the roster. However, here are the three areas I think the Cubs will focus on as the offseason sits one game away.
1. Leadership
As previously mentioned and as every baseball reporter all over MLB has been speculating for weeks now, this will start with the future of Joe Maddon. While it is not yet official and while it would be an otherworldly shock if the Cubs decided to bring him back, there's a certain feel that the Cubs will have a new skipper come late October. Who that will be is a complete mystery. There's of course been talks of David Ross, Mark Derosa, Joe Girardi, even Mark Loretta (The Cubs current bench coach), but this assuredly is not the comprehensive list that Epstein will rest upon when finding the new coach of the Cubs.
Other leadership areas will be found in the makeup of the players on the roster. Back in 2016, you had the likes of Dexter Fowler, John Lackey, Grandpa Rossy along with Ben Zobrist. It was the perfect combination of young players with effective leadership that resulted in a World Series win. However, since then with all of those players gone, save Zobrist (who may or may not be back after this year), the leadership makeup of this squad has taken an unmistakable hit. With everything from clubhouse chemistry being questioned, to the awkwardness of Addison Russell's return, I think it will be a priority to get the right kind of guys in the clubhouse. Do you know what we want to see? A priority on playing the right away coupled with more dancing in the bullpen…is that too much to ask?
2. Better Defense/Baserunning
I don't think I need to say much more about this topic other than to point out that with one game remaining the Cubs have committed 115 errors which ranks 28th in the league while making 63 outs on the bases which ranks dead last.
I wouldn't be surprised to see the Cubs fill their roster with guys who are both smart and can steal bases while emphasizing a cleaner brand of baseball on the field. Whether that be through a new coaching staff to a renewed emphasis through player leadership, I think it's reasonable to assume that the Cubs team we will see in 2020 will be much improved over this current squad in both areas. It would be easy to sit here and stew over every one of those errors or baserunning blunders, but I won't do that. All I will say is that if that doesn't change, the front office staff will.
While blame can go all around this team, the coaching staff and the front office for the poor performance of 2019, the good news is that this lost season has finally officially got the attention of those that matter. Instead of putting bandaids on what has needed surgery all in the name of a "talented squad," the opportunity has now arisen in this "reckoning" to fix the holes that have been apparent yet hidden finally. Hopefully, we will see the organization as a whole return to "the Cubs Way" of expecting pretty baseball, which includes and even emphasizes a minimal amount of mistakes in the field and on the basepaths. While defense and baserunning aren't as sexy as the ridiculous amount of home runs that have been hit due to doctored baseballs, they are so much more effective in winning ballgames which is the whole point, to begin with.
As the saying goes, "Defense wins championships," and I might dare to add baserunning does too.
3. Better Hitters
Now, you'll notice I didn't say "more power" or anything of the sort. I said, "better hitters." What I mean by this is hitters that can beat the ridiculous shift put on by every major league baseball team due to Moneyball analytics. Hitters that can go the other way to move runners around the basepaths. Hitters that can lay down a bunt and play small ball when the situation calls for it. And while we are on the topic of situational hitting, let's talk about hitters that know situations and won't swing as hard as they can with two strikes or at the first pitch with no outs and runners on.
Let's talk about hitters with better bat-to-ball skills who can make contact and lift a fly deep enough to get a guy to tag and score a run when it's needed. Let's talk about hitters that know when you're down by two late in the game with no outs and runners are at second and third to lay down a bunt to get at least one of those back and move the other runner into scoring position in hopes of tying the game up. These are the kinds of hitters that the Cubs will need to return to winning baseball.
This has also been the massive hole in the heart of the Cubs lineup that needs a cardiothoracic surgeon but was given a nurse's assistant (no disrespect). While you saw this in 2016, it has been absent ever since. No doubt it's been fun to watch Bam-Bam get near 40 this year, and KB and Rizzo getting to 30 and Contreras and Castellanos getting close as well. But you know what would be more fun? Not striking out as much, not swinging for the fence with two strikes instead of making contact, not grounding into so many double plays the broadcast team loses count more than once. Better hitting needs to be the priority, analytics aside.
Now, I believe Theo and Jed entirely, and Co. are perfectly capable of doing this now that it has become readily apparent without excuses that it has to happen, but this is where those decisions, decisions, and more decisions are going to have to be effective. They will have payroll flexibility. They will have trades to be made for sure. They will have roles to be filled with other players leaving the roster via free agency, and for sure they will have the backing of the ownership group along with the new Marquee Network. So, it's time Cubs, it's officially time for the reckoning to be here and to be executed all in the name of the goal being, "to win a championship next year," "One hundred percent. That's what this organization's about, and I think the thing that gets you excited-even in the face of this adversity-is waking up and trying to build the next championship Cubs team."
It's time guys…let's see you do it.