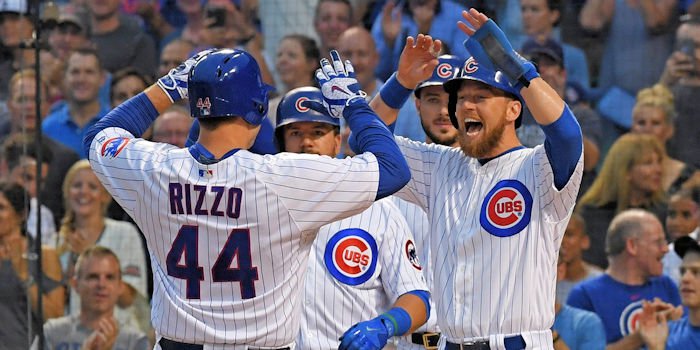 | | |
| --- | --- |
| Early Season MLB Observations | |
---
| | | |
| --- | --- | --- |
| Thursday, April 5, 2018, 9:13 AM | | |
CHICAGO -- The first week of the 2018 MLB season is in the books, we still have a long exciting summer ahead. Here are my observations from week one.
This could finally be the year the Washington Nationals not only win their first playoff series since moving to the nation's capital but finally get to the World Series. First-year manager Dave Martinez is solid and with Bryce Harper in a contract year, a healthy Adam Eaton and the burden of Jayson Werth's contract gone, the Nationals have the roster depth to make a deep run. The bullpen was repaired at the all-star break last year and they kept the group together this offseason. They also don't have Dusty Baker around to fail them in the playoffs, so barring a catastrophic injury the National League is theirs to lose.
The Cubs can't seem to learn from mistakes of the past, as they have been shutout in consecutive days, by the Marlins and Reds! Counting a day off and a rainout they haven't scored in almost 5 days! They continue to strikeout. They set a record with 58 K's through five games. A new hitting coach won't matter, as long as they continue to leave guys on base, due to their lack of situational hitting. I can't figure out why Joe Maddon is playing both Kyle Schwarber and Jason Heyward at the same time against lefties? Ben Zobrist, one of their best clutch hitters has been on the bench, and Maddon has no faith in Albert Almora, Jr. Ian Happ hit the first pitch of the season out of the park, but hasn't had a hit since! Remember Maddon still hasn't gotten an extension, his contract is up after next year, I know he broke the drought, but Theo Epstein is like Bill Belichick and that he will move on from anyone at any time, and Maddon's bullpen decisions the last two years were heavily scrutinized. Is his message still being heard in the clubhouse? Stay tuned….
Shohei Otani is looking like the real deal, he picked up his first win on Sunday against the A's and homered off all-star Corey Kluber. Not a bad first week in the show! Otani and Mike Trout will make the AL West the division to watch as the Angels and Astros duel it out!
Not sure what's a better...Ohtani's FIRST CAREER HOME RUN or the celebration! One word: Amazing.#ShoTime @Angels @MLB @MLBONFOX pic.twitter.com/UsPcCZnIOn

— FOX Sports West (@FoxSportsWest) April 4, 2018
And oh, by the way, the Houston Astros don't look like they have a World Series hangover…
Speaking of hangovers the Los Angeles Dodgers are off to a 2-5 start. They are without all-star third baseman Justin Turner, who is on the DL with a hand injury, courtesy of getting plunked at the end of spring training and Clayton Kershaw is 0-2, and has given up homers to two left-handed hitting second baseman, Joe Panik, and Daniel Descalso. Kershaw rarely gives up homers to lefties, on Tuesday against the Diamondbacks it was only the fourth time in his career that's he has allowed two homers to lefties in the same game!
The National League West might not be as great as in years past. The Giants are 3-3, and two of those victories were 1-0 wins over the Dodgers. The Diamondbacks completed a 5-1 homestand and will score runs at home, but can they score in colder temperatures? We will find out...
And finally, the Bronx Bombers split a series in Toronto, before sweeping the rebuilding Tampa Bay Rays and are 4-2. Giancarlo Stanton struck out five times vs Tampa on Tuesday and was booed! Welcome to having fans in the stands at home Giancarlo!