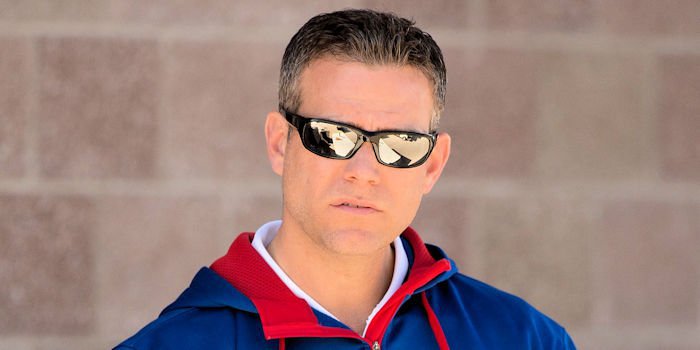 | | |
| --- | --- |
| Epstein's warning, Strop injured, Lester's leadership, and MLB notes | |
---
Upcoming games: Today, 3:05 PM Central: Cubs vs Athletics (Pitchers TBD). March 13, 3:05 PM Central: Cubs @ Athletics (Pitchers TBD)
Cubs' Opening Day: 15 days. March 28 @ Rangers; (Lester vs TBD). Game time: 3:05 PM Central. (WGN, MLB.TV).
Cubs' Home Opener: 26 Days. April 8 vs Pirates: Game time: 1:20 PM Central. (ABC-7, MLB.TV)
Tuesday's Game Recap: Tyler Chatwood (1-0, 2.25 ERA) got his second start of the spring (his first since Opening Day on 2/23); the Reds countered with right-hander, Tyler Mahle (0-0, 0.00 ERA).
Chatwood would falter in the second, giving the Reds a lead that they'd never relinquish. Final score: Reds-12; Cubs-3.

Theo Epstein: Theo had some strong words for the players yesterday. In short, no one is indispensable. "If our core hasn't developed the way we certainly expect, or bounced back, the way we expect them to, that could be a time where we ask and answer some hard questions about 'Do we have what we believe we have?' And if we don't, then there would be an open-mindedness to some significant transactions at that time. Every single day is an opportunity to step on somebody's throat. We're not going to give away getaway days, we're not going to settle for two out of three. We're not going to ease into the season, we're showing up to assert ourselves from Game 1 through Game 162. That's how you use a sense of urgency the right way."
What are your expectations for the 2019 Cubs? #IntentionalTalk pic.twitter.com/ahLcoJIMDb

— Intentional Talk (@IntentionalTalk) March 12, 2019
Pedro Strop: Pedro Strop pulled his right hamstring in his last appearance. The Cubs say it's a minor injury. He may not pitch again in the coming days, but original reports say that they think he'll be ready for opening day. Not so fast… Maddon is now saying, "If not, maybe shortly thereafter. It's something we caught quickly. I can't emphasize enough – it doesn't look bad. But you don't push a guy like that right now." Strop's MRI showed a "mild strain" of the left hamstring. In case you're wondering, it was the right hamstring that he injured last season.
Jon Lester: When asked about leadership (which usually comes with aging), Jon Lester says, "At first it's kind of a hard pill to swallow. You turn around and you think you threw a fastball well, and it says 90 or 91, as opposed to 94 or 95. But it's cool to have the [guys like Anthony or [Kris Bryant] ask you questions. I remember being in their shoes for a while. … It's cool to answer those questions. At the same time, I wouldn't mind trading about five years and going back and having that [time] on my side."
Willson Contreras: Preoccupied by political problems in Venezuela, Contreras says, "It's really tough. When I'm here [the ballpark], I'm happy. I'm not overthinking. But once I get out of the ballpark, everything that comes to my mind is Venezuela and my family still living there. It's a little dangerous right now. My family is in a good place, they're safe. But they don't have the freedom you have in America." Contreras is selling T-shirts that read "Freedom for Venezuela," with profits going to a Venezuelan foundation providing food and medicine to those affected by the political unrest. A new batch of shirts arrived at the Cubs' clubhouse last week, and several players are buying and wearing them in support of Willy.
Luke Hagerty: Luke Hagerty is attempting a comeback. Who? That's what I said. Hagerty is a 37 (nearly 38) year-old "rookie" left-hander, who was drafted by the Cubs in 2002. He's been out of baseball since 2008, but apparently, he has an invite to spring training. He's been down all spring with a strained flexor in his pitching arm, but he intends to start throwing this week at camp. And you thought Lester and Hamels were getting up there in age…
Luke Hagerty's comeback bid is incredible, but he doesn't want to just be a great spring storyline.

"I don't want that. I don't need that. I came back because I feel like I could help."

The latest on Hagerty's progress: https://t.co/Ipf3vrCeBr

— Jordan Bastian (@MLBastian) March 13, 2019
Cubs Birthdays: Celebrating yesterday were ex-Cubs Horacio Piña (74) and posthumously, Johnny Callison (80), Lyle "Bud" Tinning (113), George Maisel (127), Walter "Doc" Curley (145), and George Mooli? (152).
Monday's Scoreboard: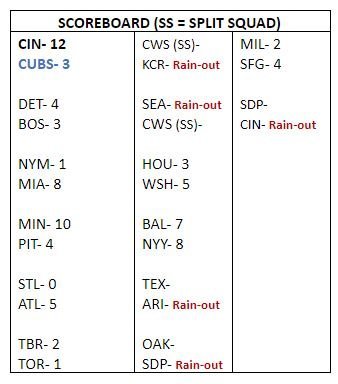 WEDNESDAY (EST) 1:05 PM: MIN @ BOS, ATL @ WSH, STL @ MIA, TOR @ BAL, HOU @ NYM. 4:05 PM: CUBS @ OAK, CLE (SS) @ KCR, MIL @ CLE (SS), ARI @ COL. 6:35 PM: PHI @ NYY. 9:10 PM: SDP @ LAA. SFG @ SEA. 10:05 PM: CWS @ LAD.
THURSDAY (EST) 1:05 PM: PHI (SS) @ PIT, BOS @ DET, MIN (SS) @ BAL, MIA @ HOU, NYM @ STL, PHI (SS) @ TBR, WSH @ MIN (SS), NYY @ TOR. 4:05 PM: TEX (SS) @ CUBS, COL @ CLE, CIN @ LAD (SS), LAA @ MIL, TEX (SS) @ KCR, SFG @ ARI. 9:40 PM: LAD (SS) @ SDP.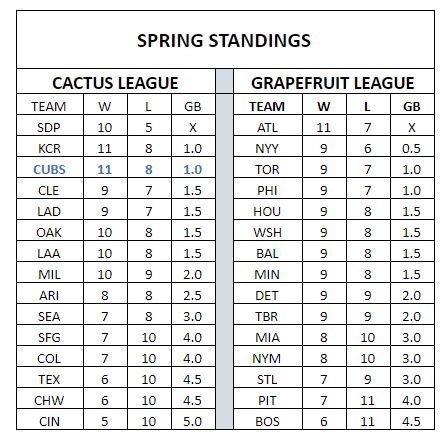 News from around MLB:
Braves: According to Liberty Media CEO, Greg Maffei, "I think the Atlanta management knows they have capacity to do more and are looking for the right deal."
Cardinals: Carlos Martinez no longer expected to make the Cards' opening-day roster and is trending toward IL. Martinez meets with the team tomorrow to discuss his return to throwing, and his role with the team (starter/reliever).
Mariners: For the first time in his career, 3B Kyle Seager will be out due to an injury. Seager will be undergoing surgery for a an injured in his left hand. He is expected to return sometime in May.
Rays: Starter, Charlie Morton says that after his contract and vesting option are up (2020, 2021), he will be hanging up his cleats and retiring. "I'm fully expecting that. Yes. 100%," said Morton.