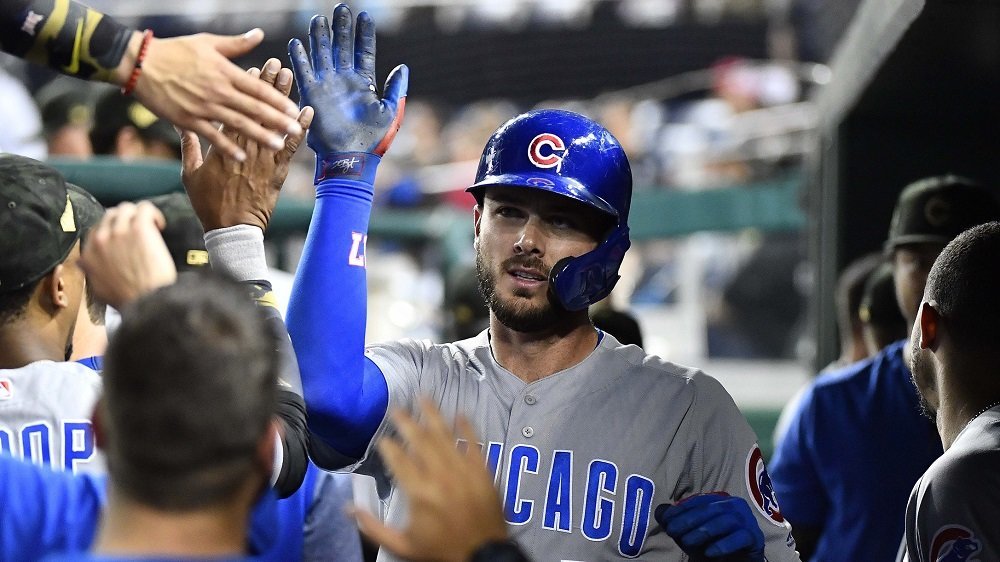 | | |
| --- | --- |
| Examining a MLB.com trade scenario featuring Kris Bryant | |
---
| | | |
| --- | --- | --- |
| Saturday, November 30, 2019, 12:03 PM | | |
It's that time of the year again – MLB's website is analyzing possible trade scenarios, and they've suggested one for the Cubs/Angels. Before you go crazy, take a deep breath and calm down… it doesn't include Mike Trout.
Angels would get Kris Bryant; Cubs would get CF Jo Adell (MLB's #5 prospect), RHP Griffin Canning, and IF Zack Cozart.
Before I even start breaking down the trade scenario, I like that MLB figures KB is worth three players, two of which are already playing at the Major League level – even if one of them is about ready for a nursing home. Now, is the trade, itself, worth anything? We know the pros and cons of keeping Kris Bryant on the Cubs' roster, but while I think both teams could profit some from this trade, it seems to favor the Halos.
Speculation says that Adell could be ready as soon as 2020 for Major League action. If Nicholas Castellanos fails to be re-signed, the Cubs may have a use for him, but what about the surplus of outfielders that Chicago already has? The team has recently stated that Albert Almora Jr. is a keeper, Kyle Schwarber has become an offensive machine, and Ian Happ seems to have redeemed himself after a half-season sabbatical in Iowa. Let's also not forget about Jason Heyward, who, despite some sketchy and sporadic offense at times, still offers a Gold Gove caliber defense in right.
The Cubs could deal one of their current outfielders (I still think it'll be Almora, but Happ or Schwarbs could be possibilities). Still, even then, there are no guarantees on Adell's readiness or at what level he may perform if activated. Theo Epstein was skeptical about Nico Hoerner in 2019, and remains so, despite Hoerner's promising performances in a Chicago uniform last season; so, would he even chance using Adell?
Adell has put together a strong offensive effort in the AZFL this year, slashing .273/.351/.444 with an OPS of .796 in 24 games for the Mesa Solar Sox. His defense seems solid, playing error-free ball in Mesa (all three outfield positions) for a total of 197 innings.
RHP Griffin Canning could be a plus for the Cubs' rotation, especially if they choose to look to the outside for someone to fill the spot vacated by Cole Hamels. His rookie campaign led to 17 starts last season, during which Canning posted a 5-6 record with a 4.58 ERA. However, he's averaging better than one K per inning, with a respectable WHIP of just 1.222. Age definitely plays into Canning's favor, as he'll only be turning 24 in May, which would be a step in the right direction, especially considering that he's under team control until 2026.
Adding a righty would tilt the Cubs' rotation to being right-handed strong (joining Kyle Hendricks and Yu Darvish), but the same would be true if the team elected to give the position to either Tyler Chatwood or Alec Mills. Mills has been reasonably impressive, and Chatty seems to have found his mojo, but neither came anywhere close to Canning's 17 starts last season. Chatwood has made it clear that he wants to rejoin the rotation, but I think, more importantly, he needs to have a defined role – something that he hasn't had for nearly a season-and-a-half. Mills is still young and maybe part of the future, but my biggest concern with him is that he'll end up patterning Mike Montgomery with a strong start, followed by the extreme crash and burn.
Zack Cozart is the one part of this proposed deal that falls flat for me. Cozart will be 35 next August and had a horrific season at the plate last year, slashing a whopping .124/.178/.144 with an OPS of only .322. He's currently ending an insanely high, three-year/$38M deal, $12.7M of which the Cubs would be on the hook for.
From the Angel's perspective, they'd be getting Bryant who's obviously used to life under Joe Maddon's rule, but more importantly, they'd be pairing Bryant with Mike Trout, which could only result in runs, assuming both stay healthy and productive.
By dishing off Cozart and his albatross to the Cubs, the Angels would be offsetting some of Bryant's expected arbitration salary of $18.5M for 2020, clearing the way for them to head after a target they've been locked on for nearly two months: Gerrit Cole. There's been speculation that Cole wants to play In California (his home state), but he never seemed to be the right fit for the Dodgers, Padres or A's (who couldn't afford him if they tried).
There have been rumblings about a possible signing in San Francisco, but Cole is a SoCal native, making Anaheim the better fit.
If you're going to take this scenario seriously, you'd have to chuck Cozart out of the roster, as Daniel Descalso would be more effective, but how can you discount almost $13M for a guy who batted less than .130? Adell shows promise, and I like the idea of adding Canning more and more as I think about it, but do the pros of this deal outweigh the cons?
MLB's website goes on to suggest that the Cubs could package Canning with Hoerner in a deal for Whit Merrifield, but I don't like that scenario at all. Hoerner shows promise and a ton of potential, not to mention that he could (and should) be an integral part of the next wave of young Cubs' stars. I'm all about the Cubs getting Merrifield, but not at the expense of Hoerner.

Tags: Cubs Baseball
,
,
Albert Almora Jr
,
Kyle Schwarber
,
,
Jason Heyward
,
Cole Hamels
,
Kyle Hendricks
,
Yu Darvish
,
Tyler Chatwood
,
,
Mike Montgomery
,
Daniel Descalso
,
Joe Maddon
,
Theo Epstein