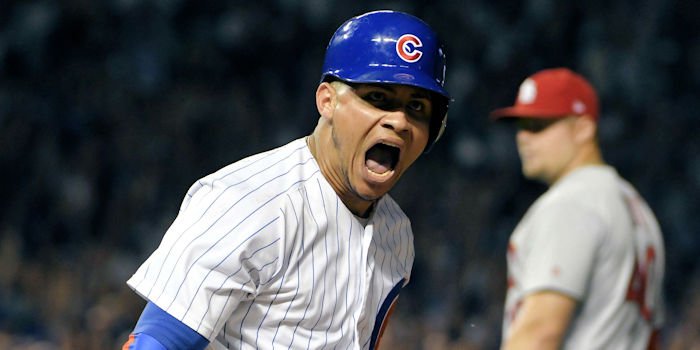 | | |
| --- | --- |
| Five BOLD Predictions for 2018 Chicago Cubs | |
---
Wilson Contreras will win NL MVP:
He stole our hearts in 2016 by hitting a home run on the first major league pitch he saw, and in 2018 he will steal the breath of the league. Last year he dealt with a hamstring injury and we still saw him hit 21 home runs with a .276 avg. We've seen major improvements with him at the plate this spring with him sending home runs what seems like a mile away, and much-improved plate discipline. He has the ability to hit 40 home runs, and will surely give us memorable bat flips to go with it. Behind the plate, Contreras is a defensive gem. He has the deadly back pick that will catch baserunners off guard, and an arm that throws harder than Kyle Hendricks. Wilson Contreras is much like 2016 Kris Bryant with immaculate defense and a big bat, that has the ability to win him his first National League MVP.
Jose Quintana will be the Cubs best pitcher in 2018:
The 29-year-old lefty has all the materials to be great. In his first full season on the north side, we will finally get to see them on full display. In his 14 starts with the Cubs, he went 7-3 with a 3.74 ERA with a WHIP of 1.10. Coming off a spectacular spring training campaign and backed up with a real offense, Q has a legitimate shot at 20 wins. His career ERA is 3.53 and his WHIP is 1.02. Let me remind you he is the team's fourth starter. He is an ace on paper and by the end of the 2018 season will be the true ace of the Cubs.
Javy Baez will (finally) win a Gold Glove:
Javy Baez a magician in the field, hence the nickname "El Mago". Now that Javy is expected to be an everyday player, the human highlight real is undoubtedly the best defensive second baseman in the National League. His ambidexterity allows him to make flashy tags on runners, and his inhumane athleticism helps him make unbelievable diving, sliding, and somewhere in between plays. As long as Joe Maddon keeps Baez at one position consistently, I don't see a way Javy Baez doesn't win a Gold Glove this season.
Jason Heyward will (finally) get benched:
Best 9, simple as that. When it gets down to crunch time, Joe Maddon will come to his senses and put his best 9 on the field. If Jason Heyward continues to play the way he has in a Cubs uniform, he no longer fits into that category. Ian Happ has proved he's ready to be an everyday player. Albert Almora Jr. brings a high-level consistency to both facets of his game that no other outfielder has yet to show on the Cubs roster, and is due to break out and earn his role as an everyday player as well. Skinny Kyle Schwarber will be a monster at the plate this year and will be able to hold down left field. So where does J-Hey fit in? He doesn't. Unless he can turn it around at the plate, he will find himself a spot on the bench, courtesy of Joe Maddon.
The Cubs won't only be the first team to have 5 players hit 25 home runs…they'll have 6:
No team has ever had five players hit 25 home runs in a season. Subsequently, no team has ever had six. Until the 2018 Cubs. Kris Bryant, Anthony Rizzo, and Kyle Schwarber are locks to do it again. Ian Happ hit 24 in just 114 games last year and is a more than a safe bet to eclipse 25 in his first full season in the bigs. As I said above, Wilson Contreras has the ability to hit 40 so he's another safe bet to go over 25. Javy Baez is seemingly always trying to put one on Waveland with his massive swings. He hit 23 over the wall last year and have seen more pitches and presumptuously becoming more patience has the ability to go over 25 for the first time; giving the Cubs six players over 25 home runs in 2018.