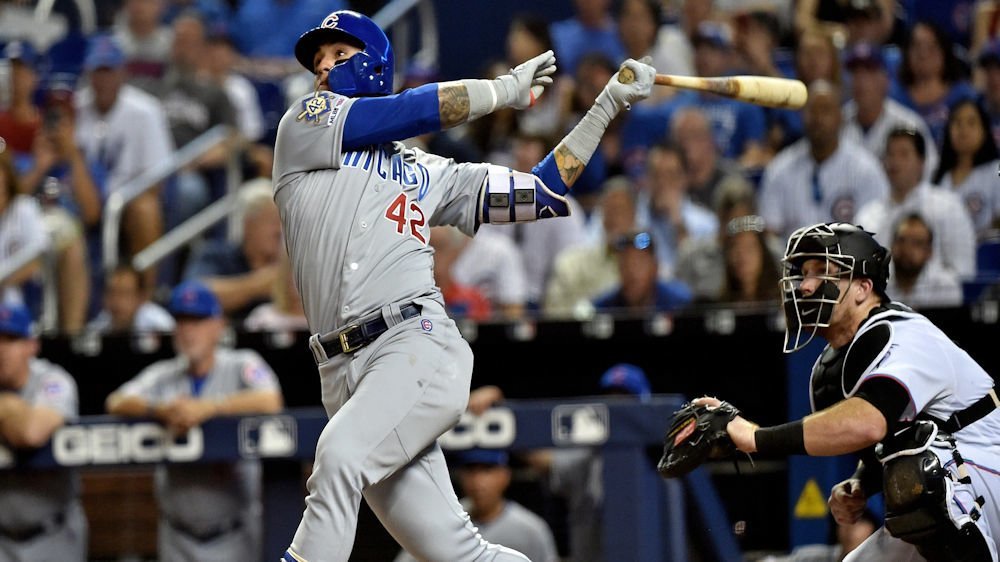 | | |
| --- | --- |
| Cubs News: Five reasons to extend Javy Baez | |
---
| | | |
| --- | --- | --- |
| Wednesday, January 1, 2020, 1:54 PM | | |
It seems as if one of the main priorities of this winter for the Chicago Cubs is to lock up some of their core pieces. Of all of the core talent, it seems as if Javier Baez is the main priority for the Cubs to lock up long term.
It makes sense that Baez would be the first to get the long term money for various reasons:
1. Javier Baez and his stardom are still on the rise.
Baez's career got off to a bit of a slow start. The raw potential was easy to spot, but scouts were often critical of Baez, with a very long and lazy swing that resulted in numerous strikeouts. In just 52 games in 2014, Baez struck out 95 times as opposed to only 36 hits.
Baez played even less in 2015. 24 strikeouts overshadowed his 22 hits in 28 games. Baez showed some improvement in the postseason, most noticeably in his three-run opposite-field homer against the Cardinals at Wrigley.
Baez began to see regular playing time in 2016 and beyond. The Puerto Rican born Baez was a bench player in 2016 but appeared in 142 games. His versatility was exploited all around the infield, playing electric defense at second base, third base, and even shortstop when necessary.
Baez had his coming out party in the 2016 playoffs. His game-winning home run in game one of the 2016 playoffs set the tone for what was an exciting postseason for both the Cubs and Baez. Baez took home NLCS co-MVP and even homered in game seven of the World Series.
2017 saw Baez quietly improve, homering 23 times, driving in 75 runs, and hitting .273. However, 2018 was where Baez's national stardom took center stage.
2018 mainly saw the birth of El Mago, showcasing his talent in all fazes of the game. Baez's rocket arm was displayed day in and day out, especially after Joe Maddon moved him to shortstop permanently. Javy's defense was gold glove caliber, featuring wowing plays and dazzling tags. The then 25-year-old was showing up on the highlight reel for his baserunning, too, with slippery and electric slides (see what I did there).
Baez was named to his first career all-star game in 2018, led the national league in RBI with 111, homered 34 times, scored 101 runs, stole 21 bases, and finished second in the NL's MVP voting.
Baez continued playing to that status in 2019, homering 29 times and driving in 85 runs in 22 fewer games.
Despite the injury that shortened his season, it is evident that the ever-improving Baez is still trending upward — making him a strong candidate to lock up for a long time.
2. Shortstop is one of the hardest positions to fill
The Cubs have an answer to one of the hardest positions to fill on the diamond. When you think of the best shortstops in the game, you can not forget to put Baez on the list.
Baez not only does it all offensively, but his impeccable defense proves more valuable than that of any other young Cubs star. It is thus making him even more likely to be inked to a significant deal.
3. The Cubs and Baez have mutual interest
As multiple sources have reported, the Cubs and Baez's camp have both stated their interest in a long term deal. This makes the deal a stronger possibility.
4. Baez is a bit cheaper than Bryant
Since it appears the Cubs are on a budget and have been for a few years now, the Cubs will likely have to decide between their other young superstar Kris Bryant and Baez. While Bryant has a bit of bad blood with the organization due to the whole service time debacle and an agent that has been known to take his clients to free agency and hike up the price — Baez appears to be the cheaper and more likely choice to be extended.
5. He is one of the faces of MLB
While Anthony Rizzo is undoubtedly the face of the Cubs franchise, Javier Baez is one of the most marketable players in the game. He is a radiant player for Puerto Rican born players who are trying to make it to the show. He is an easy to like player from a young player's point of view.
Baez is a radiant player who may be difficult to emulate, but easy to like. He is a great guy, always in the positive spotlight, and has one of those smiles that shows how much fun he has while he plays. Baez makes the ticket prices worth it. He makes the game fun to watch and is one of the game's best players. As a result, he has been named the cover athlete of the game's 2020 video game, MLB the Show.
While Baez's time under control is winding down to his final two seasons, the Cubs do not seem to have any interest in trading him (as opposed to some of their other stars). Instead, a contract extension not only looks like it should happen but that it is likely that it does — which is music to our ears.
A whole career of El Mago? Sign. Me. Up.