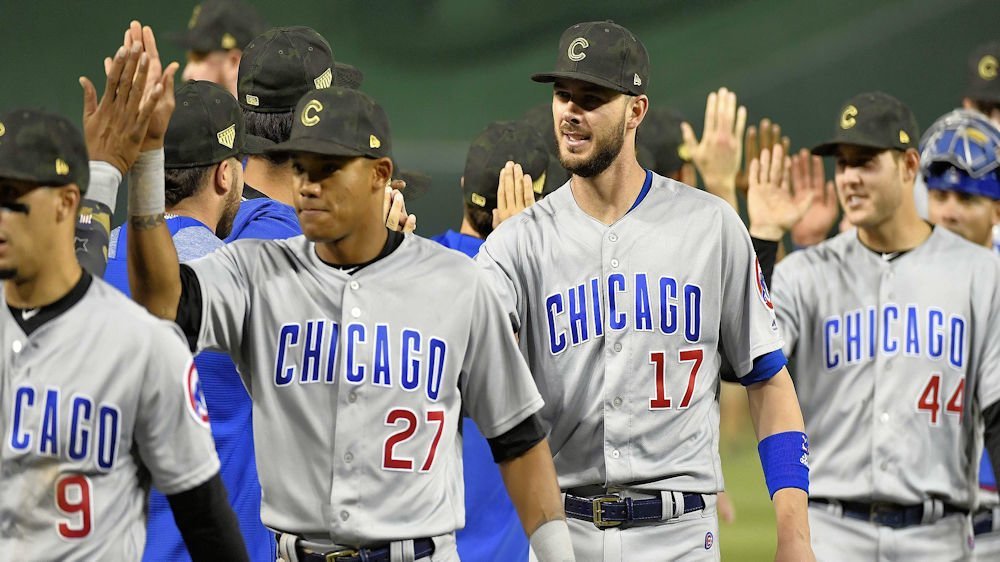 | | |
| --- | --- |
| Cubs News: Fly the Blowout W, KB's wild night, Rizzo returns, Javy's streak, more | |
---
| | | |
| --- | --- | --- |
| Saturday, May 18, 2019, 7:40 AM | | |
Next Game: Today, 6:05 PM CDT: Cubs vs Nationals. LHP Jon Lester (3-1, 1.16 ERA) vs RHP Stephen Strasburg (3-3, 3.63 ERA).
CUBS NEWS AND NOTES:
Friday's Game Recap: After an unexpected series loss in Cincinnati, the Cubs looked to regroup against the Nationals. Facing Max Scherzer is never an easy task, but the Cubs got at him early and often, which is usually the key to beating him.
For the first five innings of this game, I was extremely disappointed. I looked forward to a pitching duel between Cole Hamels and Scherzer, and it was among the ugliest outings that I'd ever seen from either. The Cubs tagged Scherzer for a run in the first, then a pair in the second on Albert Almora Jr.'s homer. The Nats answered with two of their own in the third, then nothing until the seventh, long after both starters had been knocked out. It was almost like neither starter had a win left in him.
The Cubs' got a pair of runs coming on a Kris Bryant homer in the seventh, the Nationals answered right back with two of their own. It looked like the Cubs' bullpen might drop another one, until all hell broke loose in the eighth. KB homered again in what would become a five-run eighth, then he did it again in the ninth, contributing to another four runs for Chicago. The Cubs tallied 11 unanswered runs in three innings, and although the Nats' grabbed a pair in the ninth, it was already an insurmountable lead. Final score: Cubs- 14; Nationals- 6.

Cubs/Nationals Probable Pitchers: SATURDAY: Jon Lester vs. Stephen Strasburg, SUNDAY: RHP Kyle Hendricks (3-4, 2.86 ERA) vs RHP Jeremy Hellickson (2-1, 5.52 ERA).
The streaks continue: One hit would have been enough for Kris Bryant to secure his 26 game on-base streak, but he took things to another level, going 4 for 6, with three homers and 5 RBI. Javier Baez also continued his hitting streak- now 15 games, as he went 2 for four on the night.
Homerun brigade: If you like the long-ball, then last night was your night. Almora (his 4th), Kyle Schwarber (#6), Willson Contreras (#11), Bryant (#9), Bryant (#10), Bryant (#11).
Hamels' milestone: With Cole Hamels' first strikeout last night, he moved into sole possession of 40th place for all-time strikeouts. He'll also took sole property of 9th place all-time, for strikeouts by a left-hander.
Sometimes, I'm right: I don't take credit for a lot of things I say in life, after all, a broken clock is right twice a day, but I do believe I hit the nail on the head with regard to my commentary on Yu Darvish yesterday. Hours after the article ran, Dan O'Dowd and Sean Casey (MLB Network) were talking about how they would like to see Darvish pitch to contact more, to get his pitch count down and quicker innings under him. They pointed out that in his last start, Darvish, a power pitcher, only threw two fastballs for strikes while he threw 95% sliders instead. O'Dowd said that was not a good ratio and wondered why he was so lopsided like that. He said it appears to him like Darvish doesn't trust his defense. I'm always scared to do this, but credit to Dan Marich for pointing out some things that made me decide to look into Darvish's desire to pitch away from contact.
A few words on the Cubs/Reds series I already see a lot of feedback on social media asking how in the world the Cubs could have let Reds take two out of three from them. I said in my series preview that no matter where the Reds were in the standings, they never failed to show up with their A-Game when playing the Cubs, and this series was no exception. The Reds played a good series. Their pitching was on, their bats were hot, and they scored more runs.
Still, hyper-drama in the print media would have you believe that the NL Central is fraught with these secrets, navigational pitfalls, and dangers, but not really; it's just full of baseball teams that on any given day are bound to win once in a while, or lose a couple in a row, as the case may be.
Long division: Last-place #Reds remind #Cubs of dangers lurking in deep NL Central https://t.co/DXuvOQa7Le via @SunTimes

— Gordon Wittenmyer (@GDubCub) May 17, 2019
Carlos Zambrano: The Big-Z said he was making a comeback, and although playing for the Chicago Dogs (man, I love that name) and not the Cubs, Zambrano is showing that he can still do it, both on the mound and in the box. Zambrano served as the DH on Thursday and went 2 for 3 with a double. If he gets going on the mound, there's no telling where this may lead.
Today, our designated hitter had 2 hits.
.
.
.
Our designated hitter was Carlos Zambrano. pic.twitter.com/OA9fgP8RbY

— Chicago Dogs (@TheChicagoDogs) May 15, 2019
Cub Birthdays: Celebrating yesterday, were ex-Cubs Carlos Peña (41), Porfi Altamirano (67), and posthumously, Billy Hoeft (87) and Hal Carlson (127).
NL CENTRAL SCHEDULE (May 12 – May 18, 2019)
(Wins are in green, losses in red)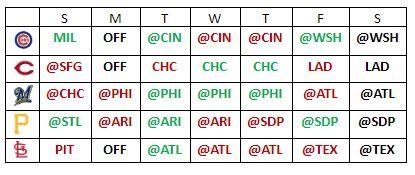 YESTERDAY'S NL CENTRAL SCOREBOARD