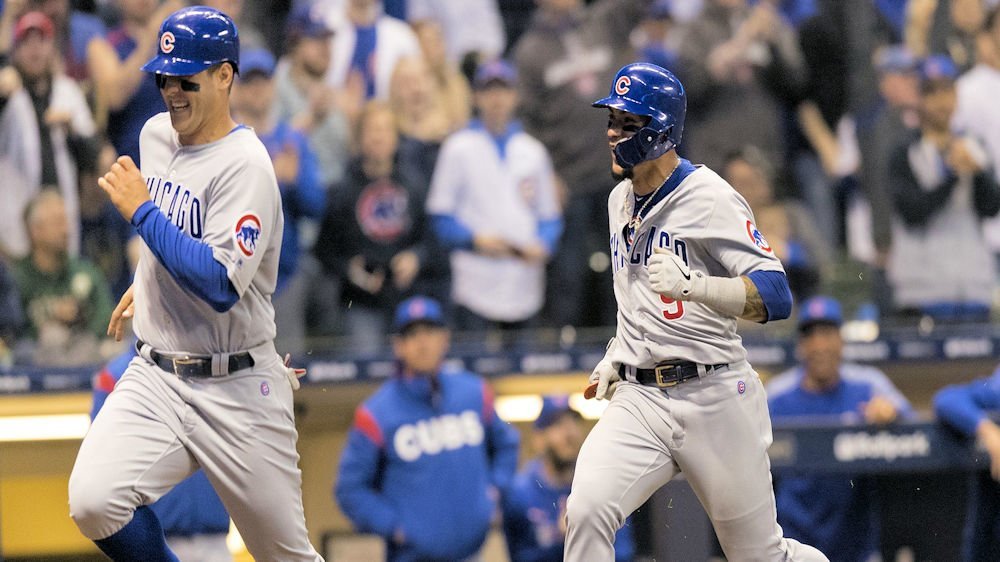 | | |
| --- | --- |
| Fly the W, Cubs homer happy, Edwards demoted, Monty hurt, standings, and MLB News | |
---
| | | |
| --- | --- | --- |
| Sunday, April 7, 2019, 9:33 AM | | |
Next Game: Today, 1:10 PM. Cubs @ Brewers: Kyle Hendricks (0-0, 4.15 ERA) vs RHP Zach Davies (0-0, 3.60 ERA).
Cubs' Home Opener: TOMORROW. April 8 vs. Pirates: Game time: 1:20 PM Central. (ABC-7, MLB.TV)
CUBS NEWS AND NOTES:
Saturday's Game Recap: Cole Hamels made his second start of the season last night, against a red-hot Brewers team led by the righty Corbin Burnes. The Brewers left the gate fast with a leadoff home run, but Javier Baez, Victor Caratini and Jason Heyward (TWICE) would all homer for the Cubs, on their way to snapping a six-game losing streak. Final Score: Cubs- 14; Brewers- 8.

Carl Edwards, Jr.: Shortly before receiving the news that he'd been optioned to Triple-A Iowa, Carl Edwards, Jr. said, "I'm a great baseball player, I 'm just in a rough patch right now." Edwards gave up what proved to be the game-winning homer Friday night in the Cubs 13-10 loss to Milwaukee. Edwards will join Happ in Des Moines for an undetermined amount of time.
Mike Montgomery After struggling to start the season, Mike Montgomery has been placed on the 10-Day IL for a left lat strain.
Call-Ups: Replacing Edwards is RHP Allen Webster, replacing Montgomery is LHP Kyle Ryan.
Losing streak: Joe Maddon: "What we're going through right now would have happened at some point during the season. When it happens during the year, then it's disguised more readily by your record. When you don't have a record, it stands out like a neon, flashing sign." Joe Maddon also says that "When you're going through hell, just keep on going." In stark contrast, my father, one of the wisest men I ever knew, used to say, "The best thing about beating your head against a brick wall, is that it feels really damn good when you stop."
Offense isn't enough to win: The Cubs are the only team to score ten runs in a loss this season, and they've now done it twice. Last year only two teams did that as many as two times (PIT & COL). The last time the Cubs did this was 2002 (twice), and in 1993 they set a modern-era franchise by losing four times when scoring 10 or more.
Kris Bryant: KB says the 1-6 start is "Going to make our story that much better." Bryant goes on to say, "We've lost plenty of games in our lives, and we've won plenty of games. We've gotten plenty of hits, we've made great plays. That's how I look at it. We've all been playing this game a long time. We've seen some crazy things happen, I get the fans' outlook, but for us, [we've] just got to keep plugging away."
Jeff Passan: ESPN's Jeff Passan tweeted, "I typically am not the guy to overreact to seven games ... but in the last 35 seasons, per @ESPNInfo, 68 teams have started 1-6 or worse, and only three have made the playoffs. In the last dozen years, just four have finished over .500. Right now, the Chicago Cubs are 1-6. None of the teams that made the playoffs after starting 1-6 since 1984 advanced to the World Series. The '95 Reds got swept in the NLCS, the '07 Phillies got swept in the division series, and the '11 Rays also lost in the division series. Suboptimal company for the Cubs."
Poor draft choices: Matt Bruckman (NBC Sports Chicago). "Since 1999, Cubs starting pitchers who have pitched 150 innings with a sub-5.00ERA that were drafted by the Cubs: Jeff Samardzija, Randy Wells, Rich Hill, Greg Maddux, Mark Prior, and Kerry Wood.
Since 1999, bullpen arms with at least 50 innings and a sub-5.00ERA who were drafted by the Cubs: James Russell, Sean Marshall, Andrew Cashner, Angel Guzman, Will Ohman, Kyle Farnsworth, and Terry Adams. They HAVE to figure out how to draft and develop pitching, so they don't have to rely on spending money on aging arms."
Minor League affiliate updates: Friday: Dewees 3-for-3 with HR, 3B in Iowa's 8-2 loss. Duane Underwood, Jr's line: 3 1/3 IP 4 H 4 R 4 ER 4 BB 2 Ks. At Tennessee, Nico Hoerner 2-for-4, RBI. At Myrtle Beach, Miguel Amaya 2-for-4, HR, 2 RBI. Sanders combined with two other pitchers on a 4-hit shutout for South Bend.
Cub Birthdays: Birthday wishes (yesterday) to ex-Cubs Thomas Diamond (36), Phil Regan (82), and posthumously, Don Elston (90) and Rudy Schwenck (135).
NL Central Schedule (April 7 - April 12, 2019)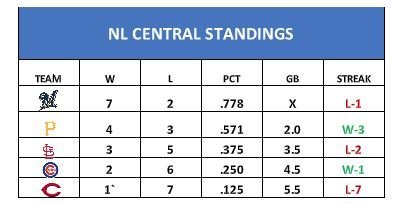 MLB News:
Red Sox: The Red Sox have announced roster changes. Holt hits the 10-day IL with a scratched cornea in his right eye, while Johnson is placed on the 10-day IL with left elbow inflammation. The R-Sox have called up righty reliever, Marcus Walden to fill-in.
Rockies: The Rockies and right-hander, German Marquez have agreed on a five-year, $43M extension, with a club option for a sixth year.
Twins: The Twin are calling up right-hander Chase De Jong, while designating first-baseman, Tyler Austin, for assignment.
TUESDAY'S SCOREBOARD