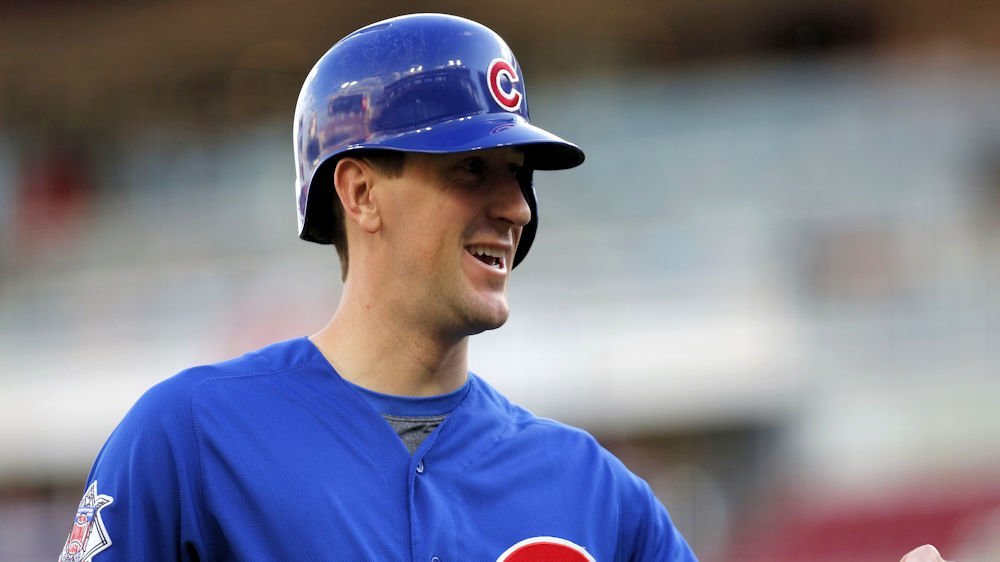 | | |
| --- | --- |
| Cubs News: Fly the W, Hendrick's gem, KB's streak, Yu or Jake, standings, more | |
---
| | | |
| --- | --- | --- |
| Wednesday, May 15, 2019, 8:03 AM | | |
Next Game: Today, 5:40 PM CDT: Cubs vs Reds. RHP Yu Darvish (2-3, 5.40 ERA) vs RHP Tanner Roark (3-1, 3.27 ERA).
CUBS NEWS AND NOTES:
Tuesday's Game Recap: After beating Milwaukee and recapturing first place, the Cubs arrived in Cincinnati for a 3-game set. Flaming hot, Kyle Hendricks took the mound last night to face Tanner Roark, as the Cubs looked to expand their lead in the NLC.
The Professor put on an absolute clinic last night, in both the pitching and hitting departments. In addition to going 8.0+ innings, allowing only three hits and one run, Hendricks went 3 for four at the plate with a two-run double (which would turn out to be the game-winning RBI), and a pair of singles, all line drives, and all hit sharply to center. Hendricks' one out was also a line drive rocket but was caught by Dietrich at second base. Hendricks' dropped his ERA from 3.19 to 2.86 with this outing, while at the same time raising his batting average from .067 to .211. This was the first time Kyle has racked up three hits in a game, although he's managed two hits a total of 5 times.
The answer is:@kylehendricks28 pic.twitter.com/MhSckPQStd

— Chicago Cubs (@Cubs) May 15, 2019
The Cubs tacked on a run courtesy of a sac-fly by Willson Contreras, but this highlight reel belongs solely to Kyle. Hendricks is however human, after all, he did give up a solo homer to Joey Votto, and (gasp) walked a man to start the ninth. Cubs win, by a final of 3-1.

Cubs/Reds Probable Pitchers: THURSDAY: LHP Jose Quintana (4-2, 3.50 ERA) vs RHP Luis Castillo (3-1, 1.97 ERA).
Schedule weirdness: Now Mid-May, and this is the first time the Cubs have faced the Reds this season. The season is also about 25% complete, and yet the Cubs 3-game set in Cincinnati is only the second time the Cubs have made a road trip to face an NLC opponent this year (they played in Milwaukee in early April). They won't visit St. Louis (boring town) until the very end of May, and they won't see Pittsburgh until July.
The streak goes on: Kris Bryant reached first on an error in the first last night (which counts for his on-base streak), but that wasn't good enough. KB would go 3 for five on the night (desperately trying to keep up with Hendricks?), extending his streak to 23 games.
KB igniting the offense: Christopher Kamka (NBC Sports Chicago) points out that Kris Bryant's 22-game on-base streak (beginning on April 17) seems to be doing wonders for other Cubs. During that time, Bryant's OBP is.450, Anthony Rizzo's is .417, Kyle Schwarber's is .411, Willson Contreras' is .393 and Javier Baez's is .374. Combined, those guys now have an OBP of .409 since this streak began.
Same team? From the Cubs' notes: The bullpen has a 2.18 ERA and .576 OPS against in the last 29 games starting April 7 after compiling a 9.51 ERA and 1.041 OPS against in the 1st eight games from March 28-April 6.
Mooney knows: Patrick Mooney (The Athletic) knows the score (pun intended). The article is by subscription only, but the tweet says it all.
The Cubs have all the elements of a combustible team, PECOTA predicted a last-place finish, and yet here they are as a legitimate World Series contender once again. What we've learned by the season's quarter mark:

May 14, 2019
Movin' on up: In the latest round of ESPN's Power Rankings, the Cubs have moved up again. While all five of the NLC teams rank in the top-17, the Cubs are currently rated the highest at #4. Following the Cubs (much like in the standings), are the Brewers (7), the Cards (9), the Pirates (16) and the Reds (17).
Looking ahead; Cubs/Nationals: Here are the (probable) starting pitchers for the Cubs/Nats series, which will be played Friday through Sunday (5/17-5/20). FRIDAY: LHP Cole Hamels (3-0, 3.08 ERA) vs RHP Max Scherzer (2-4, 3.64 ERA). SATURDAY: LHP Jon Lester (3-1, 1.16 ERA) vs RHP Stephen Strasburg (3-3, 3.63 ERA). SUNDAY: RHP Kyle Hendricks (2-4, 3.19 ERA) vs. RHP Jeremy Hellickson (2-1, 5.52 ERA).
Yu or Jake? Many Cubs fans feel that Yu Darvish was Jake Arrieta's replacement, and while that's not exactly true, I understand why it may be perceived that way. As my friend (and I use that term loosely), Dan Marich, pointed out on our message boards, "Teams don't look at it like fans do. Team Theo wasn't sitting in his office with a big board and moving names around, thinking this guy replaces that guy."
No matter how you wish to view it, here's something that may interest you (or Yu). I never look at the probable pitchers more than one series at a time for obvious reasons (weather, injuries, etc.), but after completing the series with the Nationals, the Cubs will head north to face the Phillies. As of now, barring any unforeseen changes, Darvish will square-off against Arrieta on Monday night.
It's 3:00 AM: Former Cub, Tommy La Stella, has been on a home run rampage. Now with ten homers this season, tying what he'd accomplished in 396 previous games. Also, La Stella has fanned only eight times, making him only the second Angel in the club's history (and the first since 1961) to have ten homers and less than 10 Ks.
Tommy La Stella had 10 HR in 396 career games entering this season ...

He has 10 already this year.

La Stella had never hit a HR to the opposite field in his career before tonight. (h/t: @DevanFink) pic.twitter.com/hcv7EB6VMM

— MLB Stats (@MLBStats) May 14, 2019
More domestic violence: You'd think players would learn a lesson from guys like Addison Russell, who was recently suspended for 40 games, stemming from an incident of domestic violence, but nope. Dodgers LHP, Julio Urias, was arrested on Monday night for allegedly arguing with, and then shoving to the ground, a woman that he was out with. Urias posted a $20k bond before being released from jail yesterday morning. MLB will be investigating.
Yesterday's Cub Birthdays: Happy birthday to ex-Cubs Efrén Navarro (33), Dave LaRoche (71), Dick Tidrow (72), and posthumously, Wellington "Wimpy" Quinn (101).
NL CENTRAL SCHEDULE (May 12 – May 18, 2019)
(Wins are in green, losses in red)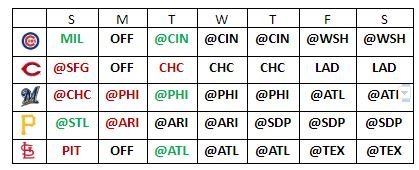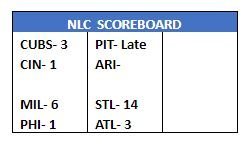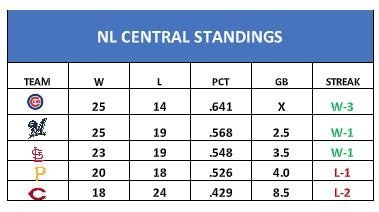 Tags: Cubs Baseball
,
Yu Darvish
,
Kyle Hendricks
,
Willson Contreras
,
Jose Quintana
,
,
Anthony Rizzo
,
Kyle Schwarber
,
,
Cole Hamels
,
,
Jake Arrieta
,
Tommy La Stella
,
Addison Russell