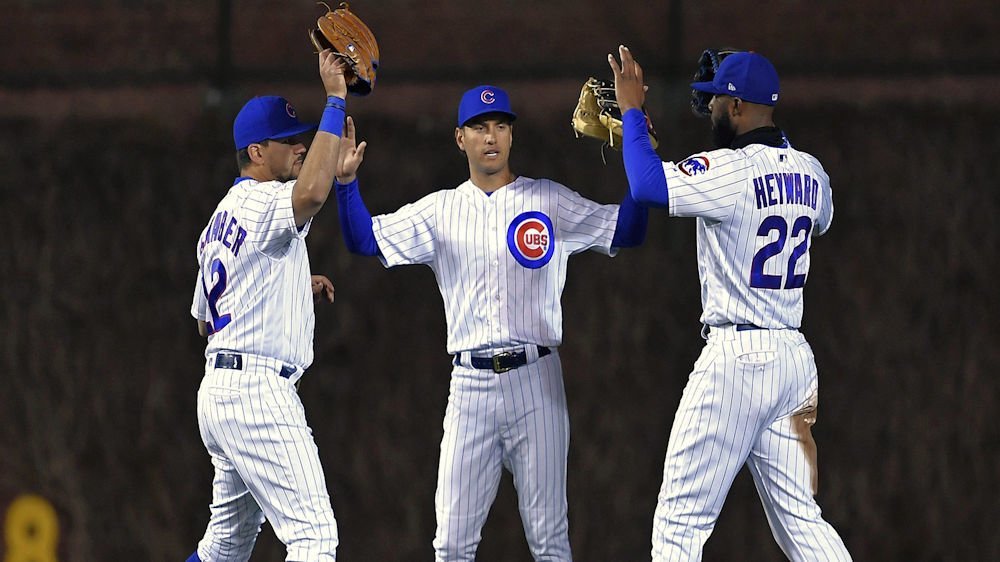 | | |
| --- | --- |
| Cubs News: Fly the W, Quintana on fire, El Mago with magic tricks, Bote with baby Sullivan, more | |
---
Next Game: Today: 7:05 PM, Dodgers vs Cubs. RHP Walker Buehler (2-0, 5.40 ERA) vs LHP Cole Hamels (3-0, 2.77 ERA).
CUBS NEWS AND NOTES:
Tuesday's Game Recap: After an off-day on Monday, the Cubs rolled out the welcome mat for the Dodgers, for a 3-game set which began last night. The Dodgers trotted RHP Kenta Maeda to the mound to battle against Cubs' lefty, Jose Quintana. Maeda has been good, Quintana better, and both offenses have a flair for scoring multiple runs, but last night, it was all Cubs.
The key to neutralizing Maeda's effectiveness is to knock him off his guard early, and the Cubs did just that, scoring 4 in the first, then 2 in the second. The Cubs wouldn't score again until the seventh, but it was already way more than they needed. Contributing to the scoring were homers by Anthony Rizzo and Javier Baez, and a three-run double by Willson Contreras. Quintana was also solid again (going yet another 7.0 innings), even if the balls and strikes being called weren't exactly consistent. Players and managers alike complained, but in the end, at least everyone was being burned equally.
Final score 7-2, Cubs.

Dodgers/Cubs Probable Pitchers: Thursday: RHP Ross Stripling (1-1, 3.07 ERA) vs Cubs TBD (will either be Kyle Hendricks or Jon Lester.)
Now you see him, now you don't Javy Baez never ceases to amaze me. Only he could ground to a first-baseman, standing 3 feet from the bag, and wind up safe.
HIT 'EM WITH THE JUKE, JAVY. pic.twitter.com/Xsc4VM65YV

— MLB (@MLB) April 24, 2019
Contreras on Baez: "We call him El Mago for a reason. I love this guy. He's got the best instincts in the game, and what he did tonight was awesome."
Quintana's pretty quick Fielding your position is one thing, but this was fielding, self-defense and fighting for your life all in one play:
THIS IS HOW YOU KEEP YOUR HEAD ON A SWIVEL ?? #SCtop10

(via @MLB) pic.twitter.com/eg2dMWxEqM

— SportsCenter (@SportsCenter) April 24, 2019
Boomers: Like the long ball? Rizzo and Javy have a little somethin'- somethin' for you:
Burn them all. ?? pic.twitter.com/CeLYuikMfs

— Chicago Cubs (@Cubs) April 24, 2019
Cole Hamels: For all of the terrible signings and trades over a couple of years, Theo Epstein pegged it when he sent pitchers Eddie Butler and (prospect) Rollie Lacy to the Rangers for Cole Hamels. In 102.1 innings (total of 16 starts) with the Cubs, Hamels has now posted a 7-3 (.700) record, a 2.46 ERA, racked up 97 strikeouts, walked only 26 (out of 405 batters faced), and has earned himself a WHIP of just 1.036, while his strikeout to walk rate currently sits at 3.73.
Bote 4.0: Congrats to David Bote and his wife on the birth of their son, Sullivan Bote which is their third child. (Apparently a lot of celebrating in the Bote house after all of these walk-offs…)
Brandon Morrow It has now been announced that Morrow has been shut -down "indefinitely," dealing yet another blow to the Cubs' bullpen and Theo Epstein's recent track record for bad signings. This should come as no surprise to anyone, as Morrow has now spent a total of 731 days (as of today) on the IL in his 13-year, MLB career, comprised nine different stints, including 150 days as a Cub. I recently commented on our CubsHQ message boards that Morrow had probably pitched his last game as a Cub. Of course, CubsHQ columnist, Dan Marich scoffed at me, but it looks like I'm not the only one who thinks so (see the link below for Jesse Rogers' article, and don't forget to join our message boards- 100% free- just create a log-in).
Bullpen Trade Scenario? In an article by ESPN's Jesse Rogers, Jesse suggests that a trade between the Cubs and White Sox (Mike Montgomery for Alex Colome) could help the Cubs bullpen issues. Rogers points out that Monty wants to be a starter, but still currently ranks behind Tyler Chatwood as both the spot-starter and long-inning relief man. Montgomery is still under club control until 2022, making him an attractive trade piece, while Colome remains controllable until 2021. This suggestion by Rogers would address the closer role for the Cubs while giving Monty a shot at seeing more playing time. Not a bad idea, Jesse.
Jake Arrieta: Former Cubs' pitcher, Jake Arrieta, was never one to mince words. After Bryce Harper got himself ejected in Monday's Phillies/Mets game for arguing balls and strikes, Big-Jake took issue. "Look, I mean, he's got to understand we need him in right field, Arrieta said to the media. "I don't care how bad the umpire is. He wasn't great for either side. I'm out there trying to make pitches, and he misses some calls. So what? We need him out there. We were flat from start to finish. Two-hour delay, it doesn't matter. We have to be ready to play. We weren't, and it showed." For more, read the full story at CubsHQ.com.
Yesterday's Cub Birthdays: Happy birthday to ex-Cubs Emilio Bonifacio (34), Carlos Silva (40), and posthumously, Dolph Camilli (112), Ray Starr (113), and Joe Kelly (119).
NL CENTRAL SCHEDULE (April 21 – April 27, 2019)
YESTERDAY'S NL CENTRAL SCOREBOARD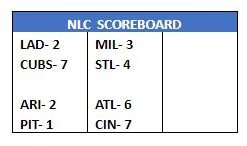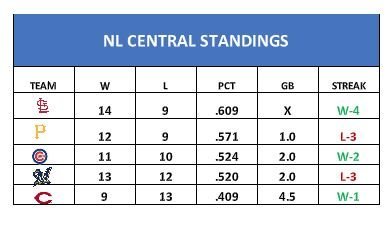 Tags: Cubs Baseball
,
Cole Hamels
,
Jose Quintana
,
Anthony Rizzo
,
,
Willson Contreras
,
Kyle Hendricks
,
,
Eddie Butler
,
David Bote
,
Brandon Morrow
,
Mike Montgomery
,
Tyler Chatwood
,
Jake Arrieta
,
Theo Epstein