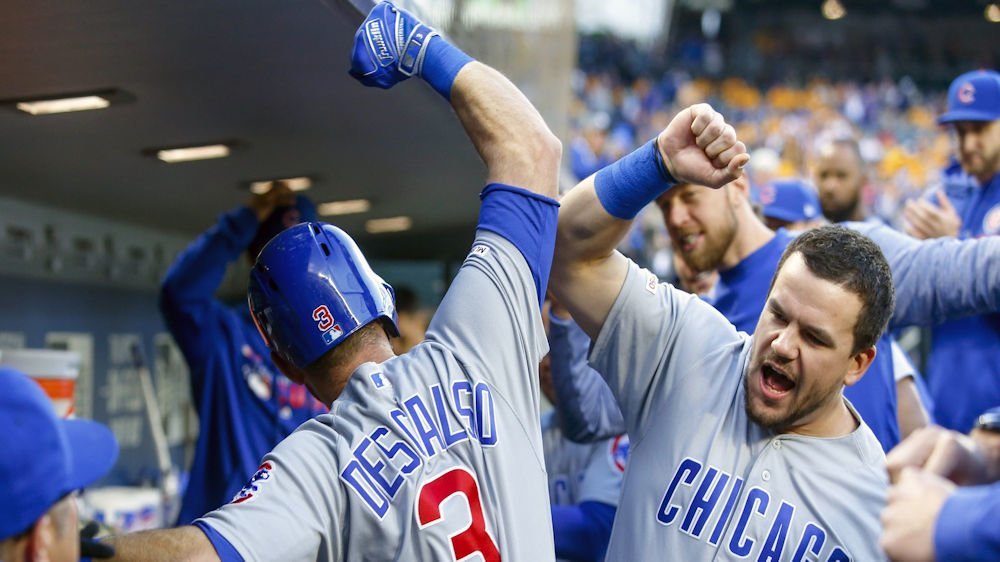 | | |
| --- | --- |
| Cubs News: Fly the W, Schwarber 440-foot blast, Russell to AAA, Baez and Sosa, more | |
---
| | | |
| --- | --- | --- |
| Wednesday, May 1, 2019, 8:07 AM | | |
Next Game: Today: 5:40 PM CDT: LHP Jon Lester (1-1, 2.47 ERA) vs LHP Marco Gonzales (5-0, 2.80 ERA).
CUBS NEWS AND NOTES:
Tuesday's Game Recap: The Cubs, coming off of yet another series win, took the northbound flight to meet up with the Mariners last night for the first of a two-game set that saw Cole Hamels (making his 400th career start) square off against Felix Hernandez.
Would you believe that going into last night, the Cubs were the only team in MLB without a leadoff home run? Daniel Descalso changed that on the second pitch of the game. Cole Hamels had an on-again, off-again kind of night, struggling some in the fourth, fifth and sixth, but overall, another decent performance. Hamels would receive no decision (nor would Hernandez), as the bullpen took over in the sixth.
In a game that saw multiple lead changes on a total of four home runs (Descalso, Rizzo, Schwarber for the Cubs, Encarnacion for the Mariners), the Cubs emerged as victors by a final of 6-5.

Russell stays in Iowa: Per Theo Epstein, Addison Russell will be optioned to AAA Iowa on Friday, the date his suspension expires. Epstein called it a baseball decision as they continue to monitor Russell's progress according to reports. There is no timeline, but he is expected to be in Iowa for at least a few more weeks and will split time at second and shortstop.
Cardinals/Cubs Probable Pitchers: Friday: vs RHP Jack Flaherty (3-1, 4.06 ERA) vs RHP Kyle Hendricks (1-4, 5.33 ERA). Saturday: RHP Michael Wacha (2-0, 4.64 ERA) vs RHP Yu Darvish (2-3, 5.02 ERA). Sunday: Adam Wainwright (2-2, 3.96 ERA) vs LHP Jose Quintana (3-1, 3.48 ERA).
Belated April fools? Maybe the end of March and that first week of April was just some sort of cruel joke being played by the Cubs, I mean, after all, they did go 2-7 to start the season, and they were outscored 67-60. Since that time, they've produced a 13- 5 record, outscoring their opponents 87-51. Keep it up boys, long way to go.
Kyle Schwarber: Entering the series with the Mariners, Kyle Schwarber was just one home run away from tying Barry Bonds and Mike Piazza for most homers by an NL DH.
.@kschwarb12 is not DH-ing tonight. #EverybodyIn pic.twitter.com/SxN47J4Pvk

— Chicago Cubs (@Cubs) May 1, 2019
Brandon Morrow: The injury plagued Cubs' closer had a steroid injection in his right elbow yesterday and won't resume throwing for 2-3 weeks. So much for seeing him at the beginning of May…
Jon Lester: It's been quite a while since Big-Jon balked on the mound- September 25, 2008, to be exact. Wondering how many pitches that's been? 35,595.
Kyle Hendricks Hendricks top speed on any pitch this season has been just 88.1 mph. The last time the Professor touched 90 mph was last season (527 pitches ago).
Addison Russell: As Russell's reinstatement date looms, the latest conspiracy has emerged: Allegations that the Cubs have tried to silence the media concerning how they should cover Russell. Theo said it would be a "fireable" offense if he found out anyone with the Cubs influenced the media about anything, but especially on a sensitive subject like Russell's situation. I wrote a commentary a couple of weeks back about the possibility of a conspiracy that may be surrounding the Cubs, and this sort of thing plays right into what I suggested in the story. For those who are interested, the commentary should post later this week.
Slugging shortstops: Last year, so far as shortstops were concerned, only Manny Machado and Trevor Story had an OPS above .900. So far this season, a total of six shortstops have an OPS above .900, and neither the names Story nor Machado are nowhere to be found. In Order: Elvis Andrus- 1.022 (Rangers), Tim Anderson- 1.009 (White Sox), Paul DeJong- 1.005 (Cardinals), Jorge Polanco- .998 (Twins), Javier Baez- .996 (Cubs) and Fernando Tatis, Jr.- .910 (Padres).
From Cubs' notes: Cubs (14-12) assured of a winning March/April for 5th consecutive season. Cubs previously enjoyed a winning March/April in at least five straight seasons during the 6-year run (1921-26).
Baez/Sosa: There are only two Cubs in the history of the franchise to have 20+ RBI going into May: Sammy Sosa and Javier Baez.
Bryzzo comes to life: In the first 17 games of the season, Bryzzo slashed (as a team) .189/.318/.331, with four homers, 19 walks, and 33 strikeouts. In the last nine games, the duo has slashed .284/.417/.624, with four homers ten walks and only nine strikeouts.
Jason Heyward: There are currently only four players in the majors with at least five more walks than strikeouts. (1) Jason Heyward (17 walks, 12 K); (2) Mike Trout (28 walks, 13 K); (3) Maikel Franco (14 walks, 9 K); and (4) Tommy La Stella (10 walks, 5 K). Interestingly enough, La Stella is also the only player in MLB with at least five homers, and more homers than strikeouts (7 HR, 5 K).
Bullpen: While the pen has been excellent as of late, their walk rate still stands at 14%. Far better than what it was, but far below where it should be.
Buddy Bailey: Buddy Bailey, the manager of the South Bend Cubs, is closing in on a milestone: 2100 wins (which would be 9th all-time in the minors).
Yesterday's Cub Birthdays: Happy birthday to ex-Cubs Joe Strain (65), Bob Hendley (80), and posthumously, Walter "Jumbo" Brown (112), Tony Murray (115), Charley Jones (167), and Dave Eggler (170).
NL CENTRAL SCHEDULE (April 28 – May 4, 2019)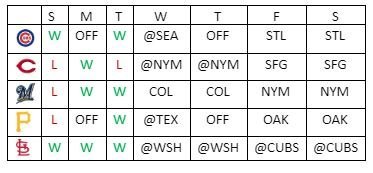 YESTERDAY'S NL CENTRAL SCOREBOARD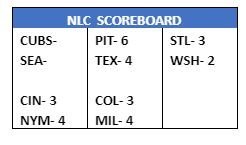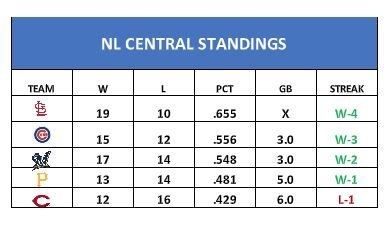 Tags: Cubs Baseball
,
,
Cole Hamels
,
Daniel Descalso
,
Addison Russell
,
Kyle Hendricks
,
Yu Darvish
,
Jose Quintana
,
Kyle Schwarber
,
Brandon Morrow
,
,
Jason Heyward
,
Tommy La Stella
,
Theo Epstein