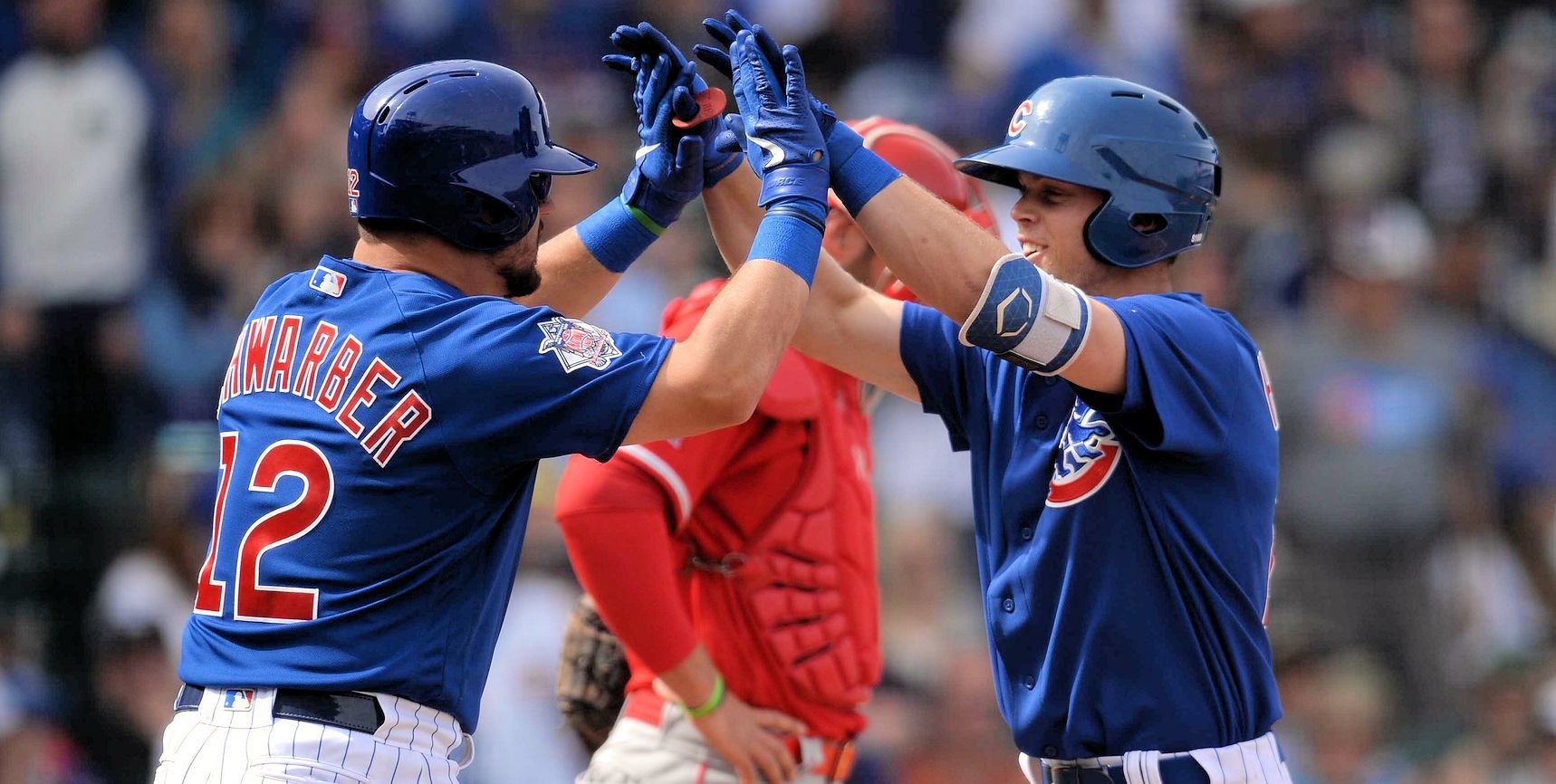 | | |
| --- | --- |
| Fly the W twice, Hoerner hitting .833, Cubs trim roster by 15, and MLB notes | |
---
Upcoming games: March 10, 2:05 PM Central, Cubs at Brewers (Hendricks vs Burnes). The game will be televised on WGN, MLB.TV and Brewers FSWI (for those of you who may live in Wisconsin.
The Cubs will have an off-day on Monday but will return on February 12 to host the Reds at 9:05 PM Central (Pitchers TBD).
Cubs' Opening Day: 18 days. March 28 @ Rangers; (Lester vs TBD). Game time: 3:05 PM Central. (WGN, MLB.TV).
Cubs' Home Opener: 29 Days. April 8 vs. Pirates: Game time: 1:20 PM Central. (ABC-7, MLB.TV)
Saturday's Game Recap (1 of 2): Duane Underwood, Jr. got the start yesterday afternoon, against the Angels after Alec Mills was scratched due to back pain. The Angels would send righty, Griffin Canning (0-0, 11.57 ERA) to the mound. Both teams entered the game with records of 9-6.
The Halos would score in the first, but by the time the third inning was over, they'd never catch up to Chicago on another day that would see prospect, Nico Hoerner, go 2 for 2 with a walk, then reach again after a pitch hit him.

Saturday's Game Recap (2 of 2): In the second game, veteran lefty, Cole Hamels (1-0, 0.00 ERA), would take the mound for Chicago (9-6), squaring-off against righty, Dereck Rodriguez (0-1, 3.86 ERA) for the Giants (5-7).
The Cubs decided to go for the sweep today, shutting out the Giants for their second win of the afternoon by a final of 8-0. With the second win yesterday, the Cubs propelled themselves into first place in the Cactus League standings.

CUTS begin in Mesa; Cubs' roster now at 55: Sent to minor-league camp: RHPs-Duncan Robinson, Craig Brooks, Carlos Ramirez, and Colin Rea. LHPs: Ian Clarkin and Alberto Baldonaldo. Outfielders: Charcer Burks, Evan Marzilli, and Jacob Hannemann. Catcher, Ian Rice. Optioned to Double-A Iowa: Righties Jen Ho Tseng and Adbert Alzolay. Alzolay and Steele were not able to appear in a spring training game because of injuries. Optioned to Double-A Tennessee: LHP Justin Steele, and RHP Oscar De La Cruz. Released: RHP Rob Scahill, who had two spring training appearances with an 11.57 ERA.
Mark Zagunis: After being hit in the hand by a pitch on Thursday night (vs. Mariners), Mark Zagunis became a late scratch for Maddon on Saturday. Zagunis was initially scheduled to start in right vs. the Giants. The injury is not considered serious.
Cubs' Trade: Yesterday, the Chicago Cubs sent RHP Stephen Ridings, their 2016 8th round pick, to the Kansas City Royals in exchange for outfield prospect Donnie Dewees. Dewees is a former Cub who was drafted by the team out of North Florida in the second round of the 2015 draft. Last season, he batted .266 with eight homers between Double-A and Triple-A within the Royals organization. During his four seasons in the minors, he has hit .271 with 27 homers and 209 RBIs.
A big welcome back to the Cubs organization to former South Bend Cub @DonnieDewees!#TheReturn pic.twitter.com/LJS4zDHW5O

— South Bend Cubs (@SBCubs) March 9, 2019
Nico Hoerner: Commenting on shortstop prospect, Nico Hoerner's 3-3 day on Thursday, Joe Maddon had the following to say: "Watching his swing from the side, the way the bat comes through, I would think he's purely just a good low-ball hitter, [Seunghwan] Oh [was on the mound] and I was curious, because he's an elevated fastball dude. [Hoerner] turned that thing around like it's nothing." Maddon added, "Our guys told me they wanted him to play because there's a lot of confidence to him, and this kid is showing pretty well. He's not far away… If he catches the ball as well as everybody says he does and is able to work at-bats like we've seen, he's not far off."
If what he'd already done wasn't enough to impress Maddon, his teammates, and the fans, Hoerner started at short yesterday against the Angels, going 2-for-2 with a home run and a double, followed by a walk, then reaching a fourth time when he was hit by a pitch. In just two outings, he has now gone 5-for-6, with a triple and a homer, and amassed a slash-line of .889/1.833/2.722.
Rain delays: What do the guys do during a rain delay? Ben Zobrist, Javier Baez, Kyle Schwarber and Jason Hayward explain.
#FromLeftField: What's the best way to spend a rain delay? ??

The @Cubs know a thing or two about that. ?? pic.twitter.com/XKvwVTm1mY

— Cubs Talk (@NBCSCubs) March 9, 2019
Happy Birthday: Cubs' 3rd base coach, Brian Butterfield is celebrating today as he turns 61. Happy birthday, Butter!
Saturday's Scoreboard: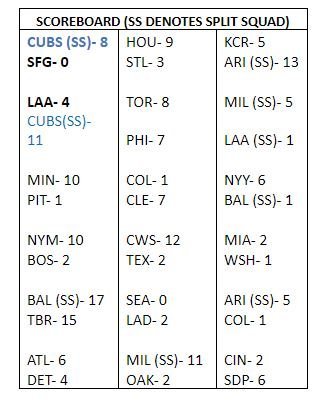 SUNDAY (EST): 1:05 PM: ATL @ MIA, BOS @ TBR, NYY (SS) @ DET, TOR @ MIN, PHI @ BAL, WSH @ HOU, PIT @ NYY (SS). 1:10 PM: STL @ NYM. 4:05 PM: CUBS @ MIL, ARI (SS) @ CIN, SDP @ KCR, TEX @ SFG (SS), OAK @ CWS, SFG (SS) @ OAK (SS). 4:10 PM: CLE @ SEA (SS), LAD @ COL, SEA (SS) @ LAA. 5:10 PM: COL (SS) @ ARI (SS).
MONDAY (EST): CUBS OFF-DAY… 1:05 PM: TBR @ PHI, PIT @ ATL, DET @ MIN, NYM @ HOU, WSH @ STL. 4:05 PM: CIN @ CLE, LAA @ TEX (SS), SFG @ LAD, CWS @ MIL, OAK @ COL. 9:40 PM: KCR (SS) @ SEA. 10:05 PM: KCR (SS)@ TEX.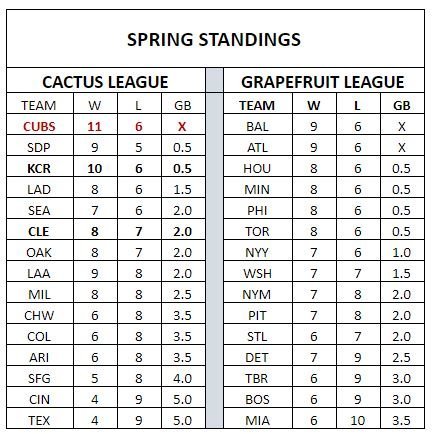 Other news from around MLB:
The Harper effect: According to The Athletic, "In the past week, Phillies gained 600% more followers than next team (Cubs), had almost 250% more interactions than next team (Red Sox) & interaction rate nearly 500% over MLB average." (Ken says: For $360M, I'd think they'd rather have him hitting and fielding at an All-Star caliber.)
In Harper's first appearance with the Phillies on Sunday, he went 0-1 with a pair of walks.
Dodgers: For the sixth straight year, Dodgers fans can't watch them play on television. With the season ready to begin, there are no active talks between the team and cable/satellite providers.
Mets: NY has released infielder, TJ Rivera.
Nationals: Washington has released LHP Sammy Solis.
Rays: Reports say that Tampa is on the verge of renewing LHP Blake Snell for one-year, $573k.
Royals: KC has signed free-agent catcher, Martin Maldonado to a one-year, $2.5M deal, plus an additional $1.4M in incentives for a possible salary of $3.9M, which is what Maldonado made last year. Maldonado was acquired to replace Salvador Perez who is down for the year after having TJ surgery.

Tags: Cubs Baseball
,
,
Cole Hamels
,
Jacob Hannemann
,
Adbert Alzolay
,
Justin Steele
,
Mark Zagunis
,
Ben Zobrist
,
,
Kyle Schwarber
,
Joe Maddon
,
Brian Butterfield