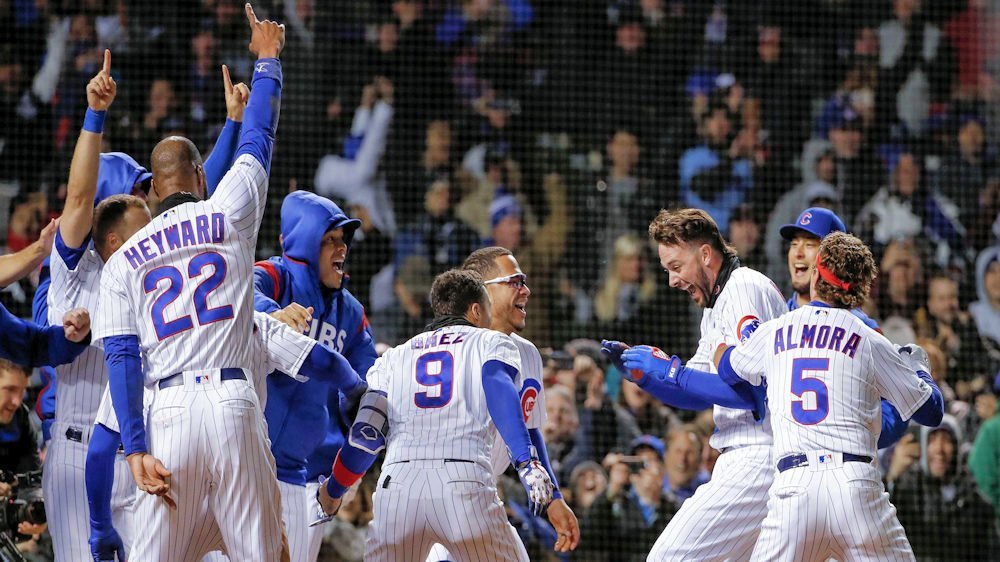 | | |
| --- | --- |
| Fly the walk-off W, Cubs back in first place, Javy's show, more | |
---
| | | |
| --- | --- | --- |
| Wednesday, May 8, 2019, 8:19 AM | | |
Next Game: Tonight: 7:05 PM CDT: Marlins vs Cubs. RHP Jose Urena (1-5, 5.45 ERA) vs RHP Kyle Hendricks (2-4, 3.93 ERA).
CUBS NEWS AND NOTES:
Tuesday's Game Recap: One ugly inning (the 9th) cost the Cubs dearly on Monday night. Looking to regroup, Jon Lester took the hill for Chicago last night, with Caleb Smith being assigned to face the Cubs. This would be a pitcher's duel until the ninth.
A rather boring game for the first eight innings, saw the teams tied at 2-each after eight, with neither of the Marlins runs being earned (great for Lester's ERA). The Cubs blew a chance in eighth, but after getting men on first and third (Kyle Schwarber and Daniel Descalso) in the bottom of the ninth with two away, "Mr. 9th Inning" (aka Kris Bryant) did it again. A three-run blast to center for the walk-off win. Final score: Cubs-5; Marlins-2.

This was the one game that I thought might be problematic for the Cubs in this series, based on Caleb Smith's numbers, but on we go. If the Professor and Darvish are on their games, the Cubs should cruise through the rest of this series.
Marlins/Cubs Probables: Thursday- 1:20 PM: RHP Trevor Richards (0-4, 4.10 ERA) vs RHP Yu Darvish (2-3, 5.79).
Pitchers must love unearned runs: The Marlins tapped Jon Lester for eight hits in 6.0 innings last night, scoring twice, but thanks to a pair of errors (Heyward, Schwarber), Jon's ERA not only didn't rise, it fell. Lester entered the game with a 1.73 ERA (5 ER/26.0 IP), by the time that he clocked out after six innings last night, it had fallen to just 1.41 (5 ER/27.0 IP). Lester's final line included the eight hits, 0 earned runs, no walks, and six punch-outs.
Shaking up the standings: With the Cards losing to Philly and both the Cubs and Brewers winning, the Cubs have reassumed first place, with the Cards and Crew not tied for second, each a half-game back. The Cubs will host the Brewers for a three-game set beginning Friday, and as always, I'll have a series preview for you.
Back on track: After an ugly outing by the bullpen on Monday night that saw four walks issued, the Cub relievers turned it around last night. Brandon Kintzler, Brad Brach and Steve Cishek each tossed an inning apiece, allowing only one hit, nor runs or walks, and together, they fanned six.
Javy's show: Javier Baez hit his 23rd extra-base hit (a double) on Monday night, putting him in the lead for all of MLB. Cody Bellinger (Dodgers) had led that category for most of the season, but he now trails Baez by one extra-base hit, along with Paul DeJong (Cards). Going into last night, Baez was tied for second in the N.L. with 30 runs scored, tied for fourth with 11 homers, sixth with a .650 slugging percentage and ninth with a 1.001 OPS.
Bryzzo: Kris Bryant's plate appearances and power came into question for the first month of the 2019 season, but a recent string of hits and walks, followed by back-to-back-to-back nights of eight and ninth inning homers, including a grand slam, a solo shot, and a walk-off dinger, are apparently KB's way of saying that everything is fine in Bryzzville.
The 3rd career walk-off home run for @KrisBryant_23!#EverybodyIn pic.twitter.com/Fcr1aaxMTh

— Chicago Cubs (@Cubs) May 8, 2019
As for the other half of the Bryzzo duo, going into last night, Anthony Rizzo had hit home runs in 5 of his previous eight games. Over the previous 15 games, had 13 extra-base hits, had batted — .351 (20-for-57) with a 1.256 OPS, 17 RBIs, six walks and 5 K's. As of Tuesday (before game time) Rizzo had 27 consecutive plate appearances without striking out.
Better than you'd think: Based on the 2-7 start it's hard to believe but going into last night the Cubs were 19-13. In 2018 they were 17-15 at this point, while in 2017 they were only 16-16. I'm still laughing at PECOTA's 79 game prediction for this team, as they are currently on pace to win 97 games.
All good things must end: Monday night's loss to Miami ended two streaks for Chicago. First, the Cubs had not lost this year when leading going into the ninth, and second, their streak of 11 straight wins when scoring 5 or more runs came to an abrupt stop.
Carl Edwards, Jr.: Edwards was recalled before Monday night's game, and although Joe Maddon said he wouldn't use him in a high-leverage situation on his first outing, but that's precisely what he did. Edwards fared well, retiring the side in order, despite more lousy calls from the home plate ump.
Decisions, decisions: With Mike Montgomery ready to return to the team, Joe Maddon has some decisions to make- well, sort of. Now that Edwards has been recalled, Dillon Maples is back in Iowa, limiting the choices of who to send back down to make room for Monty. Complicating the matter is that only certain players have minor league options remaining. It's a little complicated, but this link explains things.
Yesterday's Cub Birthdays: Happy birthday to ex-Cubs John Flavin (77) and posthumously, Al Epperly (101), Eddie Pick (120), Mickey Doolin (139), and Sam Shaw (156).
NL CENTRAL SCHEDULE (May 5 – May 4, 2019)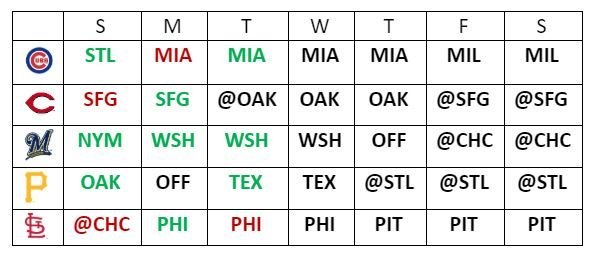 YESTERDAY'S NL CENTRAL SCOREBOARD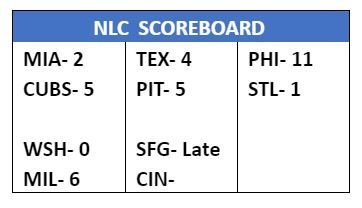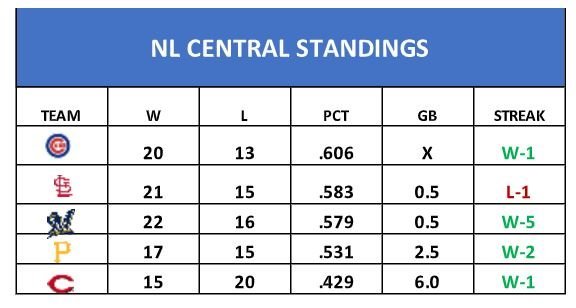 Tags: Cubs Baseball
,
Kyle Hendricks
,
,
Caleb Smith
,
Kyle Schwarber
,
Daniel Descalso
,
,
Yu Darvish
,
Brandon Kintzler
,
Steve Cishek
,
,
Anthony Rizzo
,
Mike Montgomery
,
Dillon Maples
,
Joe Maddon