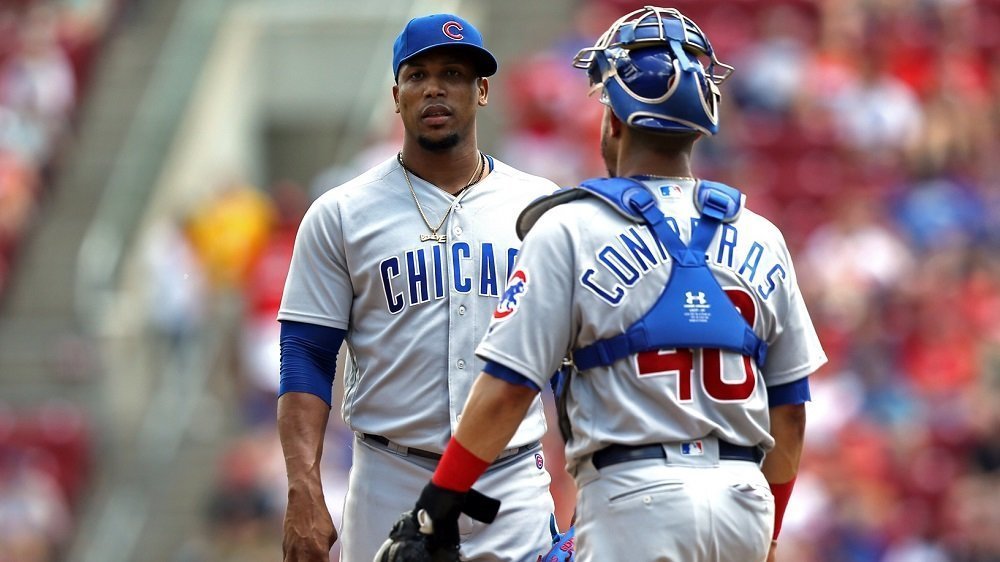 | | |
| --- | --- |
| Forget Harper, the Cubs need to shore up the bullpen | |
---
| | | |
| --- | --- | --- |
| Thursday, January 3, 2019, 9:27 AM | | |
There's little doubt that with the rotation seemingly set (Hendricks, Lester, Hamels, Quintana, and Darvish) and the Cubs' apparent willingness to go forward with the minimal changes they've made about the position players, the bullpen remains the most significant area of need.
True, there may be a need to find a backup for Javier Baez at shortstop, depending of course, on what the Cubs ultimately do about Addison Russell, but in the interim, Theo Epstein seems content with his infield. While the Cubs could also benefit by acquiring a power hitter to bat someplace in the top of the order, the likelihood of landing Bryce Harper seems to be fading, and guys like McCutchen and Brantley have already found new homes.
Back to the bullpen.
Brandon Morrow is projected to be out for the first month of 2019, and while Pedro Strop will undoubtedly handle the closing duties to start the new season, the Cubs still need to find replacements for the vacancies left by Jesse Chavez, Jorge De La Rosa, Justin Wilson, and Jaime Garcia.
Currently, there are no big free-agent relievers tied to the Cubs, although they had shown interest in Andrew Miller before he signed with St. Louis. I've heard rumblings about possible interest in David Robertson and Zack Britton, but there have been no official reports of talks between the team and the players' representatives. A guy like Craig Kimbrel could be handy, especially if Morrow's aches and pains persist, but his high demands for salary and contractual length will most certainly exclude the Cubs.
There are still some quality names out there via the free-agent market, but the Cubs may be forced to make acquisitions via the trade route. Herein lies the problem: Will they trade from the already depleted farm system, or will they be forced to cut into the core of the 25 man roster?
Jason Heyward's name reportedly continues to draw interest from the Giants, but rumors say that San Francisco wants Ian Happ as well. Seemingly, the Cubs' would be reluctant to dish off Happ in the same deal with Heyward, especially if their objective is to cut payroll, but if quality relief pitching is offered, there's no telling what may happen.
No names have been mentioned, so far, anyway, regarding the Giants contribution in any potential deal, but it would seem that the Cubs would trade Heyward more for cash than anything else at this point, but assuming they want MLB-level relief pitching from the Giants (especially if Happ does get factored in), who might be available?
MLB Trade Rumors hints that the Giants may have been waiting for Andrew Miller, Zack Britton, and others to sign before they started marketing their pitching staff, but that they would likely be willing to shop left-handed relievers, Will Smith and Tony Watson. Also entering the arena of rumors as possible trade-bait, is the name Mark Melancon (RHP).
Melancon's name has been specifically tied to rumors of a Heyward trade, as has the name Will Smith (closer). Although rumors state that this would be a trade to help the Cubs to facilitate being able to afford Bryce Harper, I don't see this as being feasible.
First, Heyward is owed a total of $118.5M over the next the next five years. Will Smith is entering his fourth and final arbitration year (2019), and although he played for a relatively small $2.5M in 2018, that figure was projected to rise to $4.1M for 2019.
Mark Melancon is a different story. Although controllable for two more years, Melancon is earning $19M for 2019 and 2020, which would mean that it would cost the Cubs about $23.1M for both Melancon and Smith. Heyward is owed $26.67M for 2019, leaving about $3.5M left to buy Harper with, and that's only if the Giants would be foolish enough to take on Heyward's entire contract. This is where Ian Happ may come into play.
Happ is under total team control for two more seasons, and then has arbitration years from 2021-2023. Happ's controllability, alone, would be worth all of Smith's salary, and perhaps at least a small portion of Melancon's, but assuming both Happ and Heyward go, who, if not Harper, do the Cubs start in right-field? Let's also not forget that there are still vacancies in the bullpen, even if the Cubs were to add both Smith and Melancon.
Further complicating the possibility of affording Harper is the fact that the Cubs are estimated to pay an additional $38.9M this year to the seven players due for arbitration (Baez, Hendricks, Bryant, Russell, Schwarber, Montgomery and Edwards, Jr.). Without Heyward's salary or those due arbitration, the Cubs are already to committed to $138M, factor in the abirritation salaries of $38.9M and even without Jason Heyward, the Cubs are on the hook for about $177M. That leaves approximately $29M to buy relievers, and maybe take a shot at Harper, but they can't do it all without crossing the luxury tax threshold of $206M. Also, bear in mind that the remaining $29M does not count for whatever portion of Heyward's salary the Cubs would be forced to eat.
With or without signing Bryce Harper, due to the Cubs depth, the scenarios are almost endless. Even without Happ and Heyward in the outfield, and presumably without Harper, the team still has Zobrist, Schwarber, Almora, Bryant, Zagunis, and Bote to help cover the grass.
While I'm not opposed to trading Heyward, and I still predict that Happ gets moved, the Cubs need to forget about Harper (who will most likely sign with LA or Philly anyway) and concentrate on the bullpen while putting the team together that will represent the north-side in 2019.