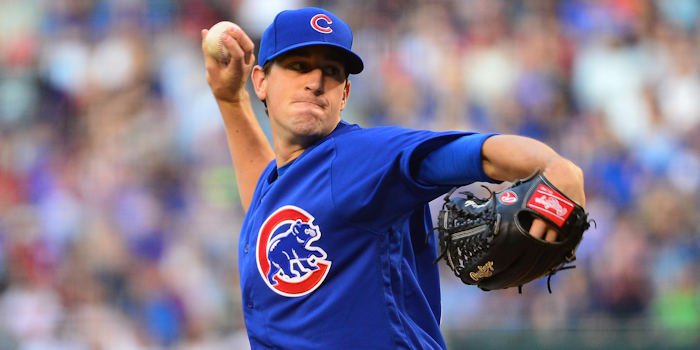 | | |
| --- | --- |
| Hendricks pitches a shutout to dominate Marlins | |
---
The Cubs' offense came out swinging as they took a 5-0 win against the Miami Marlins. Dexter Fowler, Addison Russell, Anthony Rizzo, Kyle Hendricks, and Matt Szczur all had hits in the game. Rizzo had a double and a triple as the Cubs had another impressive hitting display.
Kyle Hendricks pitched nine impressive innings and didn't allow any runs in the game as he got the shutout. Hendricks' ERA is now 2.22 which is third in the major leagues. He has a 1.19 ERA at home to lead the majors.
After the Cubs had come back in an epic fashion last night, they started things off early as Fowler took a walk in the first and was immediately followed up by an Anthony Rizzo double that was lost in the unforgivable ivy. Russell singled to right scoring Fowler and Rizzo as the Cubs took the early lead of 2-0.
The Marlins pitcher Adam Conley struggled to find the strike zone as he walked five Cubs players after two innings pitched. Dereck Dietrich tried to turn a ball hit into the alley into a triple, but the relay from Dexter Fowler to Javier Baez to Kris Bryant at third was perfect and Dietrich was called out on a beautiful play by the Cubs defense.
The Cubs scored again in the 5th inning as the pitcher Hendricks singled to left scoring Willson Contreras, which was immediately followed by a sacrifice fly from Fowler to score Matt Szczur as the Cubs were up 4-0 going into the 6th inning.
Rizzo led off the 6th inning for the Cubs with a triple and Baez hammered a ball to the outfield for a sacrifice fly as Rizzo scored and the Cubs went into the 7th leading 5-0.
The entire crowd gave Ichiro Suzuki a standing ovation as he entered the game in the 7th inning as he looked for his 2,999 hit, but was unable to get the big hit as he lined out.
Hendricks finished the game allowing only seven hits while walking only two. He struck out five on the day and didn't allow any runs. He was also the first Cubs pitcher to toss a shutout while collecting a hit, walk and RBI since Kevin Tapani in 1998 according to Comcast's Christopher Kamka.
The Cubs continue play against the Marlins on Tuesday as Jason Hammel will face off against Jose Fernandez on the pitcher's mound.