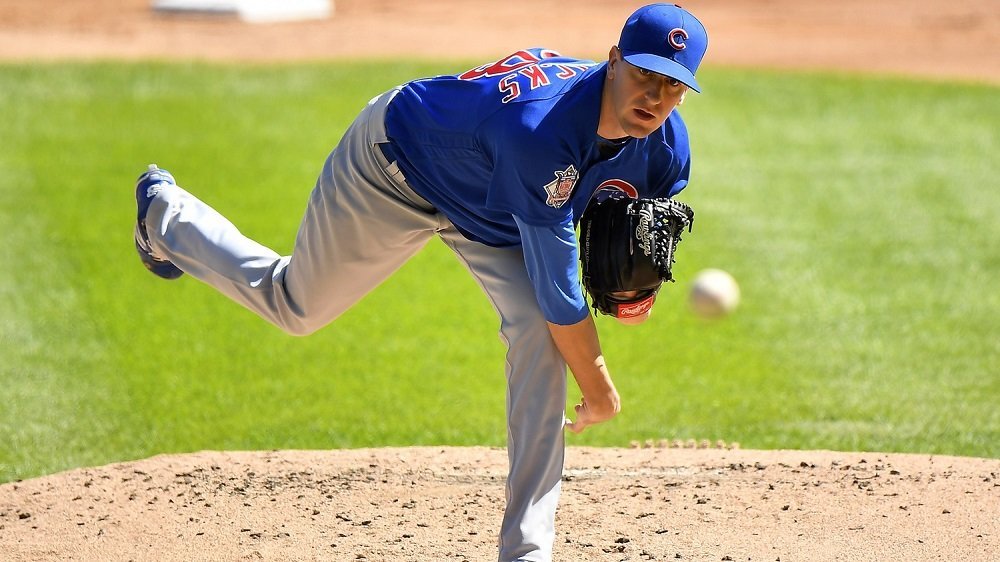 | | |
| --- | --- |
| Hendricks rocked in Cubs loss, Almora on fire, Baez and Rizzo homer, more | |
---
Next Game: Tonight: 8:40 PM, Cubs vs Diamondbacks. RHP Kyle Hendricks (1-3, 3.54 ERA) vs LHP Robbie Ray (0-1, 3.95 ERA).
CUBS NEWS AND NOTES:
Friday's Game Recap: After dropping the final game of the series with LA, the Cubs headed west to face the D-Backs for the second time in a week. Kyle Hendricks would look to build off of his last start, in which he threw 7.0 quality innings against the D-Backs, while Arizona sent lefty, Robbie Ray to the hill.
Arizona leads the NL in hits, and Kyle Hendricks leads a good portion of the league in the number of hits that he's given up. For the Cubs to win this game, Hendricks had to be at his best. Nope. After giving up seven earned runs in five innings on what seemed like 37 hits, not even a good night at the plate from Almora, or homers from Javy and KB could save this one.
Final score- Cubs-3; D-Backs-8.

Cubs/D-Backs Probable Pitchers: Saturday: RHP Yu Darvish (1-3, 5.96 ERA) vs RHP Zack Godley (1-1, 6.67 ERA). Sunday: LHP Jose Quintana (3-1, 3.21 ERA) vs RHP Luke Weaver (2-1, 3.33 ERA).
Albert Almora, Jr.: One of the last few Cubs in a severe batting slump, Almora came to life on Thursday night (vs. Dodgers) with a ninth-inning home run, but that was just the beginning. Last night he followed that up by opening the game for the Cubs with a leadoff single. Then he singled in the third. Then again in the fifth. Then he doubled in the seventh. Ironically, with two out in the bottom of the ninth, Almora would fan to end the game. Almora entered the game with a .196 batting average, but by the time it was over, Albert was batting .246.
Kyle Hendricks: In what was perhaps Hendricks' worst start of the year, nothing whatsoever went right. He gave up 3 in the first on four hits, another one in the third on back-to-back doubles, then capped that off by allowing another trio of runs in the fifth — final line: 5.0 IP, ten hits, seven earned runs, one walk, three strikeouts.
Adding insult to injury: Not that the loss last night was bad enough, but to add insult to injury, the Dodgers took out the Bucs previous night and the Reds disposed of the Cards, meaning that the Cubs would have been just 1.5 games back and in sole position of second place. Cubs now remain 2.5 games again.
#9 for #9: Javy. Baez. Enough said.
Transactions: Before last night's game, the Cubs optioned LHP Randy Rosario (6.43 ERA) to Triple-A Iowa and promoted RHP Dillon Maples. Maples has not had an MLB appearance in 2019, but he did post a 1-0 record and a 2.16 ERA in spring training this year, throwing a total of 5.1 innings.
Javier Baez: With a total of 47 plate appearances in the last two weeks (going into last night), Javy is slashing .400/.426/.822- Those numbers are good enough for a 4th place tie in all of MLB. Baez is also the first Cubs since 1908 to have at least 31 hits, eight homers and 21 RBI in the team's first 23 games. Baez's 31 hits consist of 16 singles, six doubles, a triple, eight homers, and he's homered in 4 of his last eight games.
HELP WANTED- Outfielder: The Giants are reportedly looking to deal with someone for an outfielder who's able to hit. Interesting, that over the winter, SF was rumored to be talking to the Cubs about a trade that would involve Ian Happ and Jason Heyward, in exchange for relief pitching. The likelihood of the Cubs trading Heyward, especially at this point, is probably unlikely, but they may still have interest in Happ. The Giants are reportedly talking to "several teams" at this point, though no specifics have been given.
Change of scenery: Last season Jesse Chavez went from average at best to a star in the Cubs' bullpen, and Cole Hamels did the same when he joined the rotation; sometimes a change of scenery serves you well. This seems to be the case with former Cubs' utility infielder, Tommy La Stella. As my friend, Tony Andracki, from NBCS Chicago, pointed out, in 303 games with the Cubs, La Stella hit nine homers in 509 at-bats; with the Angels, "3 AM" has now appeared in just 25 games (69 at-bats) and has already smoked a total of 7 dingers.
"A" for effort There's a lot of people who wish to emulate Javy Baez, the problem is no one but Javy can be Javy… maybe except for this guy…
El Mago-like. @javy23baez pic.twitter.com/j9Neywpj1m

— Baseball is Fun (@flippingbats) April 26, 2019
Yesterday's Cub Birthdays: Happy birthday to ex-Cubs Kosuke Fukudome (42), Curtis Wilkerson (58), and posthumously, Bob Zick (92), Ron Northey (99), Lewis "Hack" Wilson (119), Irv Higginbotham (137), and Fritz Clausen (150).
NL CENTRAL SCHEDULE (April 21 – April 27, 2019)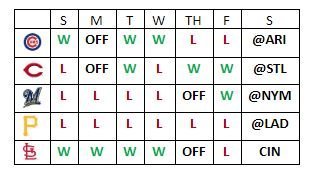 YESTERDAY'S NL CENTRAL SCOREBOARD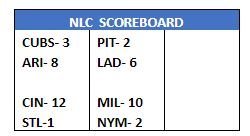 Tags: Cubs Baseball
,
Kyle Hendricks
,
Yu Darvish
,
Jose Quintana
,
Randy Rosario
,
Dillon Maples
,
,
,
Jason Heyward
,
Cole Hamels
,
Tommy La Stella