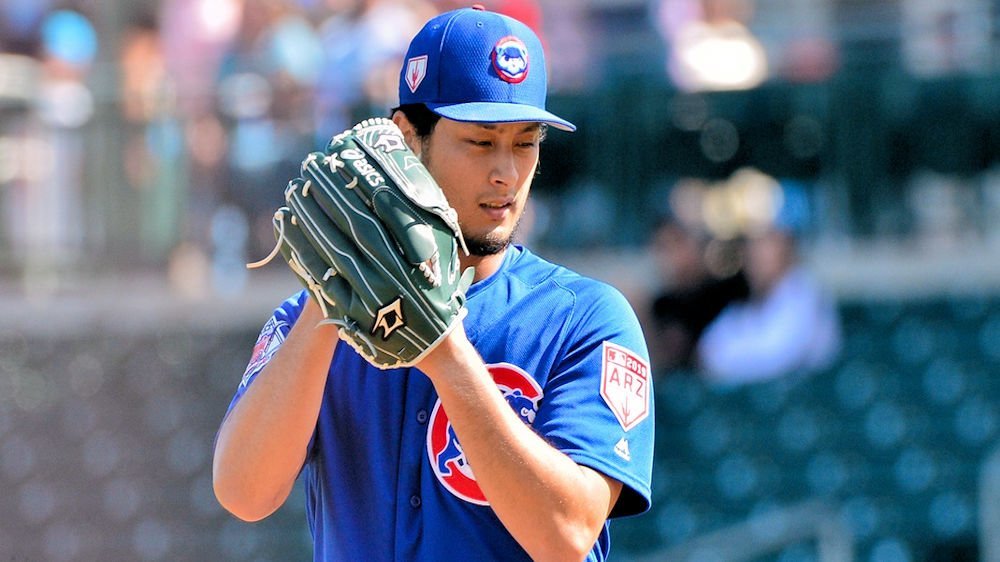 | | |
| --- | --- |
| Hoerner's perfect day, Darvish's BFF, Lester hates mimes, Seaver's diagnosis, MLB notes | |
---
| | | |
| --- | --- | --- |
| Friday, March 8, 2019, 8:06 AM | | |
Upcoming games: March 8, 7:40 PM (CST), Cubs at Mariners (Cubs TBD vs. Gonzalez). Televised on MLB.TV and Seattle RSNW. March 9, 2:05 PM Central, Angels @ Cubs (SS) (Pitchers TBD), also at 2:05 PM Central, Cubs (SS) at Giants (Pitchers TBD).
Cubs' Opening Day: 20 days. March 28 @ Rangers; (Lester vs TBD). Game time: 3:05 PM Central. (WGN, MLB.TV).
Cubs' Home Opener: 31 Days. April 8 vs. Pirates: Game time: 1:20 PM Central. (ABC-7, MLB.TV)
Thursday's Game Recap: The Cubs hosted the Rockies Thursday afternoon, with Jon Lester (0-0, 3.60 ERA) getting his third start of the spring against Rockies righty, Antonio Senzatela (1-0, 2.25 ERA). Despite an early 3-0 lead by Chicago, the Rox would have big innings against Lester and Kintzler, on their way to a 7-5 win.

Nico Hoerner: The Cubs first-round draft pick of 2018 (24th overall) had himself one helluva day as the DH on Thursday. Hoerner would go 3-3 with an RBI on a pair of singles, and a triple, then reaches base a fourth time after a pitch grazed his jersey.
#Cubs prospect Nico Hoerner put his skills on display yesterday against the Rockies.

The 2018 first-round pick went 3/3 with a Triple. pic.twitter.com/MIrR8nkMtH

— Cubs Talk (@NBCSCubs) March 8, 2019
Daniel Descalso: When questioned about his presumed leadership role, Descalso says, "I've been the new guy in the clubhouse a couple of times. If you come in and you're the loud guy, and you start ruffling feathers right away, you could put some guys off. I think you just come in, kinda feel your way out in the early parts of spring training and into the season, and then you really get a feel for a team and clubhouse and how things work and go from there."
Darvish/Hamels: When asked about Cole Hamels, Darvish says with a smile, "He's my almost best friend. Almost. I want to be in the same starting rotation with him."
That's my dream, too." In response, Hamels quipped, "Glad I got an 'almost' in there. We're working on it. He let me be next to him at his locker. That didn't happen in Texas. We were across the room. I guess we're getting closer."
Jon Lester: When asked about Camp Maddon, Jon says, "I don't really like mimes, so I don't mind those never showing up again. And I'm not a big magic person, so I don't mind skipping out on the magician. But the zoo was pretty cool. It's such a long season; you need to break stuff up and have fun."
Joe Maddon: When asked about Addison Russell's progress, Maddon replied, "He's been a model citizen here."
Jacob Hannemann: I always enjoy seeing players taking the time to make a little kid's day at the ballpark something extra-special- even if that kid happens to be his own. On Wednesday, I think Jacob Hannemann accomplished that mission when he tossed a ball to his toddler in the stands.
Jacob Hannemann, who spent last season with the @IowaCubs, with a leading contender for 2019's cutest baseball moment. ?? pic.twitter.com/lGjY83bTpy

— Minor League Baseball (@MiLB) March 7, 2019
Well wishes: This isn't Cubs related, but please indulge me. As a writer, most of my day (and evening) is spent at my desk, but during my "dinner break," my wife and I always sit down to watch "Jeopardy" together. On Wednesday night, host, Alex Trebek, announced that he'd been diagnosed with Stage 4, pancreatic cancer. This form of cancer is almost always fatal, but Trebek (age 78) is keeping a stiff upper lip. I wanted to take a moment to wish him the best. He released the following video statement:
Thursday's Scoreboard: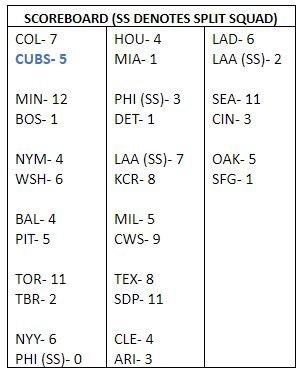 Friday's Games (EST): 1:05 PM: TBR @ MIN, TOR (SS) @ PIT (SS), BOS @ BAL, WSH @ STL (SS), PIT (SS) @ TOR (SS), MIA @ NYM. 2:05 PM: ARI @ MIL. 3:05 PM: CIN @ KCR (SS), SDP @ OAK, CWS @ LAA, TEX @ COL. 6:05 PM: PHI @ ATL, STL (SS) @ HOU. 6:35 PM: DET @ NYY. 8:05 PM: SFG @ CLE. 8:40 PM: CUBS @ SEA. 9:05 PM: KCR (SS) @ LAD.
Saturday's Games (EST): 1:05 PM: MIN @ PIT, NYM @ BOS, BAL (SS) @ TBR, ATL @ DET, HOU @ STL, TOR @ PHI. 3:05 PM: LAA (SS) @ CUBS (SS), COL @ CLE, CWS @ TEX, SEA @ LAD, MIL @ OAK, CUBS (SS) @ SFG. 3:10 PM: KCR @ ARI (SS), MIL @ LAA (SS). 6:05 PM: NYY @ BAL (SS). 6:35 PM: MIA @ WSH. 7:10 PM: ARI (SS) @ COL. 8:40 PM: CIN @ SDP.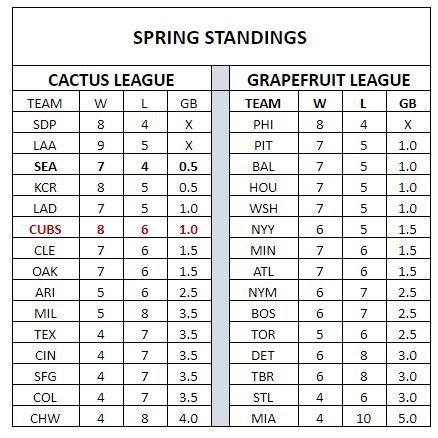 Other news from around MLB:
Tom Seaver: Sad news out of California today about pitching legend, Tom Seaver. Per a statement issued by the family, Seaver has dementia and has retired from the public, choosing to spend his remaining time working in his vineyard at his California home.
Astros: The Astros have been talking to free-agent, Dallas Keuchel, seeing if the two sides can reach a deal that would bring the starter back to Houston. The team has made both one and two-year offers, but they aren't yet in range.
Athletics: Oakland's Chris Herrmann will be heading for arthroscopic knee surgery, with no timetable for his return. Nick Hundley, a non-roster invitee, will now likely become the A's Opening Day backstop.
Dodgers: LA has claimed LHP Donnie Hart off waivers from the Orioles. To make room on the 40-man roster, the Dodgers have designated right-hander Josh Fields for assignment.
Mets: NY has signed OF Carlos Gomez to a minor league deal. He will attend the rest of spring training with the MLB team.
Red Sox: Pitcher, Steven Wright, has been suspended for 80 games after testing positive for a PED, Growth Hormone Releasing Peptide 2 (GHRP-2). The Sox are also working on extending Chris Sale's deal.
Royals: Looking to replace catcher, Salvador Perez, who is out for Tommy John surgery, KC is said to be talking to Martin Maldonado.
Yankees: NY is now saying that neither Severino nor Sabathia will be ready when the season begins. Severino is out due to shoulder pain, Sabathia is sidelined due to knee surgeries over the winter.