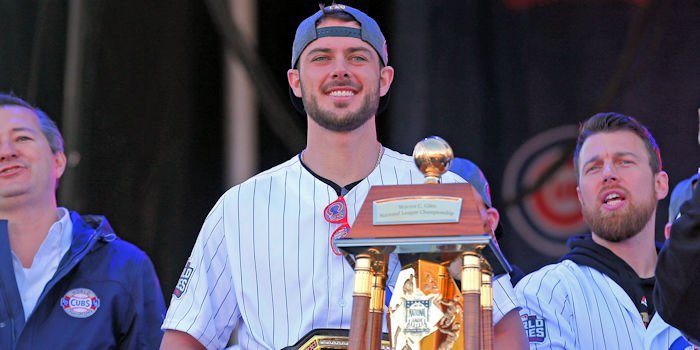 | | |
| --- | --- |
| Cubs News: Kris Bryant on trade speculation | |
---
| | | |
| --- | --- | --- |
| 2020 Feb 21, Fri 17:11 | | |
For Kris Bryant, one can imagine this offseason has been one of the best and yet most challenging times in his life. For starters, he and his wife Jessica announced that a baby boy is on the way for the Bryant family.
Other than that, most of the news surrounding Bryant has either been negative about his service time grievance or in speculation of the Cubs looking to trade the player who was the face of Theo Epstein's plan. The player who won the college baseball player of the year, then the minor league player of the year, then the Rookie of the Year, and then the National League MVP in four consecutive seasons — all while helping the Cubs secure their first World Series Championship in over 100 years.
Reports from all corners of the local and national media circuit indicated that Bryant was going to lose the service time grievance he filed - and that the Cubs would look to move him after that decision finally came. Other reports hinted toward Bryant not wanting to be on the Cubs anymore, the Cubs front office having a rocky relationship with Bryant, the former MVP turning down a 200 million-plus extension, or even that there was bad blood between Bryant and the Cubs' brass because of the service time agreement.
Notice how all of those reports are simply speculation, and none of these scenarios or quotes have come from Bryant directly. Once KB was finally put in front of the microphone, the soft-spoken Bryant delivered some clarity on the offseason and a passion for playing in this city, for this organization, in front of these fans.
This is the entire transcription of Bryant's response to all of the speculative reporting:
"I don't even know with all the stuff, the talk going on right now it's like, I have always had the stance that yes I want to play here, I love the city and I mean the biggest thing with this whole the trade rumors that has disappointed me is the fact that I feel like people, not everybody, but the main reason behind it is that let's get rid of him now because he doesn't want to be here in two years. He turned down this monster extension well north of 200 million. And I'm like, well, where was that. I never saw that. I mean, it's just these rumors and sources, and people just saying things it is like the only thing that matters is what comes from my mouth, and never once did I say that I didn't want to play here. I mean, I'm pretty sure you guys can go through all the recordings, all the interviews. I've always said that, that I've respected everybody in this organization, everybody in the city, the fans, we have it so good here. Of course, I would love to play here."
Bryant continued to talk about the trade rumors and how those affected him.
"There were trade rumors last offseason, too, and going through that, I understand this part of the process as you get closer to free agency and everything's up in the air. I understand it, and I just really try my best to tune it out. It's really hard."
In regards to the service time grievance, and any bad blood with the organization, KB had this to say:
"There's definitely no hard feelings, so let's definitely put that narrative to bed."
"I just saw this as a process that is eventually going to help the players in the next round of negotiating, and I was going to be that guy to have the courage to do it. I know there's going be backlash for it, and I understand it."
After settling the confusions and making it clear that Bryant intends to play in Chicago, he wants to play in Chicago and plans on doing so not only through this season but potentially for his whole career — the Cubs' 28-year-old all-star looked forward to the season ahead. The often quiet, smiley Bryant seems to have an extra competitive edge to him this go around.
"We know that we've completely failed the last two years, and there's no-nonsense this year. We're strapping it on. We're ready to go."
Part of being ready to go includes Bryant being willing to take the keys to the leadoff spot in David Ross' lineup.
"On my part, I'm always going to do whatever is asked of me and never think twice about it."
Strap it on 2020? We'll see — but it seems almost certain the Kris Bryant will be wearing pinstripes when the season begins.