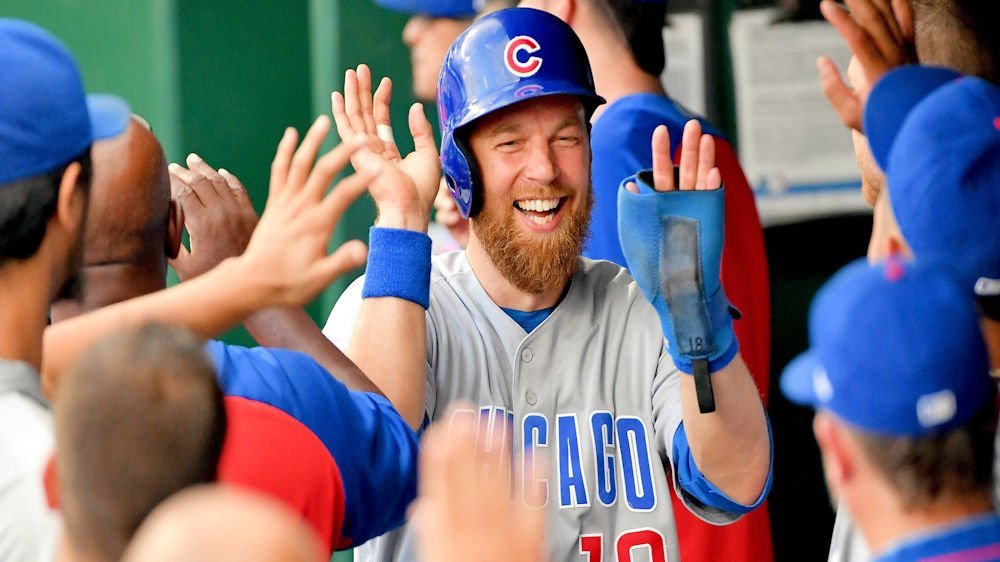 | | |
| --- | --- |
| Latest news and rumors: Notes from Cubs Con, Zobrist trade talk and more | |
---
| | | |
| --- | --- | --- |
| Sunday, January 20, 2019, 6:04 PM | | |
Cubs' news and notes:
Cubs' Opening Day: 67 days. (March 28 vs. Rangers)
Pitchers/Catchers Report: 24 Days.
First Spring Training game: 35 Days. (Saturday, February 23, Brewers vs. Cubs at Sloan Park)
Ben Zobrist: Although the names Jason Heyward and Ian Happ have surfaced as possible trade bait, Ben Zobrist's name has also come up. Ben acknowledges that because he is in his walk year, he is a "pawn in the game." He says trade rumors don't bother him, that ownership is going to do what they feel best for the team, and that his focus remains on playing baseball this season- wherever that may be.
Candid thoughts from Ben Zobrist: pic.twitter.com/iOSYAeqVfs

— Mark Gonzales (@MDGonzales) January 19, 2019
Cubs Con notes & quotes
Hamels on leadership: "That's where I need to be. That's the role directed towards you if you play this game long enough."
Cole Hamels in demand: pic.twitter.com/PQIhy0vm5c

— Mark Gonzales (@MDGonzales) January 19, 2019
Cubs' Player development panel: (1) Based on MLB roster, most help via prospects will come to the bullpen. (2) SP Adbert Alzolay might be an MLB bullpen option this year. (3) Keep an eye on SP Duncan Robinson. (4) RP Dakota Mekkes (Go Green) on MLB radar.
My final thoughts on Cubs Con: While the fans were hoping for surprise news regarding trades or signings, Theo Epstein, the Ricketts, Jed Hoyer and Joe Maddon towed the line and kept the message the same: For the most part, we are going forward with the crew we have now.
From ownership all the way down to the players, the message sent this year was the same and it was repeated often: The team learned from its loss in the Wildcard Game and its nonchalance throughout the season. They won't be taking things for granted in 2019, and they will be playing with a renewed sense of urgency from March through October. Everyone is fired up, and not a single person in the organization can wait to get started again.
Theo Epstein took the groaning of impatient fans in stride, defending them as he said he understood that this comes from the angst of fans wanting the Cubs to win as much as the team does. There wasn't a player, manager, coach or owner that didn't express gratitude to the fans, and they all sent generally the same message: Watch and see.
The NL Central has become even stronger over the offseason... and the #Cubs are ready for the challenge! pic.twitter.com/AsoeyR7qB0

— Cubs Talk (@NBCSCubs) January 20, 2019
Latest news and rumors from around the league
Reds: Cincinnati is reportedly finalizing a deal with the Yanks for Sonny Gray. The Reds aren't stopping with Gray, as they are now involved in the Shawn Kelley sweepstakes as well.
Some time ago when I spoke with Anthony Bass (shortly after he told me he was going to be signing with Cincinnati), he said the Reds weren't done when they got Puig, Kemp and Wood from the Dodgers, and he was right- they are on a mission. They added Tanner Roark and started signing MiLB deals like crazy. I actually spoke with Anthony earlier today and he projected the Reds to be a .500 team this year; personally, I think they'll be better than that.
Red Sox: Along with the Reds, Boston is also looking to sign Shawn Kelley.
White Sox: Sox talking with LA about a possible Joc Pederson deal.