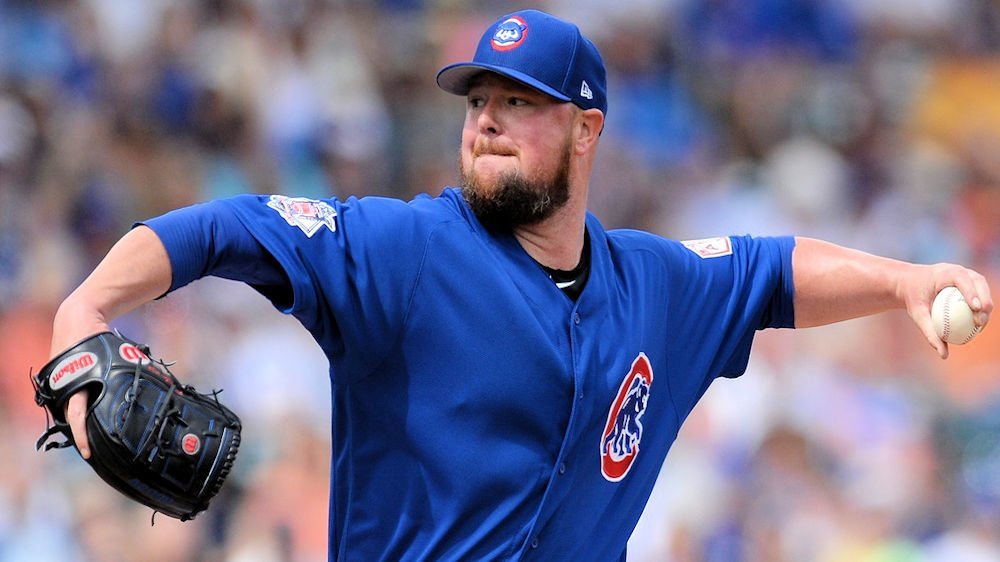 | | |
| --- | --- |
| Let's Play Two, Lester pitches, Morrow update, Baseball tech, and MLB notes | |
---
Upcoming Cubs games (Central time): Today: (Split-squad). Game 1- 3:05 PM (Central): Mariners (minor league affiliate) at Cubs: LHP Marco Gonzalez (0-1, 9.45 ERA) vs. Yu Darvish (1-0, 2.45 ERA).
Game 2- 8:05 PM: Cubs at Royals (Pitchers TBD).
March 20th- 8:05 PM: Dodgers @ Cubs (Pitchers TBD). This game will be televised on NBC Sports Chicago, MLB.TV and SportsNet LA.
Cubs' Opening Day: 9 days. March 28 @ Rangers; (Lester vs TBD). Game time: 3:05 PM Central. (WGN, MLB.TV).
Cubs' Home Opener: 20 Days. April 8 vs. Pirates: Game time: 1:20 PM Central. (ABC-7, MLB.TV)
Addison Russell: When asked about what he worked on over the winter, Russell said, "Just [me]. Creating healthy relationships with Mallory [Engstrom, the mother of Russell's first child] and Melisa [Reidy, Russell's ex-wife], getting back into the good graces of fans and taking small steps like that. But also, I've been working on being a better father, communicating better, and I think that I'm going toward the right direction."
Cristhian Adames: Slashing .444/.475/.833 for the spring, the Cubs middle-infielder has caught Joe Maddon's eye, as one of the standouts at camp Maddon says, "He's had a hell of a spring.".
Brandon Morrow: The Cubs' closer threw 20 pitches (all fastballs) from the mound today. His next mound session will be either Thursday or Friday.
Cubs off, Lester working: Despite an off-day for the Cubs on Monday, Jon Lester worked, pitching in a MiLB game and had the following line: 6 IP, 5 H, 2 R, 2 BB, 7 K, and six groundouts on 87 pitches (61 strikes). He focused on the cutter and mixed his curveball on the first pitch. He called his changeup "terrible," but said a few worked adequately along the way.
More technology is coming: MLB was at the Nationals' camp yesterday, workshopping a new communication device for pitchers and catchers. It would allow catchers to type a pitch call (with location) into a watch that is connected to a watch the pitcher is wearing on the mound — an effort to eliminate sign-stealing.
Jon Lester: Anthony Rizzo had a "W" flag laid out for the guys to sign so that he could auction it off for his charity. It got a surprise "autograph" though, from Lester's son, Walker. Dad wasn't exactly pleased, but Rizzo said that he'd have to start the bidding high, now that an unexpected "big-leaguer" signed it.
Getting the W flag signed by the boys for the 7th Annual Cook-Off for Cancer and had an unexpected big leaguer sign it. Thanks to Jonny Lesta's son we are gonna start the bidding on this one pretty high. @JLester34 @RizzoFoundation pic.twitter.com/3EzpIikWmr

— Anthony Rizzo (@ARizzo44) March 17, 2019
Ump-Cam: Three words: I. Want. This.
?? ANOTHER UMP CAM HOMER ?? pic.twitter.com/d5lf523vBg

— Seattle Mariners (@Mariners) March 18, 2019
#31 Retired: It was ten years ago, yesterday, that the Cubs retired the number 31 in honor of both Fergie Jenkins and Greg Maddux.
Cub Birthdays: Celebrating Monday were ex-Cubs Fernando Rodney (42) and posthumously, Dick Littlefield (93), Hiram Bithorn (103), and Jimmy Callahan (145).
Monday's Scoreboard: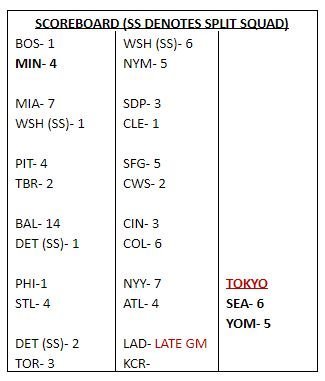 TUESDAY (EDT): 1:05 PM: TOR @ BOS, NYM @ MIA, DET @ PIT, WSH @ ATL, TBR @ NYY, MIN @ BAL, PHI @ HOU. 4:05 PM: SEA @ CUBS, TEX (SS) @ MIL. 9:05 PM: CUBS @ KCR, CWS @ CIN, COL @ LAA (SS). 9:40 PM: SDP @ ARI. 10:05 PM: CLE @ LAD.
WEDNESDAY (EDT): REGULAR SEASON: 5:35 AM: SEA @ OAK (from Tokyo). PRESEASON: 1:05 PM: PIT @ MIN, NYY @ HOU, MIA @ STL, DET @ PHI, ATL @ TOR. 4:05 PM: CIN @ TEX, ARI @ CWS, MIL @ SDP. 6:05 PM: BOS @ BAL. 9:05 PM: LAA @ CLE (SS). 9:40 PM: KCR @ COL. 10:05 PM: LAD @ CUBS, CLE (SS) @ SFG.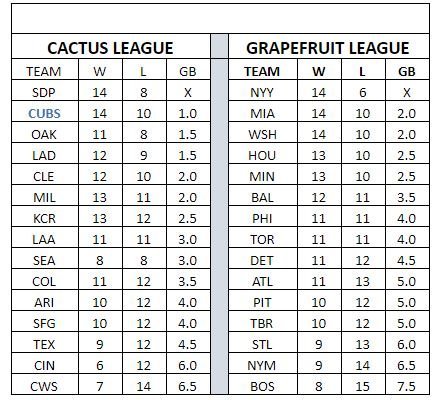 News from around MLB:
Respect the arm: At age 45-1/2, Mariners' RF Ichiro Suzuki still has a cannon. Check out this video from Monday's game, showing Suzuki keeping a runner in check. Listen to the excitement in the Japanese announcer's voice and the roar of the crowd:
???? ????????
45?????????????????????? pic.twitter.com/AX06gNFWTX

— ????@???? (@r2356102693g2) March 18, 2019
Phillies: Reports say that Carlos Santana got more than a little mad at his teammates who were more worried about playing Fortnite, than playing baseball. Santana elected to smash a TV over the issue.
Did you know: The Braves announced that Hank Aaron would not play the first series of the 1974 season in Cincinnati so he might hit No. 714 and 715 at home. But Commissioner Bowie Kuhn ordered Aaron to play. Hank homered off Jack Billingham on Opening Day for No. 714.
Padres: SD remains engaged in talks with the Tribe for starting pitchers. Kluber and Bauer are the targets, but the price is still too high for SD.