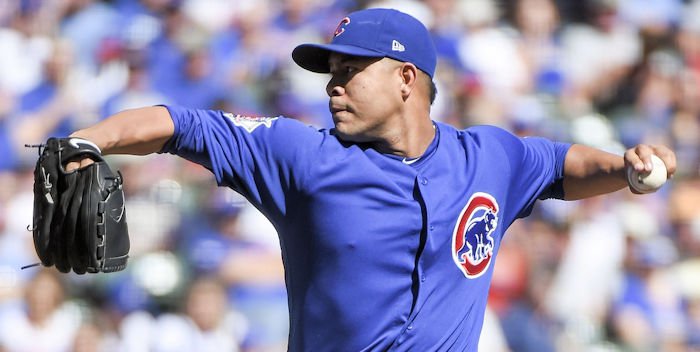 | | |
| --- | --- |
| Quintana delivers best start of season as Cubs shut out Reds | |
---
| | | |
| --- | --- | --- |
| Saturday, May 19, 2018, 10:12 PM | | |
CINCINNATI — Although they were just a few hours removed from a heartbreaking, extra-innings loss to the Cincinnati Reds in game one of a day-night doubleheader, the Chicago Cubs took the field on Saturday night, boasting oodles of vim and vigor. Far from the sullen, downtrodden team that one might reasonably expect to see from a team fresh off an 11-inning, walkoff defeat, the Cubs walloped the Reds by a final tally of 10-0, riding an impeccable outing by starting pitcher Jose Quintana to a concise, dominant victory.
Producing his clear-cut top start of the season thus far, Quintana shut down the Reds batting order, not giving up his first hit until the bottom of the fifth. Improving to 5-3 by earning the win for his efforts, Quintana pitched seven shutout innings, in which he gave up just one hit and matched a season high with seven strikeouts.
For the third straight time in this series, the Cubs experienced a somewhat frustrating first inning, except, this time, they scored no runs to show for it. Right fielder Ben Zobrist drew a leadoff walk for Chicago, which was followed by a single off the bat of second baseman Tommy La Stella, who went 3-5 at the dish. Then, with runners on the corners, Bryant hit a grounder to third that Zobrist attempted to score on. Unfortunately for him, Reds third baseman Eugenio Suarez made the heads up play by going home with the ball for a tagout of Zobrist.
The Cubs proceeded to go scoreless in the first, but they capitalized on a similar scenario a couple of innings later. In the third, Zobrist once again reached base to lead off, singling to center. He next made it to third on a single to shallow left-center by La Stella, and, rounding out the cyclical chain of events, Bryant then came up to bat and hit a grounder. But Zobrist was able to successfully make it home safely on this one, with the Cubs striking first.
The next inning saw Cubs left fielder Ian Happ continue his incredible Saturday with a home run. After finishing a single shy of the cycle in game one of the doubleheader, Happ, who played his college ball for the Cincinnati Bearcats, continued to reacquaint himself with the Queen City, jacking a 362-foot solo shot to right. The home run, which was Happ's seventh of the season and second of the day, was rather significant, as it marked the 14,000th long ball in Cubs franchise history.
Ian Happ cranks #Cubs 14,000th home run in franchise history pic.twitter.com/YJT3hIYrsn

— WGN TV News (@WGNNews) May 20, 2018
Chicago blew the game wide open in the fifth inning, taking Reds starting pitcher Sal Romano for five runs in a two-hit, four-walk inning. Zobrist and Bryant both collected walks, resulting in the Cubs having runners on first and second with one out. After that, first baseman Anthony Rizzo smashed his fourth double of the season, hitting a screamer down the right-field line to score Zobrist and Bryant and give the Cubs a commanding 4-0 edge.
Later in the inning, with the bases juiced, Cubs right fielder Jason Heyward, who made his first start since returning from a concussion, cleared the bases with a triple, putting the Cubs up by seven. A towering shot into no man's land in right field, the triple was nearly caught by a charging Scooter Gennett of Cincinnati. But he was unable to make the catch, and Heyward collected three RBI, as a result.
The fifth frame proved to be Romano's last inning of his inept start. Giving up seven runs on six hits and six walks in five innings pitched, Romano never settled into a groove and received a loss for his troubles, making him 2-5 because of it.
The North Siders tacked on three more runs late in the contest. Heyward came up with his fourth RBI of the night and 18th of the year by hitting a sacrifice fly to center in the seventh that scored Cubs catcher Willson Contreras from third. Then, in the eighth, Zobrist singled to start the frame and was eventually scored on a Rizzo sacrifice fly that increased the Cubs' lead to nine.
Zobrist proved to be an effective leadoff man in every sense of the term on the night. Five of his six plate appearances happened to lead off an inning, and he reached base on four of those six occasions. The utility man finished 2-4 with two walks and three runs.
Heyward put a bow on the 10-0 rout in the ninth inning by collecting a two-out single in the gap between first and second and scoring soon afterward via a double to deep center by pinch hitter Albert Almora, Jr.
With the 10-0 shutout triumph, Chicago collected its second victory in the four-game set at the Reds, which will wrap up tomorrow afternoon. Having outscored the Reds 22-6 through three games, the Cubs will be aiming to secure a series victory in Sunday's finale.
Q gave us just what we needed! pic.twitter.com/JtSnOydmgO

— Chicago Cubs (@Cubs) May 20, 2018