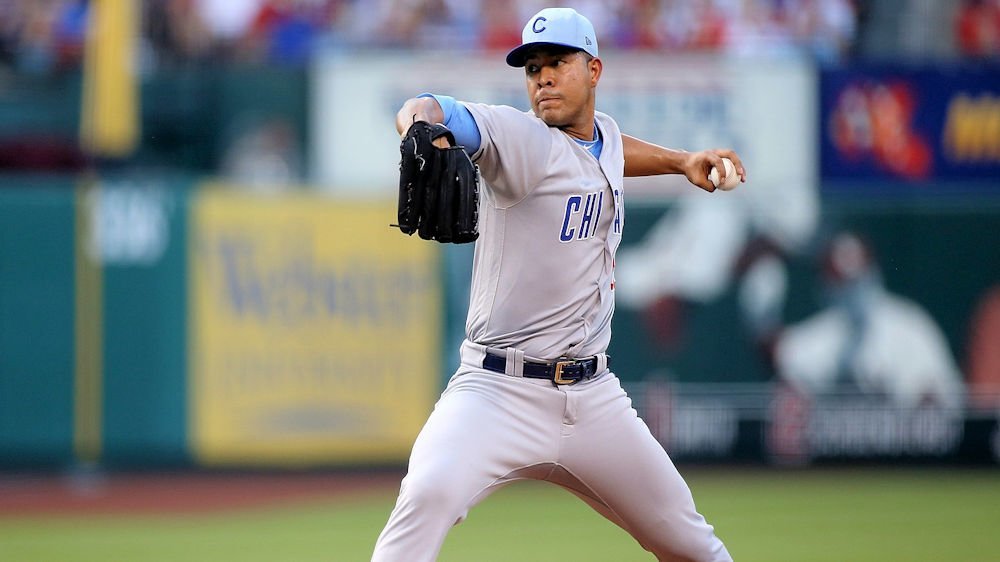 | | |
| --- | --- |
| Quintana receives no run support as Cubs miss out on sweep | |
---
| | | |
| --- | --- | --- |
| 2018 Jun 17, Sun 23:59 | | |
ST. LOUIS — In a ballgame that featured an early pitching duel between Chicago Cubs left-hander Jose Quintana and St. Louis Cardinals right-hander Jack Flaherty, the Cubs squandered early scoring opportunities and gave up five runs in the final four innings to get shut out by a score of 5-0.
The Cubs endured a frustrating start to the contest. Despite mustering just one hit through four innings, the Cubs were able to put several runners on base through other means. Leaving 14 stranded in the first four frames, the Cubs struck out in consecutive innings with two outs and the bases juiced during that span. Adding to the frustration for Chicago was an injury suffered by star infielder Javier Baez. Hit on the elbow by a fastball from Flaherty in the third inning, Baez writhed in pain before leaving the game for good with an elbow contusion.
Javier Baez gets drilled and has to leave game #Cubs pic.twitter.com/38yJAW7IKd

— Pinwheels and Ivy Podcast (@PinwheelsIvyPod) June 18, 2018
As for the Redbirds, they garnered just two hits in the first four innings but failed to advance a runner into scoring position in that stretch. Quintana dominated prior to the fifth, when he struggled with his command and issued back-to-back walks. He was arguably pulled too soon, as Quintana was taken out after giving up a pair of singles to start the bottom half of the sixth.
Exiting with four hits, two walks, three strikeouts and 86 pitches to his name, Quintana was responsible for the Cardinals' first two runs. The sixth inning featured two infield singles by St. Louis, with Harrison Bader and Marcell Ozuna hustling to beat out throws at first base. Addison Russell, who was originally slated to get the night off but replaced Baez at shortstop after the aforementioned injury, could have potentially outed Ozuna. However, he made a low throw that Cubs first baseman Anthony Rizzo was unable to corral. Ozuna was credited with a single, though.
After Ozuna's hit, which loaded the bases, Cardinals catcher Yadier Molina grounded into a 4-6-3 double play that brought home Bader. Thereafter, Jedd Gyorko put the Cardinals up 2-0 on a single to center that scored Tommy Pham. The Cubs did not threaten for the remainder of the contest, failing to advance a runner into scoring position in the final three innings.
St. Louis tacked on three insurance runs late in the game. Cardinals first baseman Matt Carpenter smacked a solo homer to right off Cubs reliever Brian Duensing to make the score 3-0 in the seventh. Then, in the eighth, the Cubs allowed two additional runs to score, thanks in large part to a pair of defensive blunders.
With Pham on first, Molina swatted a bloop hit down the left-field line that Cubs left fielder Kyle Schwarber misjudged. Bouncing off a patch of dirt near foul ground and over Schwarber's head, the hit turned into a stand-up double for Molina that scored Pham. Scwharber's mistake, which was not judged to be an error, came only one inning after Schwarber showed off his trademark cannon when throwing Bader out at second as he attempted to stretch a single into a double. Schwarber leads all left fielders with six assists on the season.
"Bader can run"

Kyle Schwarber: pic.twitter.com/Q6gl8exDGz

— Pinwheels and Ivy Podcast (@PinwheelsIvyPod) June 18, 2018
Russell committed another throwing mistake with two outs in the eighth. Scored as an error, Russell's throw to first on a grounder by Yairo Munoz was well off the mark, and it enabled Molina to come home and give St. Louis a commanding 5-0 lead. Russell now has eight errors in what has been an up-and-down season for him in the defensive department.
The 5-0 win by the Cardinals (37-32) prevented the Cubs (40-28) from tallying a three-game sweep at Busch Stadium. Finishing with just four hits after two straight games of double-digit hit totals, the Cubs went cold at the plate in the series finale. Quintana, who received no run support, was named the game's loser to become 6-5. Flaherty, who pitched five innings, in which he amassed seven strikeouts, did not receive any run support, either, but the Cardinals came alive at the dish while the Cubs remained dormant.